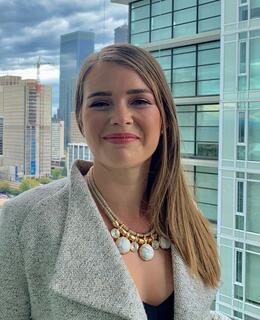 Lauren Walker, PhD, R. Psych.
Positions
Adjunct Associate Professor
Cumming School of Medicine, Department of Oncology
Adjunct Associate Professor
Member at Arnie Charbonneau Cancer Institute
Cumming School of Medicine, Department of Oncology
Lab Director, Oncology Sexual Health Lab
University of Calgary
Background
Credentials
Registered Psychologist , College of Alberta Psychologists, 2015
Educational Background
BA (First Class Honors) Psychology, University of Calgary, 2007
MSc Clinical Psychology, University of Calgary, 2009
PhD Clinical Psychology, University of Calgary, 2013
Sexual Health Externship University of British Columbia, 2014
Clinical Fellowship Oncology and Sexuality, University of Calgary, 2015
Biography
Dr. Lauren Walker is a registered psychologist in Alberta, and holds an academic appointment as an Adjunct Associate Professor in the Departments of Oncology and Psychology at the University of Calgary. She earned her PhD in Clinical Psychology in 2013 and completed a Clinical Fellowship specializing in Oncology and Sexuality in 2015. Dr. Walker established the University of Calgary's Oncology Sexual Health Lab in 2015 and maintains an active research program. As a researcher she has contributed over 50 publications to the scientific peer reviewed literature about psychosocial and sexual adaption to cancer treatments. She was recently recognized with Calgary's Avenue Magazine's Top 40 Under 40 for her innovative work in supporting cancer patients with sexual side effects of cancer treatment. She was recipient of the 2017 President's New Researcher Award from the Canadian Psychological Association and the 2016 Young Investigator Award for Excellence in Research from the Department of Oncology at the University of Calgary. Her research has been funded by Movember, Prostate Cancer Canada, the Canadian Cancer Society, the Alberta Cancer Foundation, the Calgary Foundation, the Arnie Charbonneau Institute and the Daniel Family Leadership Chair in Psychosocial Oncology. Dr. Walker's passion lies in clinical resource development, evaluation and dissemination and also in mentorship of research and clinical trainees. She splits her time between a private clinical practice treating people with sexual concerns and her academic appointment where she conducts her research.
Research
Areas of Research
Psychosocial Oncology – subspecialty sexual medicine
Dr. Walker's research has focused on identifying needs in prostate cancer, with regard to sexual health and rehabilitation as well as adaptation to the many complex side effects of hormone treatment (aka androgen deprivation therapy), and in developing resources that help cancer patients of all backgrounds adapt to changes in sexual health after undergoing treatment. She collaborates nationally with prostate cancer survivorship programs to help with these same concerns. Dr. Walker has worked to create awareness of the importance of sexual health needs of all oncology patients and educational resources to improve health care providers' care of patients. She also developed and increased the accessibility of sexual health resources available to patients. Her work in women's sexual health has centered on identifying sexual concerns in routine follow-visits for gyne-oncological cancer patients, as well as creating and evaluating group-based resources for sexual and vaginal health concerns and evaluating a multi-disciplinary sexual health service for all patients.
Awards
Top 40 Under 40 Award,

Calgary's Avenue Magazine.

2019

2019 Innovation Award: Androgen Deprivation Therapy Educational Program Team,

Canadian Association of Psychosocial Oncology (CAPO) .

2019

Team Award for Innovation - OASIS Program,

Department of Oncology, Cumming School of Medicine, University of Calgary.

2017

President's New Researcher Award,

Canadian Psychological Association .

2017

Undergraduate Research Supervision Award,

Department of Psychology, University of Calgary.

2017

Young Investigator Award for Excellence in Research,

Department of Oncology, Cumming School of Medicine, University of Calgary.

2016

Ovarian Cancer Canada Award in Support of Psychosocial Oncology Excellence,

Ovarian Cancer Canada.

2016

Rising Star Independent Investigator Award ,

Prostate Cancer Canada.

2015
Publications
Androgen Deprivation Therapy: An Essential Guide for Prostate Cancer Patients and Their Loved Ones, 2nd Ed., European Ed..

Richard J. Wassersug, Lauren M. Walker, & John W. Robinson. (2021)

Androgen Deprivation Therapy: An Essential Guide for Prostate Cancer Patients and Their Loved Ones, 2nd Ed.

Richard J. Wassersug, Lauren M. Walker, & John W. Robinson. (2018)

Le traitement par Privation Androgenique.

Richard J. Wassersug, Lauren M. Walker, & John W. Robinson. (2017)

Androgen Deprivation Therapy: An Essential Guide for Prostate Cancer Patients and Their Loved Ones, 2nd Ed.

Richard J. Wassersug, Lauren M. Walker, & John W. Robinson. (2014)

Communicating about sexuality in cancer care, Handbook of Communication in Oncology and Palliative Care 2nd Edition, Oxford University Press, London, UK. .

Robinson, J.W., Lounsberry, J., & Walker, L.M.. (2017)