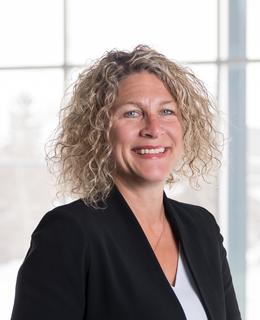 Dr. Kathryn Schneider, PhD PT
Positions
Associate Professor
Faculty of Kinesiology
Full Member
Hotchkiss Brain Institute
Child Health & Wellness Researcher
Alberta Children's Hospital Research Institute
Background
Educational Background
Doctor of Philosophy Sports Medicine, University of Calgary, 2012
D.S. Physical Therapy, Andrews University, 2008
Bachelor of Kinesiology Honours in Biomechanics, University of Calgary, 1996
Biography
Dr. Schneider researches the prevention, detection and treatment of sport-related concussion. She identified a large treatment effect using multimodal physiotherapy and vestibular rehabilitation in athletes who have persistent symptoms following concussion.
She is a clinical specialist in musculoskeletal physiotherapy, a fellow of the Canadian Academy of Manipulative Physiotherapists and has expertise in vestibular rehabilitation. Her clinical practice focuses on treating recreational to elite/professional athletes with ongoing symptoms following sport-related concussion.
She has developed and instructs continuing education courses for physiotherapists and health care professionals in vestibular rehabilitation, cervical spine assessment/treatment and sport-related concussion.
Avenue Magazine named her "Top 40 Under 40" in 2012 and she received the Vestibular Disorders Association (VEDA) Champion of Vestibular Medicine Award in 2015. Research which she led identified changes in measures of neck function following concussion and was awarded the 2018 Journal of Orthopaedic & Sports Physical Therapy (JOSPT) Excellence in Research Award.
She is also co-chair of the Concussion in Sport Group for the 6th International Consensus Conference on Concussion in Sport. She has been invited to speak at the 4th and 5th International Consensus Conferences on Concussion in Sport; International Olympic Committee (IOC) medical meetings at the Sochi, Rio and PyeongChang Olympic games; and many international and national sport meetings.
Over the past seven years, she has worked with local, provincial and national sport organizations and health care teams to develop and implement evidence-based concussion protocols and processes. She represents the Canadian Physiotherapy Association on the Canadian Concussion Collaborative, is a member of the Federal Government Working Group on Concussion in Sport and Parachute's Expert Advisory Committee on Concussion in Sport.
Research
Areas of Research
Concussion
Rehabilitation
Activities
Dr. Schneider focuses on the prevention, detection and rehabilitation of concussion with a special interest in the role of the cervical spine and balance systems. Clinical and technological tests are used to evaluate multiple areas of sensory and motor function, ultimately gaining insight into changes that may occur following a concussion. Additionally, with the use of technological tests alongside clinical tests they are gaining a better understanding of how to best evaluate various components of function.
Ongoing projects in the lab focus on:
(1) the role of neuromuscular training and sensorimotor training in the prevention of concussion;
(2) changes that occur in measures of cervical spine, vestibular and sensory function with growth and development;
(3) changes that occur in measures of cervical spine, vestibular, and sensory function following a concussion; and
(4) optimizing rehabilitation techniques to enhance recovery and inform clinical care.
The program of clinical research involves collaboration with multiple clinicians and researchers across the University of Calgary and other national and international institutions, ultimately enabling clinically meaningful questions to be evaluated and translated back to the clinic.
Participation in university strategic initiatives
Courses
| Course number | Course title | Semester |
| --- | --- | --- |
| KNES 60413 LAB 03 B03 | Directed Study | 2021 |
| KNES 60414 LAB 04 B04 | Directed Study | 2020 |
| KNES 611 LEC 01 01 | Res Methods in Knesiology | 2021 |
Projects
Online Concussion Course
Teaches a free, non-credit massive online course on concussion. The course to prevent, detect and manage concussions and is through UCalgary and Université Laval.
Publications
Brain Injury.

S Babul; Carolyn A Emery; MacPherson A; Pike I; Kathryn J Schneider. Parachute. (2015)

Physiotherapy.

Kathryn Schneider; I Gagnon; Alan Ptitto; Isabelle Gagnon. CRC Press. (2018)

"I Kinda' Lost My Sense of Who I Was": Foregrounding Youths' Experiences in Critical Conversations About Sport-Related Concussions..

Matt Ventresca; Danika Kelly; Kevin Viliunas; Kathryn Janet Schneider; William Bridel. Routledge. (2019)

Vestibular disorders following concussion..

G L Iverson; K. J. Schneider; R Echemendia. University Press. (2014)
Are Pre-season reports of Neck Pain, Dizziness and Headache Risk Factors for Concussion in Male Youth Ice Hockey Players?.

Geoff Schneider; Kathryn J Schneider; J Kang; W Meeuwisse; Carolyn Emery. (2011)

Baseline cervical,vestibular, dynamic balance values and tasks of divided attention and theeffect of previous concussions in elite youth ice hockey players.

Kathryn Schneider; Carolyn A Emery; W H Meeuwisse. (2015)

Advances in concussion management: Cervico-vestibular physiotherapy in the treatment of individuals with persistent symptoms following a sport related concussion: A randomized controlled trial..

Karen Maria Barlow; Alberto Nettel-Aguirre; Carolyn A Emery; Kathryn J Schneider; L Boyd; W H Meeuwisse. (2012)

Are Clinical Measures of Cervical Flexor Endurance and Cervical Strength Risk Factors for Concussion in Elite Youth Ice Hockey Players?.

Kathryn J Schneider; W H Meeuwisse; J Kang; Carolyn A Emery. (2013)

What Factors Increase the Risk of Concussion in Elite Youth Ice Hockey Players?.

W H Meeuwisse; N Lemke; T A Blake; J Kang; Carolyn A Emery; K Taylor; Kathryn J Schneider. (2013)

Examining Sport Concussion Assessment Tool Ratings for a Pee Wee Hockey Cohort..

J Kang; W H Meeuwisse; Carolyn A Emery; Kathryn Schneider. (2009)

Can normative data and test-retest reliability of the Sport Concussion Assessment Tool 2 be established in Pee Wee ice hockey players?.

Carolyn A Emery; M Krolikowski; Kathryn J Schneider; A K Macpherson. (2013)

Mouthguard Use in Youth Ice Hockey and the Incidence of Concussion and Dental Injuries..

D Chisolm; Brent Hagel; Carolyn Emery; N Romanow; Kathryn J Schneider. (2015)

Comparing self-reported concussion history between a paper-based questionnaire and ImPACT in a sample of elite youth ice hockey players..

C D McKay; Kathryn J Schneider; M Mrazik; Carolyn A Emery; Brian L Brooks. (2014)

Vestibular dysfunction following paediatric traumatic brain injury—Prevalence and exploration of a novel diagnostic tool..

Michael Esser; T P Hong; Kathryn J Schneider; A Scurfield; Karen Maria M Barlow; M Narous. (2014)

Patient safety: Where do we draw the lines in clinical practice? (An evidence-based inter-divisional knowledge translation symposium)..

Carolyn Emery; Angie Andreoli; Kathleen Norman; Diana Hopkins-Rosseel.; Kathryn Schneider; Meena Sran. (2010)

Evidence-informed policy change in youth sport: Preventing concussions in youth ice hockey.

BH Hagel; W H Meeuwisse; Kathryn Schneider; Carolyn A Emery; C Goulet; M Krolikowski; A Black; Alberto Nettel-Aguirre. (2015)

When the room is spinning what do you do? An overview of vestibular assessment for the physiotherapist..

Kathryn J Schneider. (2010)

The sport concussion assessment tool in elite youth ice hockey: normative values, reliability & predictive utility..

K A Taylor; N Lemke; Carolyn A Emery; Kathryn Schneider; W Meeuwisse; J Kang; K Woollings; T A Blake. (2014)

Is there an association between early season baseline symptoms of dizziness, neck pain and headache and clinical measures of cervical and vestibular function in 11 and 12 year old ice hockey players?.

Kathryn Schneider; C* Codd; T Blake; Carolyn Emery. (2015)

The utility of prism lenses as a diagnostic tool for concussion.

Little CEEmery. (2016)

Sport-Related Concussion: An Update on the Latest Evidence and Practical Implications.

Kathryn Schneider. (2014)

Canadian Paediatric Common Data Elements.

I Gagnon. (2016)

Development of a thoracic spine pain and functional ability measure..

A. Hooper; Kathryn J Schneider; Geoff Schneider; P Stratford. (2010)

Minimizing the source of nociception and its concurrent effect on sensory hypersensitivity: an exploratory study in Chronic whiplash patients..

M Westaway; L Olson; Allen Hooper; Kathryn Schneider; Geoff Schneider; A Smith; P Stratford; B Frizzell. (2009)

Difference in symptoms reported by parents and children on baseline measures of the Child SCAT3.

A M Black; W H Meeuwisse; Kathryn J Schneider; Carolyn A Emery. 124-128. (2015)

Modifiers and long term issues: Are clinical measures of cervical flexor endurance, divided attention and dynamic visual acuity different in elite youth ice hockey players who report a previous history of concussion compared to those who do not?.

W H Meeuwisse; Carolyn A Emery; J Kang; Kathryn J Schneider. (2012)

Changes in measures of cervical, vestibular, dynamic balance and tasks of divided attention following sport-related concussions in elite youth ice hockey players..

Schneider KJ Palacios-Derflingther. (2016)

Multimodal physiotherapy in the treatment of individuals with persistent symptoms following a sport related concussion: A Randomized Controlled Trial..

Carolyn A Emery; Alberto Nettel-Aguirre; Kathryn J Schneider; L Boyd; Karen Maria M Barlow; W H Meeuwisse. (2012)

Cervico-vestibular physiotherapy in the treatment of individuals with persistent symptoms following sport-related concussion: A randomized controlled trial..

L Boyd; Karen Maria Barlow; W H Meeuwisse; Kathryn J Schneider; Alberto Nettel-Aguirre; J Kang; Carolyn A Emery. (2014)

Acute Sports Concussion: What factors increase the risk of concussion in elite youth ice hockey players?.

W H Meeuwisse; J Kang; T A Blake; Carolyn A Emery; K Taylor; N Lemke; Kathryn J Schneider. (2012)

What is the Risk of Concussion in Pee Wee and Bantam Male Hockey Players Reporting Pre-season Symptoms of Neck Pain, Headaches, and Dizziness?.

Carolyn A Emery; Geoff Schneider; J Kang; Kathryn Schneider; W H Meeuwisse. (2010)

Concussion rates and recovery in elite youth ice hockey players.

W H Meeuwisse; T Blake; Kathryn Schneider; Carolyn A Emery. (2015)

Sport Concussion Assessment Tool, Version 2, Normative Values and Test-Retest Reliability in Elite Youth Ice Hockey..

J Kang; K A Taylor; W H Meeuwisse; T A Blake; Kathryn J Schneider; K Y Woollings; Carolyn A Emery. (2012)

Neurocognitive performance at return to play in elite youth hockey players with sport-related concussion..

T A Blake; Karen Maria M Barlow; Brian L Brooks; W H Meeuwisse; Carolyn A Emery; C D McKay; J Kang; Kathryn J Schneider; K Taylor. (2014)

Symptom and Functional Improvements Following a Course of Vestibular Rehabilitation, Manual Physiotherapy and Spinal Stabilization Exercises in High Performance Athletes with Complex Concussions..

Carolyn A Emery; Kathryn J Schneider; W H Meeuwisse. (2009)

Persistent Whiplash Symptoms: From Bio to Psycho to Sensori-Motor Modulation of Clinical Manifestations of Whiplash Associated Disorders and Back Again: Can Physiotherapy Intervene?.

Kathryn Schneider; Ashley Smith; Geoff Schneider. (2014)

Do risk factors differ for concussion and prolonged recovery following concussion in elite youth ice hockey players?.

K Taylor; T Blake; Carolyn A Emery; Kathryn Schneider; J Kang; W H Meeuwisse; N Lemke. (2014)

Baseline Sport Concussion Assessment Tool (SCAT) Ratings in Youth Ice Hockey Players..

Kathryn Schneider; Carolyn A Emery; J Kang; W H Meeuwisse; Geoff Schneider. (2010)

Are clinical measures of cervical spine strength and cervical flexor endurance risk factors for concussion in elite youth ice hockey players..

J Kang; Kathryn J Schneider; W H Meeuwisse; Carolyn A Emery. (2014)

Prevention and Health Promotion.

J Cranston; O Cheifetz; C Dumoulin; H Crowley; Carolyn A Emery; D Walton; Kathryn J Schneider. (2011)

Paediatric Concussion-A continuum of evidence..

Kathryn Schneider; Carolyn A Emery; L Pelland; R Werstine. (2010)

The value of computerized neurocognitive testing at medical clearance following a sport-related concussion in youth ice hockey players..

Black AMBrooks. (2014)

Chronic whiplash associated disorders: is a cure possible after six months? The role of physiotherapy within a multidisciplinary, primary care centre..

A D Smith; Kathryn Schneider; P Fonstad; Geoff Schneider. (2009)

Are Clinical Measures of Cervical Flexor Endurance, Divided Attention, and Computerized Dynamic Visual Acuity Different in Elite Youth Ice Hockey Players Who Report a Previous History of Concussion Compared to Those Who Do Not?.

W H Meeuwisse; Kathryn J Schneider; J Kang; Carolyn A Emery. (2013)

Are Sport Concussion Assessment Tool 2 (SCAT2) scores different for youth ice hockey players with and without a previous history of concussion?.

W Meeuwisse; Kathryn J Schneider; J Kang; Carolyn Emery; T Blake. (2012)

Baseline cervical, vestibular, dynamic balance values and tasks of divided attention and the effect of previous concussions in elite youth ice hockey players.

Kathryn Schneider; W H Meeuwisse; Carolyn A Emery. (2015)

Are clinical measures of cervical flexor endurance, divided attention and computerized dynamic visual acuity different in elite youth ice hockey players who report a previous history of concussion compared to those who do not?.

Carolyn A Emery; W H Meeuwisse; Kathryn J Schneider; J Kang. (2014)

Are clinical measures of divided attention, cervical and vestibular function risk factors for concussion in elite youth ice hockey players?.

Kathryn Schneider; J Kang; W Meeuwisse; Carolyn Emery. (2015)