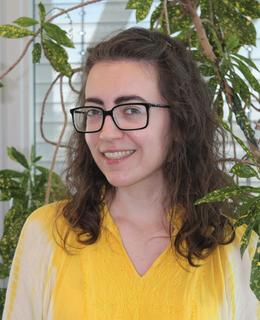 Positions
Global Learning Advisor
University of Calgary International
Background
Educational Background
B.A. Anthropology, University of Calgary, 2017
Biography
Originally from Calgary, Kathryn spent a couple years studying, living, and travelling across Northern Europe while completing her degree. Favourite memories include volunteering with refugee communities, sailing in icy autumn lakes, mentoring ESL learners in creative writing, singing with foreign language choirs, and trying every kind of cinnamon bun! During this time, they also completed a research thesis in Sámi relational spirituality & healing practices, which was presented at the Research in Religious Studies conference held at the University of Lethbridge.
Through their experiences with international communities both at home and abroad, Kathryn discovered a passion for supporting others in seeking new perspectives on the world. This led her to volunteer and later work at UCalgary International, where they have now been an advisor for 6 years. Kathryn is enthusiastic about connecting with diverse student groups and breaking down barriers.
International experience: studied at Örebro University (Sweden) and the University of Helsinki (Finland)
Languages spoken: English, Swedish
Log in to the Advising Portal.
From the left-hand menu, select "Advising", then "Study Abroad". Read the introductory text, then select "Study Abroad Appointment Calendar". 
Select "Book by Provider" to view Kathryn's calendar and make an appointment.
While Global Learning Advisors can provide general information about all programs, Kathryn is the advisor for these specific programs. 
Exchange, research, and internship opportunities in:

Australia and New Zealand
The Nordic countries (Denmark, Norway, Sweden, Finland)
Greenland

Select 2023 Group Study Programs:

Maya Archaeology and Ecology
Panama Primatology
Community and Sustainable Development in Nepal
Mexico City: Past and Present
London Law
To view each program's webpage, or browse all available programs, use the online Program Finder!