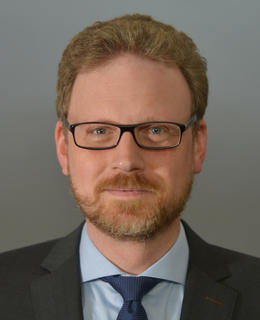 Dr. Karl Martin Klein, MD, PhD, FRCPC
Positions
Associate Professor
Cumming School of Medicine, Department of Clinical Neurosciences | Neurology
Associate Professor
Cumming School of Medicine, Department of Medical Genetics
Associate Professor
Cumming School of Medicine, Department of Community Health Sciences
Full Member
Hotchkiss Brain Institute, Brain and Mental Health Research Clinics Initiative
Child Health & Wellness Researcher
Alberta Children's Hospital Research Institute
Background
Credentials
Fellow, Royal College of Physicians and Surgeons in Canada (FRCPC), 2020
Educational Background
Habilitation in Neurology Philipps University Marburg, Germany, 2014
Doctor of Philosophy University of Melbourne, Australia, 2012
Doctor of Medicine Philipps University Marburg, Germany, 2003
Biography
Karl Martin Klein's research focuses on epilepsy genetics. He is particularly interested in multiplex families with epilepsy as well as adult and pediatric patients with epileptic encephalopathies. These patients are likely to carry a pathogenic variant in a gene of major effect which can be identified using next generation sequencing techniques.
He is also working on the identification of somatic mutations associated with epilepsy. Somatic mutations occur during development and can only be identified in the tissue of interest (i.e. brain). His lab is working on the development of innovative techniques to harvest such cells for example using stereo EEG.
A backbone of his research is careful phenotyping i.e. the detailed clinical characterization of each individual. This allows identifying the family members who are likely to have the familial epilepsy and distinguish them from the family members who have epilepsy because of external factors such as stroke or head trauma (phenocopies). Furthermore, the individual phenotype is of considerable importance to delineate the spectrum of phenotypes that is associated with a specific genetic variant. He is a member of multiple international epilepsy genetic consortia aiming to unravel epilepsies with complex inheritance where multiple gene variants and environmental factors in concert increase the risk of epilepsy.
He also has a strong interest in precision medicine. He is coordinating the RAISE-GENIC consortium which aims to develop a decision-support tool for antiseizure drug choice based on multimodal data. The ultimate aim is to select the antiseizure drug with a highest chance of success in an individual patient.
Research
Areas of Research
Genetics of epilepsy, Precision medicine in epilepsy, Brain somatic variatis causing epilepsy
Participation in university strategic initiatives
Projects
Coordinator RAISE-GENIC consortium
Rational antiepileptic drug selection by combining gene network and ICT analysis. Funded through ERA PerMed/CIHR
---
Somatic mutations in DNA extracted from cells adherent to stereo-EEG electrodes
Funded through HBI/DCNS Pilot Research Fund Program (PFUN), University of Calgary