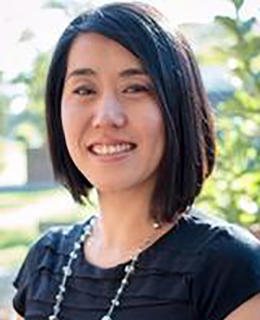 Associate Professor
Counselling Psychology
Director of Training
Counselling Psychology
---
I'm looking for...
Research partners
Applicants to MSc or PhD in Counselling Psychology, who are interested in doing research on death, dying, and grief.
Research partners
Potential postdoctoral scholars to collaborate in the area of: grief; medicalization; culture and spirituality; postcolonial/anti-colonial, feminist, and social justice research.
Background
Credentials
Registered Psychologist , College of Alberta Psychologist,
Educational Background
Doctor of Philosophy Counselling Psychology, McGill University, 2016
Master of Arts Counselling Psychology, McGill University, 2006
Bachelor of Arts Human Relations, Concordia University, 2004
Biography
Born and raised in Japan, Dr. Wada first came to Canada as an international student. She received her BA in Human Relations from Concordia University. She went on to pursue MA and PhD in Counselling Psychology at McGill University, where she gained clinical experience at a high school, university counselling/mental health services, and community and hospital outpatient clinics. She also taught both undergraduate and graduate courses as a part-time instructor at Concordia and McGill. In 2016, she joined Werklund School of Education at the University of Calgary, where she teaches graduate courses on career counselling, professional ethics, and assessment.
Professional & Community Affiliations
Dr. Wada was a member of the Ad-hoc Committee on Ethics Review (2011-2012) within the Counselling Psychology Section of the Canadian Psychological Association. Additionally, she was on the conference planning committee for the 2011 Inaugural Canadian Counselling Psychology Conference in Montreal. Internationally, Dr. Wada has been involved with several committees within Division 17 of the American Psychological Association and Association of Death Education and Counselling, and she was recognized as one of 40 Emerging Psychologists at the 2016 International Congress of Psychology. Dr. Wada served as a organizational committee member for the 2018 Counselling Canadian Psychology Conference in 2018. Currently, she sits on the Human Rights and Social Justice Committee of the Canadian Psychological Association.
Research
Areas of Research
Scholarly Activity
Dr. Wada is a multicultural, feminist, social justice researcher. Topics from her previous scholarly work include: the experiences of Japanese women who have returned to Japan after having studied in North America; immigrant and international students' cross-cultural adjustment; a theoretical integration of grief theories and the principles of Buddhist psychology; internationalization and decolonization of counselling, counselling psychology, and psychotherapy. Dr. Wada's current program of research will examine the cultural and social aspects of medicalization of grief, as well as social justice and human rights in counselling psychology training.
Interests:
Bereavement & grief
Medicalization
Feminist theory/research
Social justice
Qualitative research
Quantitative research
Globalization
Psychotherapy
Participation in university strategic initiatives
Courses
| Course number | Course title | Semester |
| --- | --- | --- |
| EDPS 625 LEC 01 01 | Cult Influences Prof Practice | 2021 |
| EDPS 742 LAB 01 B01 | Adv Practicum in Counselling | 2021 |
| EDPS 742 LAB 01 B01 | Adv Practicum in Counselling | 2021 |
| EDPS 742 LEC 01 01 | Adv Practicum in Counselling | 2021 |
| EDPS 742 LEC 01 01 | Adv Practicum in Counselling | 2021 |
| EDPS 79308 SEC 01 S01 | Grad Seminar: Sel Topics | 2021 |
| EDPS 79309 SEC 02 S02 | Grad Seminar: Sel Topics | 2021 |
Projects
Medicalization of grief: Looping effects and its alternatives
Insight Development Grant, Social Science and Humanity Research Council ($71,000).
Wada, K. (PI), Fellner, K. & Strong, T. (Co-researchers), Shimazono, S., & Horie, N. (Collaborators). Medicalization of grief: Looping effects and its alternatives.
---
Developing an explanatory model for intervention failure with suicidal youth.
Grant-in-Aid for Early-Career Scientists, Japan Society for the Promotion of Science (2.600,000 yen; approximately CAN$30,000). Kawamoto, S. (PI), Wada, K. (Collaborator).
---
Centering student learning through social justice pedagogy in Canadian Counselling Psychology: A case study
University of Calgary Scholarship of Teaching and Learning Grant ($39,950), Wada, K. & Kassan, A (Co-PIs), Arthur, N., Cohen, J., Domene, J., Marulanda, D., Murdry, T., & Russell-Mayhew, S. (Co-applicants)
---
Over the overseas rainbow: The urgency of intersectionality for LGBTQI newcomers
Maroney, M. (PI), Callahan, T., & Wada, K (Co),  Catalyst Grant ($9163), University of Calgary. 
---
Indigenous approaches to wellness & psychotherapy as a response to the COVID-19 Mental Health Crisis in Indigenous communities.
Fellner, K. (PI), Strawberry, T., Chabot, C., Chouinard, D. (Knowledge Users), Younger, K., Auger, D., Derbyshire, R., Wada, K. (Co-Applicants), & Tipple, S (Collaborators). Operating Grant ($250,000), Canadian Institute of Health Research. 
Awards
Best Doctoral Dissertation Award,

Counselling Psychological Section, Canadian Psychological Association.

2017

Emerging Psychologist,

International Congress of Psychology.

2016

Spirit of Giving Award, Concordia Council on Student Life,

Concordia University.

2011

Alma Matter Travel Award,

McGill University.

2007

Student Initiative Conference Scholarship,

Association for Death Education and Counseling.

2007

EGSS Travel Award,

McGill University.

2006

A. Ross Seaman Leadership Memorial Award,

Concordia University.

2014

Student Conference Travel Support,

Concordia University.

2004

Student Initiative Conference Scholarship,

Association for Death Education and Counseling.

2002
Publications
The Internationalization of Counseling Psychology & Psychotherapy: Decolonizing Diversity and Social Justice Training.

Kaori Wada; Anusha Kassan. Cognella. pp. 355¬–368. (2022)

Medicalization of grief: Its developments and issues..

J. N. Lester & M. O'Reilly (Editors-in-Chief). . The Palgrave Encyclopedia of Critical Perspectives on Mental Health. (2022)