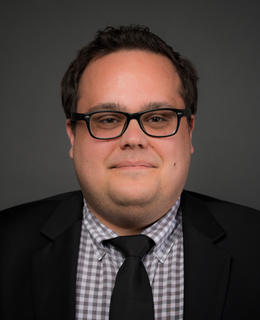 Justin Weinhardt
Positions
Associate Professor
Haskayne School of Business, Organizational Behaviour and Human Resources [OBHR]
Background
Educational Background
B.S. Psychology, Ohio State University, 2007
Doctor of Philosophy Psychology, Ohio University, 2013
M.S. Industrial/Organizational Psyc, Ohio University, 2011
Biography
Justin Weinhardt is an associate professor in the Organizational Behaviour and Human Resources area at the Haskayne School of Business. His research focuses on understanding how motivation and decision-making change over time using dynamic models. His work also focuses on mental illness at work.
Justin's research has been published in leading journals, including the Journal of Applied Psychology, Journal of Management, Organizational Behavior Human Decision Processes, Journal of Operations Management, and other leading management journals.
Justin joined the Haskayne School of Business as an assistant professor in July 2013. He holds a PhD and MSc in Industrial and Organizational Psychology from Ohio University as well as a BSc from The Ohio State University.
Courses
| Course number | Course title | Semester |
| --- | --- | --- |
| MGST 79761 LEC 02 02 | Directed Doctoral Study Mgmt | 2021 |
| OBHR 621 LEC 02 02 | Advanced Leadership | 2021 |
| OBHR 621 LEC 03 03 | Advanced Leadership | 2020 |
| UNIV 50174 LAB 03 B03 | Experiential Learning | 2021 |
Awards
Dean's Research Scholar ,

2019

Student Union Teaching Excellence Award,

2015
Publications
Using a computational model to understand possible sources of skews in distributions of job performance. .

Vancouver, J. B., Li, X., Weinhardt, J. M., Steel, P., & Purl, J. D. Personnel Psychology, 69(4). 931-974. (2016)

How analytic reasoning style and global thinking relate to understanding stocks and flows..

Weinhardt, J.M., Hendijani, R., Harman, J.L., Steel, P., & Gonzalez, C.. Journal of Operations Management, 39. 23-30. (2015)

Cross-cultural Measurement Invariance of the Employment Opportunity Index (EOI) in Mexican and Brazilian Professionals..

Morse, B. J., Weinhardt, J. M., Griffeth, R. W., & Oliveira, M. Z.. International Journal of Selection and Assessment, 22(2). 139-148. (2014)

Change one can believe in: Adding learning to computational models of self-regulation..

Vancouver, J. B., Weinhardt, J. M., & Vigo, R.. Organizational Behavior and Human Decision Processes, 124(1). 56-74. (2014)

Goal choices and planning: Distinct expectancy and value effects in two goal processes..

Sun, S., Vancouver, J.B., & Weinhardt, J.M.. Organizational Behavior and Human Decision Processes, 125(2). 220-233. (2014)

Computational models and organizational psychology: Opportunities abound..

Weinhardt, J. M., & Vancouver, J. B. Organizational Psychology Review, 2(4). 267-292. (2012)

An item response theory and factor analytic examination of two prominent maximizing tendency scales..

Weinhardt, J. M., Morse, B. J., Chimeli, J., & Fisher, J.. Judgment and Decision Making, 7(5). 644-658. (2012)

Modeling the Mind and the Milieu Computational Modeling for Micro-Level Organizational Researchers..

Vancouver, J. B., & Weinhardt, J. M.. Organizational Research Methods, 15(4). 602-623. (2012)

A formal, computational theory of multiple-goal pursuit: Integrating goal-choice and goal-striving processes.

Vancouver, J. B, Weinhardt, J. M., & Schmidt, A.. Journal of Applied Psychology, 95(6). 985-1008. (2010)