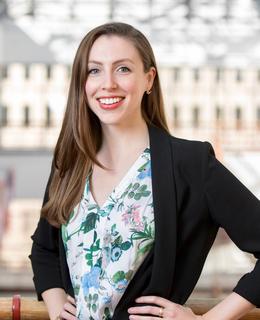 Julie Weatherhead
Positions
Assistant Professor
Haskayne School of Business, Organizational Behaviour and Human Resources [OBHR]
Contact information
For media enquiries, contact
Lauren Steeves
Senior Marketing and Communications Strategist
Phone: (403) 220-6153
Email: lauren.steeves@ucalgary.ca
Background
Educational Background
BComm Queen's University,
M.Sc. , Queen's University,
Ph.D. Queen's University,
Biography
Julie Weatherhead is an assistant professor in Organizational Behaviour and Human Resources at the Haskayne School of Business. Her primary research focus is leadership. Her PhD thesis critically assessed transformational leadership, one of the most prevalent contemporary leadership theories. That work examined whether transformational leadership is multidimensional, whether those dimensions are recognizable by others, and if there are attributes of followers that affect their ability to recognize the leadership dimensions. Julie will continue conducting research on leadership and emotion from the followers' perspective. She is also involved in research investigating the effects of socioeconomic status on different aspects of leadership emergence, and is attempting to better understand who becomes a leader and who does not. Julie has presented her research at international conferences including the Academy of Management, the Society for Industrial and Organizational Psychology, and the European Association of Work and Organizational Psychology.
Julie joined the Haskayne School of Business in 2019. She earned her BComm, MSc, and PhD from Queen's University.
Publications
Early exposure to poverty limits later leader emergence..

Barling, J., & Weatherhead, J. G.. Journal of Applied Psychology, 101. 130-1318. (2016)