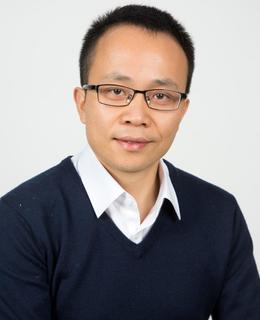 Jinguang Hu
Contact information
Dr. Hu's group is always looking for talented and highly motivated students and researchers. Potential candidates are encouraged to contact Dr. Hu directly by sending your CV along with a brief description of your previous research experience and future interests to jinguang.hu@ucalgary.ca
Background
Educational Background
Doctor of Philosophy , University of British Columbia, 2014
Biography
Dr Jinguang Hu is an Associate Professor in the Department of Chemical and Petroleum Engineering at the University of Calgary, Canada. He leads "Biomass & Biorefinery Research Lab" at the University of Calgary. His current research is supported by the Canada First Research Excellence Fund (CFREF) and focuses on biomass valorization, sustainable energy, bioinspired materials/systems, and protein engineering for Energy, Environmental and Biomedical application. He has published ~200 papers including top journals such as Energy Environ Sci, J Am Chem Soc, Angew Chem, ACS Catal, Adv Energy Mater, Adv Funct Mater, Appl Catal B, Chem Catal, Chem Eng J, Green Chem etc. He is the External Advisory Board member of the Canada Biomass Energy Network, a member of the "China-Canada Joint Centre for BioEnergy", a Research Fellow of GBIC, a recipient of "S.C. Trindade Award", and an active participator in the International Energy Agency (IEA) Bioenergy division. He currently serves as Editorial Board Members for Chemical Synthesis, Bioresources and Bioprocessing, Frontiers of Chemical Science & Engineering Resource Chemicals and Materials.
Research
Areas of Research
Biomass valorization; Sustainable energy; Bioinspired materials/systems; Protein engineering
Biomass is a key proposed component of several climate mitigation strategies, with substantial involvement of future energy and material systems. My research aim at use biomass, catalysis, and microbes to create new concept of energy/materials/systems for sustainable bioeconomy. These hybrid technology approaches provide potential route to economically viable energy production (hydrogen + biofuels) + biomass CO2 captured negative emission technologies (NET) (biomaterials + biochemicals), thus are clearly an important early step in the complete decarbonization of our society. Our current main research objective centres on the development of an efficient hybrid biomass refinery process, with the goal of converting biomass into value-added bio-based chemicals, materials and liquid biofuels etc., together with sustainable green H2 production.
Participation in university strategic initiatives
Courses
| Course number | Course title | Semester |
| --- | --- | --- |
| ENCH 535 | Principles of Biochemical Engineering | |
| ENCH 671 | Science & Technology Of Catalysts | |
| ENCH 673 | Engineering Principles in Biotechnology | |
| ENCH 551 | Chemical Engineering Laboratory | |
| ENCH 511 | Chemical Process Design | |
Awards
Schulich Early Research Excellence Award ,

2023

S.C. Trindade Award ,

2016