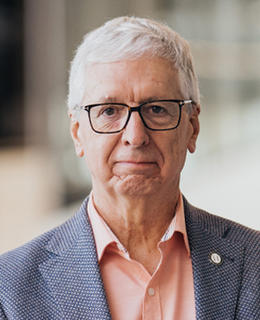 Positions
Professor
Haskayne School of Business, Strategy and Global Management [SGMA]
Chair
Business Schools Association of Canada
Senator
University of Calgary Senate
Background
Biography
Jim Dewald is the dean of the Haskayne School of Business and a professor in the strategy and entrepreneurship. A business leader who can provide an effective bridge between strategy theory and on-the-ground practice, his research interests are related to the micro-foundations of strategy formulation and implementation. Specifically, his work has contributed to the constructs of cognitive resilience, entrepreneurial thinking and strategic response to disruptive innovations.
Jim has two books, two book chapters, and academic articles published in journals such as Entrepreneurship Theory and Practice, the Journal of Management Studies, Strategic Entrepreneurship Journal, Long Range Planning, and Cities. He has received research awards from SSHRC, the United States Association of Entrepreneurship and Small Business, the Real Property Association of Canada, the Alberta Real Estate Foundation, and the University of Calgary. In addition, he was awarded the MBA Society's Outstanding Teaching and Learning Award.
Jim holds a BSc in civil engineering and MBA from the University of Alberta, and a PhD in strategy and global management from the University of Calgary. Prior to entering academe, he was active in the Calgary business community as the CEO of two major real estate development companies and a leading engineering consulting practice, and president of a tech-based international real estate brokerage company. He was recognized as Calgary Citizen of the Year (1999), is an honourary member of the Appraisal Institute of Canada, named a Thought-Leader by the Alberta Real Estate Foundation, and Male Champion for the Calgary Influential Women in Business. Jim have served on over 20 corporate and community boards and is currently on the Creative Destruction Lab Global Strategic Advisory, and the AACSB Global Continuous Improvement Review Committee.