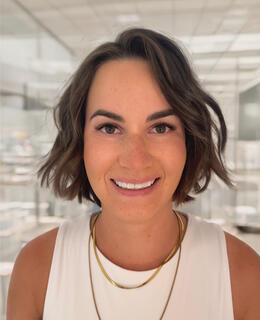 Dr. Jessalyn Holodinsky, PhD
Positions
Assistant Professor
Cumming School of Medicine, Department of Emergency Medicine
Assistant Professor
Cumming School of Medicine, Department of Community Health Sciences
Affiliations
Faculty Researcher
Cumming School of Medicine, Centre for Health Informatics
Full Member
Hotchkiss Brain Institute
Child Health & Wellness Researcher
Alberta Children's Hospital Research Institute
Background
Credentials
miniMBA Certificate, Rotman School of Management, University of Toronto, 2019
Certificate in University Teaching and Learning, Taylor Institute for Teaching and Learning, University of Calgary, 2018
Educational Background
PhD Epidemiology, University of Calgary,
MSc Health Services Research, University of Calgary,
Biography
Dr. Jessalyn Holodinsky is an Assistant Professor (Data Science) in the Department of Emergency Medicine, with a cross-appointment to the Department of Community Health Sciences. She received her PhD in Epidemiology from the University of Calgary and also holds a Master's of Science in Health Services Research. Jessalyn has trained in Calgary, Toronto (Sunnybrook Research Institute), Melbourne (Melbourne Brain Centre - University of Melbourne), and Dublin (Royal College of Surgeons in Ireland) lending an international perspective to her work. She has also previously performed research in the Departments of Clinical Neurosciences and Critical Care Medicine.
Jessalyn's work focuses on complex problems at the health system level - like overcrowding in the ED - resulting in the optimization of healthcare services and patient outcomes. She is highly skilled in administrative and big data use, complex modelling techniques including machine learning, and health system level research. Jessalyn is an advocate for using data to make change in the healthcare system and profoundly believes that Data Saves Lives.
Research
Areas of Research
Healthcare delivery optimization
Prediction of Emergency Department resource utilization
Emergency Department throughput
Electronic medical record data
Supervised and unsupervised machine learning
Survival analysis & generalized linear models
Respiratory vaccinations and the prevention of cardiovascular events
Prehospital transportation of suspected stroke patients
Participation in university strategic initiatives
Courses
| Course number | Course title | Semester |
| --- | --- | --- |
| MDSC 407 | Statistics and Research Design in Health Sciences | Winter 2018-19, 2021-24 |
| MDCH 611 | Biostatistics II: Models for Health Outcomes | Winter 2022-23 |
| MDCH 610 | Biostatistics I: Essentials of Biostatistics | Fall 2020-22 |
| DATA 621 | Advanced Statistical Modelling | Winter 2022 |
Awards
Postdoctoral Trainee of the Year,

Hotchkiss Brain Institute.

2022

Leadership Excellence Award,

Graduate Science Education.

2019

Excellence in Teaching Award,

Graduate Students Association.

2019

International Stroke Conference Junior Investigator Award,

American Stroke Association.

2018