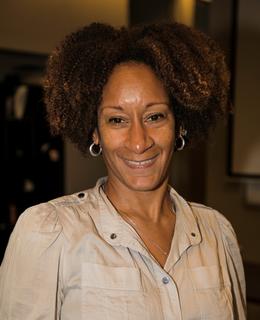 Jennifer Adams
Positions
Professor
Werklund School of Education
Background
Educational Background
PhD Urban Education, The Graduate Center, City University of New York , 2006
M.S. , Brooklyn College, 1996
M.A. , New York University, 1995
Biography
Dr. Jennifer D. Adams was born and raised in Brooklyn, NY. After college she worked in physical therapy for two years before entering the field of education. Dr. Adams taught high school Biology in the New York City Public Schools and concurrently worked as a field instructor for New York City Outward Bound. Dr. Adams then moved on to the American Museum of Natural History where she worked as a manager of teacher education. Dr. Adams completed a MS in nutrition at Brooklyn College, CUNY and an MA in education at New York University followed by a PhD in urban education with a Science, Math and Technology specialization at The Graduate Center, CUNY. Prior to joining the University of Calgary in 2017, Dr. Adams was an associate professor of science education at Brooklyn College, CUNY. Dr. Adams enjoys running and dance.
Professional and Community Affiliations
Dr. Adams serves as a founding editor of the International Journal of Informal Science and Environmental Learning. She also serves as lead editor for the Cultural Studies of Science Education and Journal of Research in Science Education. She served on the executive board of the National Association of Research in Science Teaching and in various leadership and committee capacities for the International Society of the Learning Sciences and American Education Research Association-Informal Learning Environments Research SIG. Dr. Adams is series editor of "Bio-Mythois: Rehumanizing STEM through creativity and lived praxis" with Peter Lang Publishers. Dr. Adams maintains collaborations with the informal science community, including the American Museum of Natural History, around equity-oriented research and practice.
Research
Areas of Research
Scholarly Activities:
Jennifer D. Adams is a Tier 2 Canada Research Chair of Creativity and Science and Associate Professor at The University of Calgary where she holds a dual appointment in the Department of Chemistry and Werklund School of Education.  She is the PI of the Creativity, Equity and STEM Lab where she leads her team in research on equity in STEM teaching and learning environments with an emphasis on anti-deficit, learner-centred, and justice-oriented approaches.
Interests:
Racial equity in STEM education

Postsecondary faculty education

Discipline-Based (Science) Education Research

Postsecondary STEM education

Creativity and STEM Education

Qualitative research

Sociocultural theory

Social justice

STEM pedagogy

Critical theory

Informal science education
Courses
| Course number | Course title | Semester |
| --- | --- | --- |
| SCIE 601 LEC 01 01 | Theory & Practice Univ Teach | 2021 |
Projects
Current:
Creativity and STEM

Black2DaFuture 

International Social Equity and STEM education research collaboration
Publications
Designing Frameworks for Authentic Equity in Science Teaching and Learning: Informal Learning Environments and Teacher Education for STEM.

Adams, J. D. . Asia-Pacific Science Education, 1(aop), 1-24. (2020)

Sylvia Wynter: Science Studies and Posthumanism as Praxes of Being Human.

Adams, J. D., & Weinstein, M. . Cultural Studies↔ Critical Methodologies, 20(3), 235-250. (2020)

The Crit-Trans Heuristic for Transforming STEM Education: Youth and Educators as Participants in the World.

Adams, J.D., Kim, Eun-Ji, Das, A. . In S. Steinberg (Ed.) Sage Handbook of Critical Pedagogy. (2020)

Developing Political Activity as if the World is on Fire.

Das, A., Strong, L., McCullough, S., & Adams, J. D. . Journal of Critical Thought and Praxis, 10(1). (2020)

Living authenticity in science education research.

Adams, J. D., & Siry, C. . In Examining Ethics in Contemporary Science Education Research (pp. 143-158). Springer, Cham. (2020)

An Integrative Cultural Model to better situate marginalized science students in postsecondary science education.

Labouta, H. I., Adams, J. D., & Cramb, D. T. . Cultural Studies of Science Education, 13(3), 785-796. (2018)

Informal science institutions and learning to teach: An examination of identity, agency, and affordances.

Adams, J. D., & Gupta, P. . Journal of Research in Science Teaching, 54(1), 121-138. (2017)

Against neoliberal enclosure: Using a critical transdisciplinary approach in science teaching and learning.

Strong, L., Adams, J. D., Bellino, M. E., Pieroni, P., Stoops, J., & Das, A.. Mind, Culture, and Activity, 23(3), 225-236. (2016)