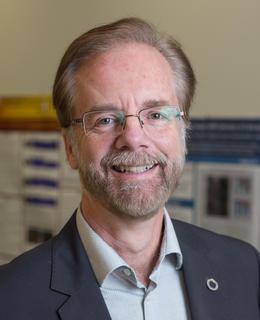 Dr. Jeff F Dunn, PhD
Positions
Professor
Cumming School of Medicine, Department of Radiology
Adjunct Professor
Cumming School of Medicine, Department of Clinical Neurosciences
Adjunct Professor
Cumming School of Medicine, Department of Physiology and Pharmacology
Full Member
Hotchkiss Brain Institute
Child Health & Wellness Researcher
Alberta Children's Hospital Research Institute
Full Member
McCaig Institute for Bone and Joint Health
Background
Educational Background
B.S. Zoology, University of British Columbia, 1978
Doctor of Philosophy Zoology, University of British Columbia, 1985
Biography
We are developing and applying a MRI, near-infrared spectroscopy, histology and direct measurements of oxygen to study oxygen regulation in brain—in both clinical and preclinical studies. We are studying low oxygen (hypoxia) as a marker of disease processes, and the role of hypoxia in disease progression—including cancer, multiple sclerosis, concussion, neurotoxins and brain inflammation. We study changes in brain function and anatomy, with measures of functional imaging, white matter degeneration, and blood flow, blood brain barrier disruption, cell tracking etc.. In the Hotchkiss Brain Institute, I'm associated with the priority areas of multiple sclerosis, concussion, epilepsy, neurodevelopment and stroke.
Research
Areas of Research
Brain
Brain Injury
Inflammation
Magnetic Resonance Imaging
Mitochondria
Neuroimaging
Stroke
Activities
Brain oxygen levels are a sensitive marker of brain health. We are developing and applying a range of technologies to study oxygen levels in brain and how these relate to disease processes. We research brain imaging with light as a method for assessing concussion. We may have found a method that is portable and relatively inexpensive to monitor brain injury. I am the Director of the Experimental Imaging Centre which develops and applies technology to study disease models as well as translate technology to patient care. We use MRI and near-infrared spectroscopy to non-invasively study brain oxygenation and blood vessel growth in the brain in response to chronic low oxygen—such as may occur in stroke, MS, brain injury and high-altitude medicine.
Participation in university strategic initiatives
Courses
| Course number | Course title | Semester |
| --- | --- | --- |
| BIOL 530 LAB 01 B01 | Hnrs Res Proj in Bio Sci | 2020 |
| BIOL 530 LAB 01 B01 | Hnrs Res Proj in Bio Sci | 2020 |
Projects
Small animal MRI
We use high field (9.4T) MRI to study disease processes in animal models. This includes studies of inflammation, BBB, cell tracking, white matter degeneration, diffusion tensor, atrophy and perfusion.
---
Near-infrared spectroscopy
We use functional near-infrared spectroscopy to study human brain cortical activation. We use frequency domain NIRS to quantify oxy and deoxyhemoglobin in the brain as a marker of hypoxia in disease processes and brain injury. We have developed a broadband NIRS system for studies of rodent brain oxygenation and function.
Awards
University of Calgary Top Graduate Supervisor Award,

University of Calgary.

2017

Killam Graduate Supervision and Mentorship Award,

Killam Trusts.

2021