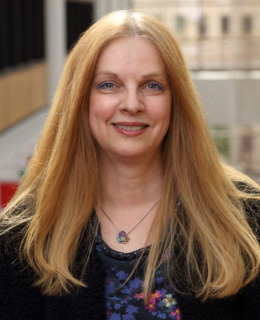 Janice B. Eliasson, BComm, BASc, MASc, PEng
Positions
Professor (Teaching)
Haskayne School of Business, Operations and Supply Chain Management [OSCM]
Background
Educational Background
Bachelor of Commerce Management Science, University of Alberta, 1983
Bachelor of Applied Science Industrial Engineering, University of Toronto, 1987
Master of Applied Science Systems Design Engineering, University of Waterloo, 1985
Biography
Janice Eliasson is a Associate Professor (Teaching) in the Operations and Supply Chain Management area at the Haskayne School of Business. She joined Haskayne in 1991 as a sessional lecturer and continued in that role until joining the faculty full-time in 2000.
Janice teaches both undergraduate and graduate students in the areas of business analytics using Excel, production and materials management, and quality in the supply chain.
Her husband Keith is a proud alumni and long-time supporter of the HSB. Her son David is a recent BComm graduate. Her son Kevin is a graduate U of C Civil Engineering student.
Courses
| Course number | Course title | Semester |
| --- | --- | --- |
| MGST391 | Business Analytics | Fall 2023 |
| OPMA401 | Production and Materials Management | Fall 2023 |
| OPMA403 | Managing Quality in Products and Services | Fall 2023 |
Awards
Golden Bull Employee of the Month,

Haskayne School of Business.

2022

Faculty - Superior Service Award,

Commerce Undergraduate Society.

2021

Best Paper,

Administrative Sciences Association of Canada.

2021

Teaching Excellence - Dean's Award,

Haskayne School of Business.

2015
Publications
Canadian Orthodontics Practice: Bracing for Patients.

Brent Snider & Peggy Hedges. Ivey Publishing (Case Study). Case #W28434. (2022)

Globalization and Focus in FT-50 OSCM Journals, 1952-2018: Implications for Academia.

Balakrishnan, Jaydeep; Kenworthy, Thomas; Cheng, Chun H.. IUP Journal of Operations Management. 7-31. (2021)

Globalization and Focus in Pinnacle OSCM Journals, 1952-2018: Implication for Academia.

J. Balakrishnan, T. Kenworthy, CH Cheng. ASAC (Administrative Sciences Association of Canada) - Awarded Best Paper in Operations and Management Division. (2021)

Applications of Business Analytics in Business.

SIAM Data Science Workshop Calgary. (2019)

Preparing Operations Management PhD Students to Teach .

Radford, S.. Presented at CORS (Canadian Operational Research Society) conference in Halifax. (2018)

Bending Paper Clips to Demonstrate Normal & Assignable Cause Variation.

Peggy Hedges. CORS (Canadian Operational Research Society) Conference in Banff. (2016)

Beat the Instructor: An Introductory Forecasting Game.

Brent Snider. Decision Sciences Journal of Innovative Education. (2013)

Queuing at eCycle Services.

Brent Snider. The Supply Chain Management Casebook: Comprehensive Coverage and Best Practices in SCM. Case #8. (2013)

Split Decision: How Back to Basics Supply Chain Management Can Save a Lot of Dough.

Tim Sweet. Operations & Supply Chain Management: The Core. (2010)

Active Learning in an Undergraduate Management Science Course Through the Use of a Mobile Lab.

Brent Snider & Diane Bischak. International Journal of Information and Operations Management Education. 104-118. (2009)

Push versus Pull & Mass Customization: A Lego Inukshuk Demonstration.

Brent Snider. Decision Sciences Journal of Innovative Education. 411-416. (2009)

Factors Affecting the Evolution of Manufacturing in Canada: An Historical Perspective.

Jaydeep Balakrishnan & Tim Sweet. Journal of Operations Management, 25, 2, 2007. pp 260 - 283. (2007)