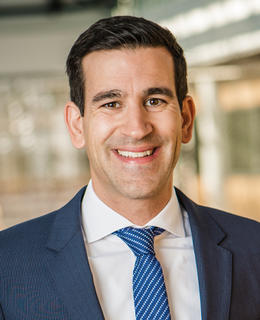 J. Ari Pandes
Positions
Associate Dean (Graduate)
Haskayne School of Business
Associate Professor
Haskayne School of Business, Finance [FNCE]
Director
Haskayne School of Business, MBA Programs
Background
Educational Background
Doctor of Philosophy , York University, 2009
M.A. Economics, York University, 2003
Bach of Comm Finance, University of Toronto, 2002
Biography
Dr. Pandes is an Associate Professor of Finance at the University of Calgary's Haskayne School of Business. He joined the Finance faculty in July 2009 and teaches at the PhD, EMBA, MBA and senior undergraduate levels. He holds a Ph.D. in Finance from the Schulich School of Business at York University, a Master's in Economics from York University, and a Bachelor of Commerce from the University of Toronto.
Dr. Pandes's research focuses primarily on issues in empirical corporate finance, with specific interests in securities issuance, investment banking, and financing decisions. He has presented his research at top international Finance conferences, at various universities internationally, and at the U.S. Securities and Exchange Commission and the Bank of Canada.
Dr. Pandes has also been awarded research grants from the Social Sciences and Humanities Research Council (SSHRC), the Canadian Securities Institute Research Foundation, and the University of Calgary. His research into the Canadian capital markets has twice won the Bank of Canada best paper award, and he has also won the CFA Society Toronto and Hillsdale Canadian Investment Research Award for best paper.
Dr. Pandes's research has often been cited in the press, and he frequently provides financial and economic insight to various media outlets.
Courses
| Course number | Course title | Semester |
| --- | --- | --- |
| FNCE 451 LEC 02 02 | Corporate Finance | 2020 |
| FNCE 451 LEC 01 01 | Corporate Finance | 2021 |
| FNCE 55906 LEC 01 01 | Sel Topics in Financial MGMT | 2020 |
| FNCE 611 LEC 02 02 | Adv Topics in Financial Admin | 2020 |
| FNCE 611 LEC 02 02 | Adv Topics in Financial Admin | 2020 |
Awards
Great Supervisor Award,

2018

Canadian Securities Institute Research Foundation Award,

2014

Haskayne Fellowship in Finance,

2014

Invited to attend the UBC Summer Conference -- Attendance is by select invitation only,

2014

Outstanding Reviewer Award from the Canadian Journal of Administrative Sciences,

2014

Visitin Research Professor (University of Bergamo) Honourarium,

2014

Industry Canada Network to Study Productivity in Canada from a Firm-Level Perspective Travel Grant.,

2013

Queens University Economics of Entrepreneurship and Innovation Travel Grant.,

2012

Bank of Canada Best Paper Award,

2011

Bank of Canada Travel Grant,

2011

Invited to attend the National Bureau of Economic Research (NBER) Summer Institute in Entrepreneurship (Boston, Massachusetts),

2011

University of Calgary Travel Grant,

2011

Bank of Canada Best Paper Award,

2008
Publications
The Role of Agents in Private Entrepreneurial Finance.

J. Ari Pandes with Douglas Cumming and Michael Robinson. Entrepreneurship Theory and Practice,39 (2). 345-374. (2015)

Is Effective Junior Equity Market Regulation Possible?.

J. Ari Pandes with Michael Robinson. Financial Analysts Journal, 70 (4). 42-54. (2014)

The IPO Market in Canada: What a Comparison with the United States tells us about a Global Problem.

J. Ari Pandes with Bryce Tingle and Michael Robinson. Canadian Business Law Journal, 54 (3). 321-367. (2013)

Underwriter Quality and Long-Run IPO Performance.

J. Ari Pandes with Ming Dong and Jean-Sebastien Michel. Financial Management, 40 (1). 219-251. (2011)

Underwriter Quality and Long-Run IPO Performance.

J. Ari Pandes with Ming Dong and Jean-Sebastien Michel. Financial Management, 40 (1). 500-531. (2011)

The Wealth Effects of Reducing Private Placement Resale Restrictions.

J. Ari Pandes with Elizabeth Maynes. European Financial Management, 17 (3). 500-531. (2011)

Bought Deals: The Value of Underwriter Certification in Seasoned Equity Offerings.

J. Ari Pandes . Journal of Banking and Finance, 34 (7). 1576-1589. (2010)
In the News
Tick Tock: The Death of the Stock. The Bull & Bear. (2019)