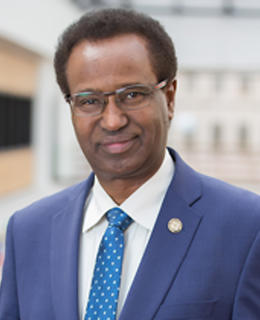 Hussein Warsame
Positions
Professor
Haskayne School of Business, Accounting [ACCT]
CPA Fellow in Taxation
Haskayne School of Business
Background
Educational Background
B.S. Chemistry, Somali National University, 1980
Doctor of Philosophy Comm, Manag & Bus Admin, University of Calgary, 1995
M.B.A. Comm, Manag & Bus Admin, California State University, 1986
Biography
Dr. Hussein Warsame is Professor of the Accounting Area at the Haskayne School of Business, CPA Fellow in Taxation, and Director of Master of Public Policy at the University of Calgary. He holds a BSc in Chemistry from Somali National University, an MBA with a concentration in accounting from California State University-Fresno and a PhD in Management with a major in accounting from University of Calgary. Dr. Warsame joined the University of Calgary's Haskayne School of Business in 2000. Prior to that, he was a faculty member in the John Molson School of Business of Concordia University in Montreal for 5 years. He also taught in United Arab Emirates University, UNIQWA (South Africa), Centrum (Peru), and the Somali National University.
His teaching interests are in taxation and financial accounting. In addition to the undergraduate programs, Dr. Warsame taught students in MBA, Executive MBA and Aviation MBA programs. He also supervises PhD candidates in accounting. He is a winner of the Dean's Award for PhD support (2012), the University of Calgary Student Union Teaching Excellence Award (Honorable mention 2008), the Chartered Accountants' Education Foundation Teaching Excellence Prize (2002 and 2007), and the Haskayne School of Business Commerce Undergraduate Society Teaching Excellence Award (2003).
His research interests are in taxation, financial accounting and auditing. Dr. Warsame has published in such refereed journals as: Accounting, Organization and Society (AOS), Accounting and the Public Interest (API), Journal of American Taxation Association (JATA), Journal of International Accounting, Auditing, and Taxation (JIAAT), Asia-Pacific Journal of Taxation (APJT), Accounting Perspectives (AP), the Journal of Applied Accounting Research, (JAAR), Canadian Petroleum Tax Journal (CPTJ), Academy of Accounting and Financial Studies Journal (AAFSJ), and Bildhaan – An International Journal of Somali Studies,. Prizes won by Dr. Warsame's research include: the Distinguished Research Award, from Academy of Accounting and Financial Studies, and the Vernon K. Zimmerman Best Paper Award presented by the Center for International Education and Research in Accounting. Dr. Warsame is an Associate Editor of and Accounting Education – An International Journal. He served in the Editorial Review Boards of several accounting and business journals, including the Journal of Business Research (JBR), and Accounting Education – An International Journal. He also serves as a reviewer for several accounting journals.
Awards
Great Supervisor Award,

Faculty of Graduate Studies, UCalgary.

2017

Deans Award for PhD support,

2012

Distinguished Research Award, from Academy of Accounting and Financial Studies,

2010

University of Calgary Students Union Teaching Excellence Award (Horourable Mention),

2008

Chartered Accountants Education Foundation Teaching Excellence Prize,

2007

Haskayne School of Business, Commerce Undergraduate Society Award: Outstanding Teaching and Learning.,

2003

Chartered Accountants Education Foundation Teaching Excellence and Innovation Award,

2002

Vernon K. Zimmerman Best Paper Award,

1999
Publications
Information Environment and Tax Avoidance.

Hussein A Warsame; Rahat Rahat Jafri. (2019)

Did IFRS Affect Corporate Tax Avoidance.

Hussein A Warsame; Akinloye Akindayomi; Oliver Okafor. (2019)

Corporate Tax Avoidance and Customer Satisfaction.

Hussein A Warsame; Harun Rashid; Mark Anderson; Sina Rahiminejad. (2019)