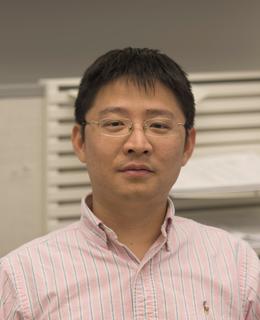 Dr. Hua Song
I'm looking for...
Research partners
We are looking for strategic partners enabling us carry out groundbreaking research and transform the outcomes into industrial practices in the fields of clean energy and environmental control.
Study participants
We are inviting highly self-motivated study participants to team with us for performing innovative fundamental and applied research which allow us to transform our world into a better one.
Background
Educational Background
Doctor of Philosophy Chemical Engineering, Ohio State University, 2009
Master of Engineering Chemical Engineering, Tsinghua University, 2004
Bach of Eng Sci Chemical Engineering, Northwestern Polytechnical U, 2001
Biography
Dr. Hua Song received his B.S. degree in Chemical Engineering from Northwestern Polytechnical University (2001) and M.S. degree in Applied Chemistry from Tsinghua University (2004) in China. He then continued his study in Heterogeneous Catalysis in the United States and received his Ph.D. degree from Ohio State University in 2009. He joined the Babcock & Wilcox (B&W) company as a Lead Engineer doing coal combustion emission control related research right after his graduation for about one and a half years (2009 ~ 2010). He then continued his professional career at Research Triangle Institute (RTI International) as a Research Chemical Engineer II conducting clean energy related work for another one and half years (2011 ~ 2012).
Dr. Song is now holding the full professor position in Department of Chemical & Petroleum Engineering at University of Calgary. His prior and current work has concentrated on development and characterization of heterogeneous catalyst systems for use in clean energy conversion and emissions control such as nonthermal plasma assisted catalytic low-cost resources valorization, crude oil upgrading, natural gas storage and utilization, CO2 capture and utilization, solid (coal, biomass, and municipal solid wastes) gasification for liquid production, and hazardous pollutants removal in waste water and flue gas after fossil fuel combustion. He has more than 100 refereed publications with high impact factor, more than 40 domestic and international patents, 8 books and book chapters. He has also received multiple internal and external research grants during the past ten years with total funding size over $8 million. His research has been recognized by multiple public media including NPR, UPI, CEP (AICHE), Tcetoday (IChemE), Science Daily, the Columbus Dispatch, the Calgary Herald, and Southern Weekend. Dr. Song has also been invited as the speaker and session chair of various professional meetings held nationally and internationally, and is an editorial board member and expert reviewer for multiple professional magazines with high impact in the field of energy and catalysis.
Research
Areas of Research
Heterogeneous catalysis and its application in clean energy conversion and environmental control
Methane activation and utilization; organic solid wastes conversion for biofuel production; heavy crude upgrading; low-cost hydrocarbon molecular engineering; nonthermal plasma assisted catalytic low-cost resources valorization; Photoelectrochemical low-cost resources valorization
Participation in university strategic initiatives
Courses
| Course number | Course title | Semester |
| --- | --- | --- |
| ENCH 551 | Chemical Engineering Laboratory | Fall 2012 |
| ENCH 505 | Separation Processes II | Fall 2013 |
| ENCH 511 | Chemical Process Design I | Fall 2013 |
| ENCH 551 | Chemical Engineering Laboratory | Fall 2013 |
| ENCH 505 | Separation Processes II | Fall 2014 |
| ENCH 551 | Chemical Engineering Laboratory | Fall 2014 |
| ENCH 511 | Chemical Process Design I | Fall 2014 |
| ENCH 531 | Chemical Process Design II | Winter 2015 |
| ENCH 505 | Separation Processes II | Fall 2015 |
| ENCH 551 | Chemical Engineering Laboratory | Fall 2015 |
| ENCH 511 | Chemical Process Design I | Fall 2015 |
| ENCH 505 | Separation Processes II | Fall 2016 |
| ENGG 319 | Probability and Statistics for Engineers | Fall 2017 |
| ENER 560 | Energy Engineering Thermodynamics | Fall 2017 |
| ENCH 505 | Separation Processes II | Fall 2019 |
| ENCH 551 | Chemical Engineering Laboratory | Fall 2019 |
| ENCH 511 | Chemical Process Design I | Fall 2019 |
| ENGG 311 | Engineering Thermodynamics | Winter 2020 |
| ENCH 531 | Chemical Process Design II | Winter 2020 |
| ENCH 511 | Chemical Process Design I | Fall 2020 |
| ENCH 505 | Separation Processes II | Fall 2020 |
| ENCH 551 | Chemical Engineering Laboratory | Fall 2020 |
| ENGG 311 | Engineering Thermodynamics | Winter 2021 |
| ENCH 531 | Chemical Process Design II | Winter 2021 |
| ENCH 511 | Chemical Process Design I | Fall 2021 |
| ENCH 505 | Separation Processes II | Fall 2021 |
| ENCH 531 | Chemical Process Design II | Winter 2022 |
| ENCH 505 | Separation Processes II | Fall 2022 |
| ENDG 319 | Probability, Statistics and Machine Learning | Fall 2022 |
| ENCH 511 | Chemical Process Design I | Fall 2022 |
| ENCH 531 | Chemical Process Design II | Winter 2023 |
| ENCH 505 | Separation Processes II | Fall 2023 |
| ENDG 319 | Probability, Statistics and Machine Learning | Fall 2023 |
| ENCH 511 | Chemical Process Design I | Fall 2023 |
| ENCH 531 | Chemical Process Design II | Winter 2024 |