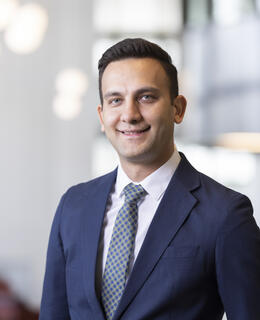 Hossein Piri
Positions
Assistant Professor
Haskayne School of Business, Operations and Supply Chain Management [OSCM]
Background
Educational Background
BSc. Chemical Engineering, Amirkabir University of Technology (Tehran Polytechnic),
MASc. Chemical and Biological Engineering, University of British Columbia,
PhD. Business Administration, University of British Columbia,
Research
Areas of Research
Healthcare Operations Research, Machine Learning, Human-AI interaction, Behavioral Operations
In the evolving landscape of healthcare management, my research journey converges at the intersection of artificial intelligence (AI) and healthcare operations research. The future of healthcare hinges on harnessing the potential of machine learning and enhancing Human-AI interaction. I am committed to not only improving patient outcomes but also prioritizing the well-being of clinicians. My upcoming projects include designing dynamic patient-centered warning systems that adapt to real-time clinician needs, optimizing drug interaction alerts to mitigate alert fatigue among clinicians, and addressing healthcare disparities with AI-driven healthcare thresholds for cancer screening. By focusing on these critical aspects, my research seeks to drive innovation, reduce healthcare disparities, and ultimately make tangible improvements in patient care and healthcare delivery
Revenue Management
In the realm of revenue management, my research has centered on assortment optimization and flexible product strategies. In a constantly evolving commercial landscape, understanding customer preferences is vital. My work in assortment optimization has unveiled the inherent complexity of this challenge, but I have developed practical algorithms to offer businesses near-optimal solutions. Additionally, my research on firm-centric and customer-centric flexible products provides insights into leveraging flexibility for revenue enhancement and improved seat capacity. These findings hold the potential to unlock new revenue streams and optimize operations for businesses in today's competitive marketplace.
Courses
| Course number | Course title | Semester |
| --- | --- | --- |
| MGST 391 | Business Analytics | Fall 2022 |
| SCMA 451 | Supply Chain Analytics | Fall 2022 |
| SCMA 451 | Supply Chain Analytics | Fall 2023 |
| MGST 631 | Prescriptive Analytics in Business | Fall 2023 |
Awards
Dean's Research Scholar (DRS),

Haskayne School of Business, University of Calgary.

2023

Killam Teaching Award,

University of British Columbia.

2022

Dean Earle D MacPhee Memorial Fellowship in Commerce and Business Administration,

University of British Columbia.

2021

Shelby L. Brumelle Memorial Graduate Scholarship,

University of British Columbia.

2021

President's Academic Excellence Initiative PhD Award,

University of British Columbia.

2020

Sauder School of Business Graduate Award,

University of British Columbia.

2017
Publications
Individualized Dynamic Patient Monitoring Under Alarm Fatigue.

Hossein Piri , Woonghee Tim Huh , Steven M. Shechter, Darren Hudson. Operations Research. 70(5):2749-2766. (2022)

Assortment Optimization Under Multiple-Discrete Customer Choices.

Heng Zhang, Hossein Piri, Woonghee Tim Huh, Honming Li. SSRN 3988982, Invited for second round review at Manufacturing & Service Operations Management. (2023)

Firm-Centric and Customer-Centric Flexiblity Products.

Hossein Piri, Woonghee Tim Huh, Eunho Chang, Chulung Lee. SSRN 4580410, Ready to be submitted to Manufacturing & Service Operations Management. (2023)