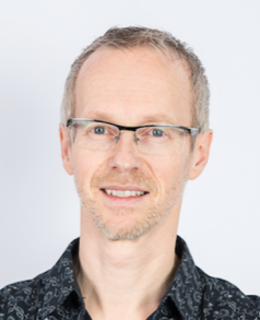 Dr. Gregory Moorhead, PhD
Positions
Member
Arnie Charbonneau Cancer Institute
Background
Educational Background
B.S. Biological Sciences, Queen's University, 1988
Doctor of Philosophy Biological Sciences, Queen's University, 1992
Biography
Dr. Moorhead completed his PhD at Queeen's University followed by postdoctoral research in Dundee with Sir Philip Cohen and Carol MacKintosh where he developed his interest in protein phosphatases. He joined the University of Calgary in 1998 and continues to work on protein phosphatases and their role in cell signaling.
Research
Areas of Research
Area of Focus
Protein Phosphatase in Cell Signaling
Summary of Research
Our primary goal is to define the role of protein phosphatases in cellular events in response to both intra- and extra-cellularly derived signals. Protein phosphorylation is a common means to control protein function and regulates essentially every aspect of cell biology. We use a combination of biochemistry, molecular cell biology, bioinformatics and proteomics to investigate both human and plant phosphatase function. Current projects include cell cycle control by type one protein phosphatases, novel plant PPP-type phosphatases, protein phosphatase evolution, plant starch phosphatases and proteomics of PP1-complexes.
The type one protein phosphatases (PP1) bind a majority of their regulatory subunits through a short motif designated RVxF. In humans several hundred PP1 binding proteins have been identified and several hundred more await discovery. Through affinity approaches and mass spectrometry we have identified many of these human PP1 complexes and have been characterizing several PP1 binding partner interactions using a variety of approaches. Currently we are focusing on PP1 partners linked to cell cycle control and cancer. Of particular interest is the control of PP1 function by phosphorylation of the partner PP1 binding partners.
Courses
| Course number | Course title | Semester |
| --- | --- | --- |
| BCEM 411 | Laboratory Techniques I | Fall 2022 |
| BCEM 530A | Honours Research Project in Biochemistry | Fall 2022 |
| BCEM 561 | Applied Biochemistry and Biotechnology | Fall 2022 |
| BCEM 530B | Honours Research Project in Biochemistry | Winter 2023 |
| BCEM 547 | Signal Transduction and Regulation of Metabolism | Winter 2023 |
Awards
CD Nelson prize,

2006

University of Calgary International Fellowship,

2006

Killam Resident Fellowship,

2005
Publications
2019
Amr R.A. Kataya, Douglas G. Muench and Greg B. Moorhead (2019) A Framework to Investigate Peroxisomal Protein Phosphorylation in Arabidopsis. Trends in Plant Sci, 24: 366-81.
2018
This paper is recommended in F1000Prime as being of special significance in its field by F1000 Faculty Member Mark Dell'Acqua https://f1000.com/prime/733248607?subscriptioncode=2f84aaf6-18ea-4fa4-98...
This also got a second recommendation by  F1000 Faculty Member Dr. Hiro Yamano:  https://f1000.com/prime/733248607?ref=ypp&utm_medium=email&utm_source=pr...
Chris White-Gloria, Jayde J Johnson, Kayla Marritt, Amr Kataya, Ahmad Vahab and Greg B Moorhead (2018) Protein kinases and phosphatases of the plastid and their potential role in starch metabolism. Frontiers in Plant Science July 2018 | Volume 9 | Article 1032 https://www.frontiersin.org/articles/10.3389/fpls.2018.01032/full
2017
Isha Nasa, Laura Trinkle-Mulcahy, P. Douglas, Sibapriya Chaudhuri, S.P. Lees-Miller, Kyung S. Lee, Greg Moorhead. (2017) Recruitment of PP1 to the centrosomal scaffold protein CEP192. Biochemical and Biophysical Research Communications 484(4)-864-870
R. Glen Uhrig, Anne-Marie Labandera, Lay-Yin Tang, Nicolas Sieben, Marilyn Goudreault, Edward Yeung, Anne-Claude Gingras, Marcus Samuel, and Greg Moorhead. (2017) Activation of mitochondrial protein phosphatase SLP2 by MIA40 regulates seed germination. Plant Physiology 173(2):956-969.
2016
R. Glen Uhrig, Anne-Marie Labandera, Jamshed Muhammad, Marcus Samuel, and Greg Moorhead (2016) Rhizobiale-like phosphatase 2 from Arabidopsis thaliana is a novel phospho-tyrosine specific PPP-family protein phosphatase. J. Biol. Chem. 291: 5926-5934
2015
David Kerk, Dylan Silver, Glen Uhrig and Greg Moorhead (2015) "PP2C7s", genes most highly elaborated in photosynthetic organisms, reveal the bacterial origin and stepwise evolution of PPM/PP2C protein phosphatases. PLoS ONE 10(8): e0132863.
Anne-Marie Labandera, Ahmad R. Vahab, Sibapriya Chaudhuri, David Kerk and Greg Moorhead (2015) The mitotic PP2A regulator ENSA/ARPP-19 is remarkably conserved across plants and most eukaryotes Biochem. Biophys. Research Comm. 458:739-744.