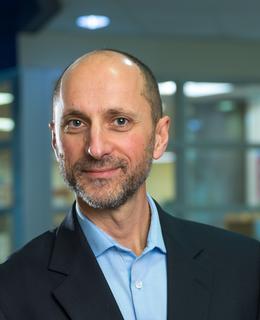 Gerald Giesbrecht, PhD, RPsych
Positions
Associate Professor
Cumming School of Medicine, Department of Pediatrics
Associate Professor
Cumming School of Medicine, Department of Community Health Sciences
Adjunct Associate Professor
Full Member
Alberta Children's Hospital Research Institute, Owerko Centre
Associate Member
Hotchkiss Brain Institute
Full Member
Mathison Centre for Mental Health Research and Education
Background
Credentials
Registered Psychologist, College of Alberta Psychologists, 2001
Educational Background
B.A. Psychology, Trinity Western University, 1997
M.A. Psychology, Trinity Western University, 1999
Doctor of Philosophy Psychology, University of Victoria, 2009
Biography
Dr. Giesbrecht is a registered Clinical Psychologist in the province of Alberta and Associate Professor in the Departments of Paediatrics and Community Health Sciences at the University of Calgary. His research program focuses on the psychobiology of stress, and especially on the effects of in utero and early life stress on child development. He is currently studying the effects of risk and resilience factors, such as adverse childhood experiences, nutrition, temperament, and the gut microbiota on children's neurodevelopment and mental health outcomes. The overall objectives of his research program are to identify the mechanisms by which early life exposure to stress becomes biologically embedded in children's development, to identify risk and resilience factors that modify the effects of early life stress exposure on children's development, and to develop effective intervention and prevention strategies to prevent or reduce the effects of early life stress exposure on children's development.
Research
Areas of Research
Neurodevelopment
Nutrition
Pregnancy
Psychosocial outcomes
Resiliency
Activities
In North America, approximately one quarter to one third of all pregnant women experience some form of psychological stress during pregnancy. Although some forms of mild stress may actually be beneficial, exposure to high levels or persistent stress during gestation significantly increases the risk for the emergence of emotional, behavioural, and cognitive disorders in children. The Developmental Psychobiology Laboratory seeks to discover how stress during gestation and in the early years becomes biologically embedded in children's development. Our objectives are to understand the risk and resilience factors that exacerbate or mitigate the effects of stress on children's development. Thus, research in the Developmental Psychobiology Lab clusters around two major themes:
Understanding the biological mechanisms that project the effects of early experience onto future development
Understanding the biological, psychological and social factors that interrupt or transform the negative effects of stress.
By understanding how stress 'gets under the skin' of children and what modifiable factors may prevent or ameliorate these effects, the overall aim of Developmental Psychobiology Lab is to improve the health and developmental outcomes of children exposed to early life adversity.
Participation in university strategic initiatives
Awards
Nomination for University of Calgary Peak Scholar award,

University of Calgary.

2020

Nomination for Department of Paediatrics Researcher of the Year,

Department of Paediatrics, University of Calgary.

2020

Outstanding Reviewer,

CIHR College of Reviewers.

2020