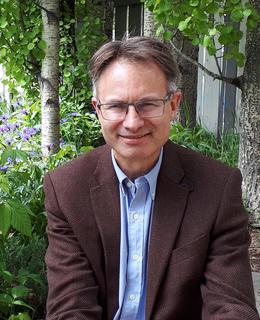 Dr. George William Colpitts
Contact information
For media enquiries, contact
Background
Educational Background
B.A. History, University of Calgary, 1990
Doctor of Philosophy History, University of Alberta, 2000
M.A. History, University of Calgary, 1993
Research
Areas of Research
Environmental and Animal History
As an environmental historian, I explore the history of human relations around trade, exchange and cultural encounter, with related interests in human encounters within the wild world: how the meaning of wildlife has changed in time, and how humanity has interacted with, found inspiration in, and frequently commodified in trade the wild things around them. My projects focus on the fur trade and fur industry, modernity and animals, the North, Indigenous history, parks, and sports hunting and angling.
Business History
My research interrogates the business of the fur trade, particularly the Hudson's Bay Company in its long history, company bookkeeping and credit traditions, and the nature of the "industrialized" fur trade of the twentieth century to the modern day. 
Northern History
I am interested in the commercial development of Subarctic and Arctic Canada, particularly in the expansion of trade, cash purchases of seal, polar bear pelts and "development" R&D in resource expansion. 
Participation in university strategic initiatives
Awards
Avie Bennett Historica Canada Public Lecture in Canadian History,

Historica Foundation of Canada.

2019

Eakin Fellowship,

McGill Institute for the Study of Canada.

2017

Faculty of Arts Award - Research - Established,

2015

Robert F. Heizer Prize,

2013

2010 Frederick C. Luebke Award for Outstanding Scholarship,

2010
Publications
"Murder, Death, and Suicide at the Zoo: Revisiting Anthropomorphic Stories of Quebec's Captive Polar Bears, 1936-58".

Canadian Historical Review. 101-127. (2023)

"Sinclair Lewis, Mantrap and Northern Canadian Modernism at Pelican Narrows, 1924," .

Prairie History, Fall Issue. (2020)

"Treaty 6 Cree Annuity Spending in the Territorial Economy of Western Canada, 1873-1905" .

Ethnohistory. 20-48. (2020)

"Knowing Nature in the Hudson's Bay Company, 1670-1870".

Business History. 1054-1080. (2017)

"Peace, War, and Climate Change on the Northern Plains: Bison Hunting in the Neutral Hills during the Mild Winters of 1830-34".

Canadian Journal of History. 431-441. (2015)

"Itinerant Jewish and Arabic Trading in the Dene's North, 1916-1930" .

Journal of the Canadian Historical Association. 163-213. (2021)

"Environment, Pemmican and Trade in a Northern Great Plains Bioregion".

Prairie Forum. 183-200. (2012)

"Provisioning the HBC: Market Economics in the British Buffalo Commons in the Early Nineteenth Century," .

Western Historical Quarterly. 179-203. (2012)

"The Methodists' Great 1869 Camp Meeting and Aboriginal Conservation Strategies in the North Saskatchewan River Valley," .

Great Plains Quarterly. 3-27. (2009)

"Reports of Environmental Degradation in Hudson's Bay Company Fur Trade Journals,".

British Journal of Canadian Studies. 1-32. (2006)

"'Animated Like Us By Commercial Interests,' Commercial Ethnology in New France Fur Trade Descriptions, 1660-1760," .

Canadian Historical Review. 305-337. (2002)

"Wildlife Promotions, Western Canadian Boosterism and the Conservation Movement, 1890-1914," .

American Review of Canadian Studies. 103-130. (1998)

"Conservation, Science and Canada's Fur Farming Industry, 1913-1945," .

Social History - Histoire sociale. 77-108. (1997)
Book: Pemmican Empire: Food, Trade and the Last Bison Hunts in the North American Plains, 1780-1882 .

Cambridge University Press. (2015)

Book: North America's Indian Trade in European Commerce and Imagination, 1580-1850.

Brill. (2014)

Book: Game in the Garden: A Human History of Wildlife to 1940.

George Colpitts. UBC Press. (2002)

"The Animal Anti-Cruelty Movement and the Hudson's Bay Company, 1919 – 1939".

Sean Kheraj and Jennifer Bonnell, eds. Traces of the Animal Past: Methodological Challenges in Animal History. (2022)

"Bison and Bookkeeping: Accounting as Technology in the Environmental History of the Great Plains".

The Greater Plains: Rethinking a Region's Environmental Histories, Norman: University of Oklahoma Press. (2021)

"Howl: The 1952-56 Rabies Crisis and the Creation of the Urban Wild at Banff" .

Animal Metropolis: Histories of Human-Animal Relations in Urban Canada, University of Calgary Press. (2016)

"A Métis View of the Summer Market Hunt on the Northern Plains".

Bison and People on the North American Great Plains: A Deep Environmental History, Texas A&M University Press. (2016)

"Energizing the Fur Trade".

Powering Up Canada: The History of Power, Fuel, and Energy from 1600, McGill-Queen's University Press. (2016)

"The Domesticated Body and the Industrialized Woman's Fur Coat in Canada in the Interwar Period".

Contests and Contestations: The Body in Canadian History, University of Toronto Press. (2016)

Harold Innis' Overlooked 1924 Memo on Wildlife Conservation in Northern Canada: The State and the Economics of Conservation.

Innis and the North: Contests and Appraisals, McGill-Queen's University Press. (2021)

"Films, Tourists and Bears in the National Parks: Managing Park Use and the Problematic "Highway Bum" Bear in the 1970s".

A Century of Parks Canada, 1911-2011, University of Calgary Press. (2011)

"Buffalo Hump and Moose Nose: The Food Exchange in the British North American Fur Trade, 1780-1840".

Dining on Turtles: Food, Feasts and Drinking in History, Palgrave Macmillan. (2007)
Edited Anthology, Finding Directions West: Readings that Locate and Dislocate Western Canada's Past.

Heather Devine and George Colpitts, eds.. University of Calgary Press. (2017)

Edition, Eleanor Luxton's Latch String Out: Annie McDougall, A Woman's Pioneer West.

Summerthought Books. (2015)

"The Animals' Guide to Calgary".

co-written by Shelley Alexander, Art by Rita McKeough. Calgary Atlas Project, Calgary Institute for the Humanities. (2021)