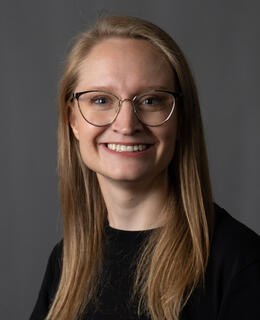 Dr. Gabriela Gilmour, MD
Positions
Clinical Assistant Professor of Neurology
University of Calgary
Full Member
Hotchkiss Brain Institute, Brain and Mental Health Research Clinics Initiative
Contact information
For media enquiries, contact
Kelly Johnston
Senior Communications Specialist
Please submit your media request here
Dr. Gabriela Gilmour is a neurologist with subspecialty training in movement disorder. She has clinical expertise in functional movement disorder, as well as in the diagnosis and management of patients with Parkinson's disease, tremor, dystonia, chorea, and other movement disorders.

Dr. Gilmour completed her medical school and neurology residency at the University of Calgary. Following the completion of her residency, she completed a fellowship in Movement Disorders at the Toronto Western Hospital and University of Toronto in Toronto, Ontario. She joined the faculty at the University of Calgary in 2023. She is a Full Member of the Hotchkiss Brain Institute.

Dr. Gilmour is the program director of the Functional Movement Disorder Clinic. She also works in the Movement Disorders, Urgent Neurology and General Neurology clinics, splitting her time between South Health Campus and Foothills Medical Centre.