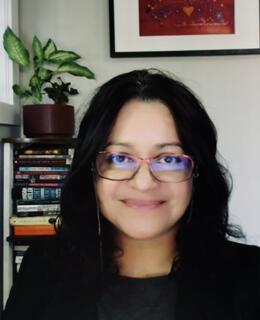 Gabriela Alonso Yáñez
Pronouns:
ella/ellas ~ she/her
Positions
Associate Professor
Werklund School of Education, Specialization, Curriculum and Learning
Background
Educational Background
Doctor of Philosophy Curriculum Theory and Implementation, Simon Fraser University, 2013
Research
Areas of Research
Transdisciplinary Research and Learning in the Context of Sustainability Partnerships
My program of research concerns action oriented work focused on describing and examining processes of learning and education in the context of sustainability multi-sector partnerships. I am interested in understanding the factors and conditions that influence how teams co-produce integrated, action-oriented socioecological knowledge in networks that include knowledge keepers, local community members and academics.
Within this broader research program, I follow two strands of inquiry:
1) Examining intersections between collective work, sustainability science, critical theory, and political ecology. These intersections are key to elucidating and examining how questions about knowledge and knowing converge with issues of inequality, power and differentiated access to resources, legitimacy, and authority when approaching sustainability science problems
2) Exploring methodological approaches to collective work including, resources, infrastructures, and methodologies designed to facilitate the synthesis, systematization, and analysis of varied types of data to stimulate advances in sustainability research and action-oriented work. 
Transdisciplinary and Convergence Research
The core of transdisciplinary research is the co-construction of questions, knowledge, and practical solutions in collaboration with partners who hold different and diverse ways of knowing, whether these be academic, traditional, indigenous or experiential.
Critical Sustainability
Critical Sustainability provides interdisciplinary researchers with a productive, critical entry point for an in-depth study of society–nature relations and the sociotechnical impacts of technology innovations in context-specific landscapes. Critical Sustainability Studies have led to a better understanding of how environmental, economic, and societal change processes are dynamically interconnected. This broader understanding illuminates where contradictions in dominant sustainability paradigms emerge and, thus, how researchers and practitioners can transform sustainability policies and practices.
Participation in university strategic initiatives
Publications
Transdisciplinarity 101: Recommendations for Best Practices and Short-Term Training Activities in Knowledge Production to Face Global Environmental Change.

Sandroni, L. House-Peters, L., Alonso-Yanez, G. Carbajal, I., Valentine, M., Arbour, N., Stewart, A.. Journal of Science Policy & Governance. (2023)

Converging Boundaries: Transdisciplinary experiences from biodiversity conservation practices in Colombia, Uruguay and Chile.

Garcia-Cartagena, M, Alonso Yáñez, G. & House Petrs, L.. DIO PRESS. (2022)

Alonso-Yanez, G., Friesen, S., Brown, B., Preciado, P. (2021). Emergence in School Systems: Lessons from Complexity and Pedagogical Leadership. Canadian Journal of Educational Administration and Policy (196) 65-82..

(2021)

Brown, B., Alonso-Yanez, G., Friesen, S., & Jacobsen, M. (2020). High School Redesign: Carnegie Unit as a Catalyst for Change. Canadian Journal of Educational Administration and Policy, (193)..

(2020)

Alonso-Yanez, G., House-Peters, L., Garcia-Cartagena, M. (2020, Feb 4). Decentering academia through critical unlearning in transdisciplinary knowledge production [Blog post]. https://i2insights.org/.

(2020)

Alonso-Yanez, G. Thumlert, K, de Castell S & Jenson J. (2019) Towards a Production Pedagogy Model for Critical Science and Technology Interventions. In Critical, Transdisciplinary and Embodied Approaches in STEM Education (pp. 41-60). Springer, Cham..

(2019)

Mobilizing transdisciplinary collaborations: Collective reflections on decentering academia in knowledge production. Global Sustainability, 2, E5. doi:10.1017/sus.2019.2.

Alonso-Yanez, G., House-Peters, L., Garcia-Cartagena, M., Bonelli, S., Lorenzo-Arana, I., & Ohira, M. . (2019)

Pathways to sustainable futures: A "Production Pedagogy" Model for STEM Education. Futures. Available online 19 February 2019. doi: 10.1016/j.futures.2019.02.021..

Alonso-Yanez, G. Thumlert, K, de Castell S & Jenson J. (2019)

Situational Analysis in Practice: Mapping Relationalities Across Disciplines.

Alonso Yanez, G. de Castell, S. Thumlert, K.. Routledge. 96-105. (2022)
Outreach:
Funding:
April 2022 - Transdisciplinary Curriculum Development Grant - (Co-PI - 2022- 2023)
Advancing Intercultural Capacity Grant - "Democratic and Intercultural Dialogue: Transdisciplinary Learning in the Chilean Constitutional Process" (PI- 2021-2022).
Rethinking Latinamerican Studies from the South - Calgary Institute for the Humanities- Working Group. (2020-2022).
Emerging Leaders in the Americas, Faculty Mobility Program – Government of Canada. "Advancing Methods for Transdisciplinary Collaborations and Social Learning: Calgary-Uruguay Mobility Program." (PI- 2020)
Inter-American Institute for Global Change Research. "Incorporating Local and Traditional Knowledge Systems: New Insights for Ecosystem Services and Transdisciplinary Collaborations" (PI- 2019 - 2022).
Inter-American Institute for Global Change Research: "Exploring Professional Development: Transdisciplinary Approaches to Integrating Policy and Science for Sustainability." (PI-2017).
Inter-American Institute for Global Change Research TISG-"Strengthening Teamwork to Confront Socio-Ecological Challenges: Generating New Knowledge for Effective Action in the Americas." (Co-PI- 2014-2016).
Vice Provost University International Grants Committee (UIGC): "Capacity Building for Global Collaboration in the Americas." (PI-2017). 
International Research Collaboration Seed Grant (University of Calgary): "Pathways for Convergence and Cross-Sector Collaboration: Towards a Research Program for Actionable Socio-Environmental Science". (PI-Active)
Critical Ecosystem Partnership Fund - Promoting environmental education in Southern Mesoamerica Hotspot (Archipiélago Bocas del Toro)  https://bit.ly/2MCSBEl
Student Supervision:
Aretha Asakitikpi - Curriculum and Learning (EdD) - Sociology of Education.
Steven Sheppard - Curriculum and Learning (EdD). Diversity in Learning.
Brian Gilbert (PhD) - Brian study focuses on exploring how online communities empower learners to develop scientific literacy skills outside of formal learning environments.
Héctor Turra (PhD) – is interested in exploring the learning processes happening in spaces of democratic participation in the current Constitution revisions in the Chilean context.
Chandra Lebenhagen (graduated December, 2020) - Curriculum and Learning (EdD) - Chandra explores questions about inclusive settings, learning and the experiences of students with autism spectrum disorder (ASD). 
Harrison Campbell (graduated June, 2019) - Curriculum and Learning (MEd) - Harrison's research focuses on understanding student experiences of multiliteracies through dramatization, embodied literacy, and visual literacy.
Chloe Burnett - Chloe's research focuses on improving Continuing Medical Education & Professional Development in the Cumming School of Medicine, University of Calgary.
Tara Vanderbeer - Tara is interested in developing science education curriculum relevant to the Northern Territories in Canada.
Ana Watson (graduated June, 2022) - Department of Geography (PhD) -  Ana's study explores the ways in which the social constructions of environmental concerns and power relationships influence land use decision making and natural gas extraction in Camisea, Peru through the analysis of key historical discourses, social learning and environmental politics.
Danilo Borja - Department of Geography (PhD) - Danilo explores the roles of informal social networks and social learning in shaping political arguments and land use policies in Yasuni, Ecuador.