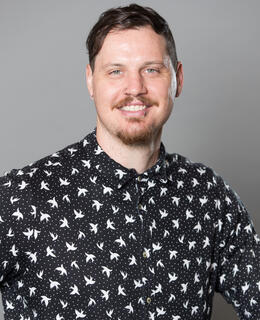 Dr Gabriel Knott-Fayle, PhD
Positions
Post-Doctoral Scholar of Masculinities Studies in Education
Werklund School of Education, Office of the Dean
Background
Educational Background
PhD Media and Communication, Loughborough University, 2021
MSc Gender and International Relations, University of Bristol, 2018
BA(Hons) International Relations, The University of the West of England, 2014
Biography
Dr Knott-Fayle received his MSc in Gender & International Relations and his PhD in Media and Communications in the UK. His theses centred on gender-diversity, inclusion, and discourses of discrimination, particularly in sporting contexts. Following his PhD, Dr Knott-Fayle worked at Leeds Becket University, UK, on projects exploring allyship, advocacy, sexuality, and masculinity in sports and physical activities. Building on this research history Dr Knott-Fayle is working on numerous projects at the Werklund School of Education exploring allyship, advocacy, and masculinity, with a focus on challenging homophobia, transphobia, and misogyny in pedagogical practices.
Latest Publications:
Borduas, C., Kehler, M. and Knott-Fayle, G. (2023) School Spaces, School Places: Shifting Masculinities During the COVID-19 Pandemic. International Journal of Educational Research. 120(2023), 1-9.
Knott-Fayle, G., Kehler, M., and B. Gough. (2023) Curating Embodiment: Transformation and Tensions in Men's Accounts of Shared Nudity. Journal of Bodies, Sexuality, and Masculinities.
Kehler, M., Borduas, C., Knott-Fayle, G., and B. Gough. (2022). "Getting Naked": Exploring How Athletes Attempt to Challenge Homophobia in Sport. Pedagogia Della Differenze.
Knott-Fayle, G. and E, Peel. (2022) Avoiding Cisgenderism in Qualitative Research: Challenges and Reflexivity in Online Interviews. Sage Research Methods: Doing Research Online.
Knott-Fayle, G., Peel, E. and G. Witcomb. (2022) Prejudice in 'Inclusive' Spaces: Cisgenderism in the Interview Context. Feminism & Psychology.
Knott-Fayle, G., Peel, E. and G. Witcomb. (2022) Representing Diverse Genders in Sports Media: The Discursive Production of Cisgenderism in the UK Press. In Gemma L. Witcomb and Elizabeth Peel (Eds.) Gender Diversity and Sport: Interdisciplinary Perspectives. London: Routledge.
Knott-Fayle, G., Peel, E. and G. Witcomb. (2021) (Anti-)Feminism and Cisgenderism in Sports Media. Feminist Media studies.
Projects
Interrupting Masculinity: Sexism, Misogyny, and Healthy Relationships
Workshops in Calgary schools designed to instigate conversations about the culture of masculinity in K-12 schools and the impacts it can have on all students. 
---
COVID Masculinities
SSHRC-funded project exploring the impact of COVID-19 measures on boys understandings, embodiments, and attitudes of masculinity. We interviewed a group of boys and their parents during and after COVID-19 school closures to develop a picture of the problems and possibilities this time of crises instigated in boys gender(ed) socialization.
---
Schooling Masculinities
Developing and facilitating an optional program for Werklund pre-service teachers designed to engage student-teachers in conversations about masculinities and the role of teachers in cultural conversations about them. This is an ongoing conversation with pre-service teachers to understand the possibilities and obstacles that are presented to teachers attempting to engage in critical, gender-transformative pedagogical practices. Funded by SoTL.
---
Athletes for Action
Work with sportsmen in the UK on issues of body image, homophobia, transphobia, and misogyny. We spoke to and observed sportsmen taking part in a project designed to promote and encourage allyship amongst sportsmen to make sports more inclusive.
Awards
Best MSc Dissertation in the School of Sociology, Politics and International Studies,

University of Bristol, UK.

2018
Media Work and Articles
Podcasts:
2023, January:  "Queers and Sport" on The Queer Lit Podcast. https://www.spreaker.com/user/14328383/queer-lit-gabriel
Articles:
Knott-Fayle, G. and M. Kehler. (2022) World Cup 2022: Men's Soccer Must Stop Silencing Activism and Allyship. The Conversation (Canada), November 27th. https://theconversation.com/world-cup-2022-mens-soccer-must-stop-silencing-activism-and-allyship-195087.
Kehler, M. and G. Knott-Fayle. (2022) Hockey Canada Scandal Highlights Toxic Masculinity in Sports. The Conversation (Canada), October 30th. https://theconversation.com/hockey-canada-scandal-highlights-toxic-masculinity-in-sports-192712.
TV Appearances:
2022, December 7th: Real Talk with Ryan Jespersen, "Toxic Masculinity in Sport". https://www.youtube.com/watch?v=YwzDmzbLHbw.
2022. December 5th: The Agenda with Steve Paikin, "Do Sports and Social Justice Clash?". https://www.tvo.org/video/do-sports-and-social-justice-clash