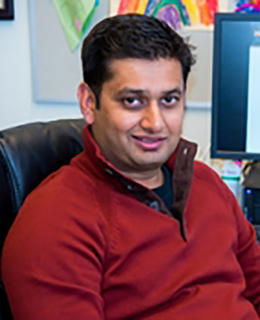 Dr. Faisal Khan, PhD
Positions
Associate Professor
Cumming School of Medicine
Member
Arnie Charbonneau Cancer Institute
Associate Member
The Calvin, Phoebe and Joan Snyder Institute for Chronic Diseases
Child Health & Wellness Researcher
Alberta Children's Hospital Research Institute
Background
Educational Background
B.S. Microbiology, Barkatullah University Bhopal, 1997
Doctor of Philosophy Biotechnology, Bundelkhand University, 2006
M.S. Biotechnology, Barkatullah University Bhopal, 1999
Biography
Dr. Khan is an Associate Professor in the Faculty of Medicine at University of Calgary and ACHF Chair of Pediatric Hematology. Dr. Khan has a cross appointment with Calgary Laboratory Services as an Associate Clinical Director of Tissue Typing and Molecular Haematology Laboratories; and as Director of Hematology Translational Lab.

Dr. Khan is a certified Diplomate of American Board of Histocompatibility and Immunogenetics (ABHI). Dr. Khan obtained his PhD in Human Molecular Genetics from SGPGIMS, Lucknow in India and pursued a postdoctoral research and clinical fellowships in Transplant Immunology and Immunogenetics at University of Calgary and Calgary Laboratory Services.
Research
Areas of Research
Area of Focus
histocompatibility and immunogenetics
transplant immunology
NK cells
Killer Immunoglobulin-like Recpeto
Summary of Research
Four approaches of Precision Medicine in Hematological Malignancies:
Approach#1: Development of new molecular classification for diagnosis and risk assessment of different myeloid and lymphoid malignancies. We are currently using next generation sequencing based approach to identify and characterize driver somatic variant involved in the pathogenesis and prognosis of acute myeloid leukemia, myelodysplastic syndrome, acute lymphoblastic leukemia and Non-Hodgkin's lymphoma.
Approach#2: Improving immunogenetic selection of donors for Hematopoietic Cell Transplantation. We are studying two immunogenetic systems: Killer Immunoglobulin like receptors (KIRs) and Promoter gene variants of Cytokine genes to improve donor selection algorithm and thereby reduce the incidence of HCT complications like graft versus host disease (GVHD), relapse of malignancy and infectious complications like posttransplant lymphoproliferative disease (PTLD).
Approach#3: Molecular prediction of leukemia/lymphoma relapse. We are studying three models: posttransplant chimerism in CD34+ cells; somatic variant based measurable residual disease analyses and recovery of immunity related transcriptome after allogeneic HCT for an early and accurate prediction of relapse of underlying malignancy after HCT.
Approach#4: Cellular assessment of Immunotherapy. We are studying different immunotherapeutic responses: (1) CAR T cell functions against B-cell malignant targets; (2) NK cell mediated ADCC against malignant B cell target in response to Rituximab; (3) Virus-specific T cell function against CMV, EBV, VZV and BK-virus.
Participation in university strategic initiatives
Awards
award,

American Society of Hematology Meeting.

2017

award,

2016

award,

Alberta Children Hospital Foundation.

2015

Department of Pathology and Laboratory Medicine.,

2015

award,

2014

award,

2013

award,

2012

award,

2011