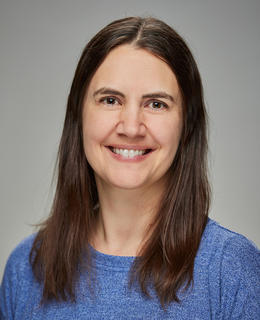 Dr. Emma A. Climie, Ph.D., R.Psych
Positions
Associate Professor
Werklund School of Education, Specialization, School and Applied Child Psychology
Adjunct Associate Professor
Child Health & Wellness Researcher
Alberta Children's Hospital Research Institute, Owerko Centre
Background
Educational Background
Doctor of Philosophy School & Applied Child Psychology, University of Calgary, 2012
M.Sc Psychology (Cognitive Development), University of Calgary, 2008
B.A. (hons, with distinction) Psychology, University of Victoria, 2004
Biography
Dr. Emma Climie first became interested in child development during her undergraduate work at the University of Victoria. She then moved to Calgary to complete her Master's degree in Cognition and Cognitive Development in the Department of Psychology at the University of Calgary before moving into the Werklund School of Education for her Doctoral work. She joined the Werklund School of Education as an assistant professor in 2011 and completed her R.Psych registration with the College of Alberta Psychologists in 2013.
Dr. Climie is the director of the Strengths in ADHD research lab and the Lead Researcher for the Carlson Family Research award in ADHD. She takes a strengths-based approach to working with children and believes that all children have areas of ability that can be used to support areas of difficulty.
Dr. Climie typically supervises graduate and undergraduate students who have an interest in understanding children from a strengths-based perspective, ideally with a focus on children with ADHD. She takes new graduate students most years and expects these students to join the collaborative work ongoing in the lab.
Professional & Community Affiliations
Dr. Climie is a member of a number of professional organizations associated with psychology, child development, school psychology, and ADHD.
College of Alberta Psychologists (CAP)
Psychologists' Association of Alberta (PAA)
Canadian Psychological Association (CPA)
Research
Areas of Research
Theoretical Orientations:
developmental
biopsychosocial 
Scholarly Activity
Dr. Climie is the principal investigator of the Strengths in ADHD research lab.  Her research focuses on children with Attention-Deficit/Hyperactivity Disorder (ADHD), resilience, children's mental health and mental well-being, school-based intervention, and strengths-based assessment. In particular, she is interested in better understanding the areas in which children are successful and using these areas of strength to support areas of deficit.
Her main area of research is resilience in children with ADHD. Herresearch interests focus on a strengths-based understanding of children with ADHD and their families and she is interested in better understanding factors that allow children with ADHD to be successful at home, at school, and with their peers. These factors may include emotional intelligence, executive functioning, stigma, parenting style, bilingualism, creativity, mental health, school supports, and physical exercise.
Dr. Climie currently oversees the "Strengths in ADHD" research lab in the Werklund School of Education at the University of Calgary and has a number of projects that stem from this lab.
GRADUATE CERTIFICATE PROGRAMS
Dr. Climie is also the academic coordinator for two graduate-level certificate programs:
Interests:
Developmental psychopathology: ADHD and disruptive disorders of childhood
Resilience
Developmental wellness and resiliency
School-based prevention programs
Treatment of childhood disorders
Cognitive developmental psychology
Psycho-educational assessment
Cognitive science
Child and youth mental health
Collaborative, school-based research
Participation in university strategic initiatives
Courses
| Course number | Course title | Semester |
| --- | --- | --- |
| EDPS 659 | Academic & Language Assessment & Intervention | Spring 2020, 2021 |
Projects
Current:
Knowledge and Stigma project - examines the levels of ADHD knowledge of parents, children, and other professionals as well as perceived stigma associated with the disorder.  Specifically, we are interested in understanding how knowledge and stigma may impact social-emotional wellbeing, bullying/victimization, and classroom performance.
Changing Stigma in ADHD - This project builds from the Knowledge and Stigma project, where we are now looking at ways in which we may impact perceptions of stigma for those with ADHD.  More specifically, we are interested in exploring aspects of internal and external stigma and determining the impact of experience (i.e., knowing someone with ADHD) and education (i.e., having a better understanding of the disorder) on stigma reduction.
Cognitive Development in ADHD - This project explores factors related to the development of cognition in children with ADHD, including theory of mind, executive function, emotional intelligence, social skills, and other social-emotional well-being indicators.  We are interested in better understand the development of key cognitive factors that may promote social and emotional success.
Our research lab also collaborates with other researchers across the university and nationally on ADHD-related projects:
Adults with ADHD - In collaboration with Dr. Brandy Callahan (UCalgary, Psychology), this project explores factors related to the on going success of adults and older adults with ADHD through a longitudinal study.
ADHD in Children & Covid - This project explores the impact that the Covid-19 pandemic has had on children with ADHD and their families. A large national sample of children with and without ADHD have completed questionnaires related to mental health, parenting, family, physical activity, and well-being and we are continuing with the longitudinal component of this study. This project is funded by CIHR and lead by co-PIs Dr. Yuanyuan Jiang and Maria Rogers.
---
Previous:
The Strengths project examines the abilities of children with ADHD, focusing on factors that promote positive outcomes and allow these children to be successful at home, at school, and with peers.  This large scale project includes children and families with ADHD and is supported by ACCFCR.
The SPARK for Learning project examines the impact of daily physical exercise on the cognitive, behavioural, and social-emotional well-being of children with ADHD and/or learning disabilities.  This project incorporates school-based intervention and is supported by AACES.
Awards
Carlson Family Research Award in ADHD,

Carlson Family; 2011-present.

SSHRC Insight Development Grant Enhancement Grant, University of Calgary Understanding the Impact of Knowledge and Stigma on Children with ADHD ($4000) – August 2017-August 2018 (Primary Investigator, with co-PI Dr. Alan McLuckie),

2018

Campus Mental Health Strategy Grant, University of Calgary ADHD Skills: Building Capacity in Students with ADHD ($9,350) – September 2017-Sept 2018 (Primary Investigator),

University Research Grants Committee - University of Calgary Knowledge is Power: Student, Parent, and Child Understanding of ADHD ($13,191) – August 2014-August 2016 (Primary Investigator),

Canadian Institute of Health Research (CIHR) – operating grant (Understanding and mitigating the impacts of the COVID-19 pandemic on children, youth and families in Canada) How is COVID-19 continuing to impact children with and without Attention- Deficit/,

CIHR.

2021

Werklund School of Education Teaching and Learning Grant, University of Calgary Envisioning and Creating an Embedded Certificate in Child & Youth Development ($1,500) – December 2021-December 2022 (PI, with K. Hughes),

2021

Teaching and Learning Grant, University of Calgary Networked and neurodiverse strategies for teaching performance creation online ($7,499) – March 2020-September 2021 (collaborator, with P. Hansen [PI] and L. Radford),

2020

SSHRC Insight Development Grant Strength and Stigma in Individuals with ADHD ($64,224) – July 2018-June 2021 (Principal Investigator, with co-PI Dr. Alan McLuckie and collaborators G. Dimitropoulos, J. Landine, & R. Schachar) ,

2020

VPR Catalyst Grant, University of Calgary A Virtual Behavioural Support Intervention for Children with ADHD ($11,160) – March 2021-March 2022 (collaborator, with J.F. Lemay [PI], G. Wilcox, & T. Hai),

2021
Publications
The relation between emotional intelligence and resilience in at-risk populations.

McCrimmon, A.W., Climie, E.A., & Hyunh, S. . Developmental Neurorehabilitation. (2018)

The role of parental stress and disease knowledge on incidences of bullying among children with inattention and hyperactivity.

Taylor, L, Climie, E.A., & Yue, M. . Children's Health Care. (2020)

Canadian parents and children's knowledge of ADHD: Comparing an ADHD and control sample.

Henley, L., & Climie, E.A. . Vulnerable Children and Youth Studies. (2018)

Neurochemical Correlates of Executive Function in Children with Attention-Deficit/Hyperactivity Disorder.

Hai, T., Duffy, H., Lemay, J.F., Swansburg, R., Climie, E.A., & MacMaster, F.P.. Journal of Canadian Academy of Child & Adolescent Psychiatry. (2020)

Trait and ability emotional intelligence in children with ADHD..

Climie, E.A., Saklofske, D.H., Mastoras, S.M., & Schwean, V.L. . Journal of Attention Disorders. (2019)

Parent-Child Relationship and Behaviour Problems in Children with ADHD.

Climie, E. A., & Mitchell, K. . International Journal of Developmental Disabilities. (2017)

Social Support in Children with ADHD: Exploring Resilience in an At-Risk Population..

Mastoras, S.M., Saklofske, D.H., Schwean, V.L., & Climie, E.A. . Journal of Attention Disorders. (2018)

Clinical reasoning in the assessment and intervention planning of Attention-Deficit/Hyperactivity Disorder..

Climie, E.A., Mah, J.W.T., & Chase, C. . Canadian Journal of School Psychology. (2017)

A Renewed Focus on Strengths-Based Assessment in Schools.

Climie, E.A., & Henley, L. . British Journal of Special Education . (2016)

Children with Attention Deficit/Hyperactivity Disorder and Reading Disability: A review of the efficacy of medication treatments.

Gray, C., & Climie, E.A. . Frontiers in Psychology. (2016)

ADHD in Schools: Adopting a Strengths-Based Perspective.

Climie, E.A., & Mastoras, S.M. . Canadian Psychology . (2015)

A Review of School-Based Interventions to Reduce Stigma towards Schizophrenia.

Flanigan, L.K., & Climie, E.A. . Psychiatric Quarterly. (2020)

Perinatal maternal anxiety and depressive symptoms and child executive function and attention at 2-years of age. .

Ross, K., Letourneau, N., Giesbrecht, G., Climie, E.A., & Dewey, D. . Developmental Neuropsychology. (2020)

The Relation between symptoms of ADHD and symptoms of Eating Disorders.

Baraskewich, J. & Climie, E.A. . The Journal of General Psychology. (2022)

Positive child development factors in children with ADHD.

Hai, T., & Climie, E.A. . Journal of Attention Disorders. (2022)
Emotional Intelligence in Atypical Populations: Research and School-Based Interventions.

Montgomery, J., McCrimmon, A., Climie, E.A., & Ward, M. Springer. 243-297. (2018)

ADHD in Individuals with Intellectual Disability.

Flanigan L., Climie E.A., Gray C., Conde C.F. . Handbook of Intellectual Disabilities. Autism and Child Psychopathology Series. (2019)