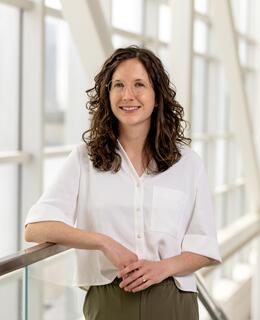 Dr. Emily Rogers-Bradley, PhD
Positions
Full Member
McCaig Institute for Bone and Joint Health
Child Health & Wellness Researcher
Alberta Children's Hospital Research Institute
Background
Educational Background
PhD Mechanical Engineering, Massachusetts Institute of Technology, 2023
MSc Mechanical Engineering, Massachusetts Institute of Technology, 2019
BSc Biomedical Engineering, Harvard University, 2015
Biography
Dr. Emily Rogers-Bradley joined the University of Calgary as an Assistant Professor in 2023. Dr. Rogers-Bradley is the director of the Adaptive Bionics Lab, researching the design of quasi-passive prostheses and exoskeletons that adapt to speed, terrain, and ground surface for walking and running optimization. Her research merges precision machine design, biomechanics, and robotics for the development of new types of prostheses and exoskeletons.
Prior to coming to Calgary she obtained her PhD in Mechanical Engineering from Massachusetts Institute of Technology in February 2023. She received an MSc in Mechanical Engineering from MIT in 2019 and a BSc in Biomedical Engineering from Harvard University in 2015. She has also spent several years in industry as a Mechatronics Engineer at Ekso Bionics, where she designed robotic exoskeletons for stroke and spinal cord injury rehabilitation. Dr. Rogers-Bradley is an Associate Editor for IEEE Transactions on Neural Systems and Rehabilitation Engineering.
Research
Areas of Research
Prosthesis Design and Development
We design and develop robotic prosthetic devices to restore and augment function for people with lower limb amputations.
Orthosis and Exoskeleton Development
We develop wearable exoskeletons/orthoses to correct gait abnormalities and enhance performance.
Biomechanics
We study the biomechanics of human gait to better understand important functionalities of wearable robotic devices as well as assessing impact of developed devices.
Participation in university strategic initiatives
Awards
Graduate Research Fellow,

National Science Foundation.

2017

Runner-up,

MIT Mechanical Engineering Research Exhibition.

2019

Dean's Award for Outstanding Engineering Thesis Projects,

Harvard School of Engineering and Applied Sciences.

2015

3rd Place International Student Design Showcase,

Design of Medical Devices Conference.

2015
Publications
Design and Evaluation of a Quasi-Passive Variable Stiffness Prosthesis for Walking Speed Adaptation in People With Transtibial Amputation.

E Rogers-Bradley, SH Yeon, C Landis, and HM Herr. IEEE/ASME Transactions on Mechatronics. 1-12. (2023)

An Ankle-Foot Prosthesis for Rock Climbing Augmentation.

E Rogers-Bradley (Rogers), M Carney, SH Yeon, TR Clites, D Solav, and HM Herr. IEEE Transactions on Neural Systems and Rehabilitation Engineering. 11. (2021)

Acquisition of Surface EMG Using Flexible and Low-Profile Electrodes for Lower Extremity Neuroprosthetic Control.

SH Yeon, T Shu, H Song, TH Hsieh, J Qiao, E Rogers-Bradley (Rogers), S Gutierrez-Arango, E Israel, and HM Herr. IEEE Transactions on Medical Robotics and Bionics. 9. (2021)