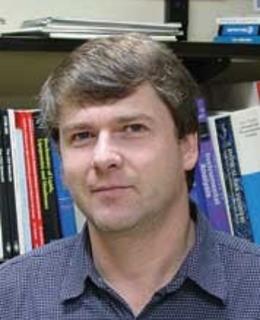 Dr. Elmar Josef Prenner, PhD
Positions
Member
Arnie Charbonneau Cancer Institute
Background
Educational Background
Biochemistry Biophysics, Austrian Academy of Sciences, 1995
Biochemistry Membrane Biophysics, University of Alberta, 1995
Diplomingenieur der Technischen Wissenschaften Membrane Biophysics, Technische Universitat Graz, 1988
Doktor der Technischen Wissenschaften Chemistry, Technische Universitat Graz, 1993
Postdoctoral Fellow Biophysical Chemistry, University of Alberta, 1995
Biography
Dr. Elmar Prenner received his first degree of Diplom Ingenieur in biochemistry and food chemistry at the University of Technology in Graz, Austria. Subsequently, he completed a PhD in the university's department of biochemistry. During this time, he also worked as a research assistant for several other departments by developing bioassays.
Elmar was supported by an EMBO postdoctoral fellowship while working for the Dietmar Möbius group at the Max-Planck-Institute for biophysical chemistry, one of the world leaders in surface sciences. After Elmar's post-doctoral fellowship at the University of Alberta, he joined the department of biological sciences at the University of Calgary in 2002 as an AHFMR scholar.
Dr. Prenner was the founding president of Aqua Screen (later D-Tex) and in 2014, he was the founding president of Alberta BioPhotonics which focuses on the development of new instruments for various industries, including water quality analysis.
Research
Areas of Research
Area of Focus
Biomembrane architecture (lipid rafts, domains)
Lipid-protein interactions
Nanoparticle based pulmonary drug delivery
Bioinorganic chemistry (membrane interactions of heavy metals)
Bioanalytical chemistry (bioassay development)
Biophysical techniques
High throughput screening of biosurfactants [Hydrocarbon Metagenomics project]
Summary of Research
As part of the Hydrocarbon Metagenomics Project, Dr. Elmar Prenner is working towards greener production and extraction of hydrocarbon energy.
Dr. Prenner's research group has developed a series of hand-held instruments, which can be used in a variety of applications from water analysis and environmental protection to health care. One class of devices is dedicated to the detection of ions in water (e.g. Na+, K+, CL-, Ca++, Mg++, Hg++, Cd++). Such assays are relevant for screening of environmental water samples.
Courses
| Course number | Course title | Semester |
| --- | --- | --- |
| BCEM 471 | Physical Biochemistry | Fall 2022 |
| BIOL 601.01 | Biochemistry I | Fall 2022 |
| BCEM 393 | Introduction to Biochemistry | Winter 2023 |
| BCEM 413 | Laboratory Techniques II | Winter 2023 |
| BCEM 575 | Lipids | Winter 2023 |
| BIOL 601.02 | Biochemistry II | Winter 2023 |
| CMMB 451 | Molecular Analysis of Biological Systems | Winter 2023 |
Awards
Poster prize by the Petroleum Tech Alliance of Canada for the 'most innovative water-related technology',

2006

AHFMR Scholar award grant,

2002
Publications
DSC application: macromolecules.

N.S. Berezowski*; R. Pignatello; M.H. Chiu*; E. J. Prenner. Woodhead publishing series in Biomedicine. 237 -263. (2013)

Calorimetry methods to study membrane interactions and perturbations induced by antimicrobial host defense peptides..

Mauricio Arias; Hans J Vogel; Elmar J Prenner. Springer. 119-140. (2017)

Differential Scanning Calorimetry.

Chiu MH*; Elmar Josef J Prenner; Berezowski NS*. Woodhead Publishing. 237 -263. (2013)

Biomimetic model membrane systems serve as increasingly valuable in vitro tools.

Litzenberger JK*; Elmar Josef J Prenner; Anne George; Le MTT*. Intech. 251-276. (2011)

Biophysical Studies of Cyclic Cationic Antimicrobial Peptides.

Y Shimohigashi; M Jelokhani-Niaraki; R S Hodges; Elmar Josef J Prenner. 75-78. (2004)

Structural Characterization of Antimicrobial Peptides.

Hans J. J Vogel; Elmar Josef J Prenner; L T Nguyen. Springer. 1297-1305. (2006)
More publications
T. Abraham, E.J. Prenner, R.N.A.H. Lewis, C.T. Manz, R.S. Hodges and R.N. McElhaney Structure-Activity Relationships of the Antimicrobial Peptide Gramicidin S and its Analogues: Aqueous Solubility, Self Association, Conformation, Antimicrobial Activity and Interaction with  Lipid Bilayer Model Membranes Biochim. Biophys. Acta 1838 (2014) 1420-142 
M.T. Le, M. Hassanin, M. Mahadeo, J. Gailer, E.J. Prenner∗ Hg- and Cd-induced modulation of lipid packing and monolayer fluidity in biomimetic erythrocyte model systems. Chemistry and Physics of Lipids 170– 171 (2013) 46– 54 
S. Nathoo, J.K. Litzenberger, D. Bay, R.J. Turner, and E.J. Prenner* Visualizing a multidrug resistance protein, EmrE, with major bacterial lipids using Brewster angle microscopy Chem Phys Lipids 167– 168 (2013) 33– 42 
T. Gröger, S. Nathoo, T. Ku, C. Sikora, R. J. Turner and E. J. Prenner* Real-time imaging of lipid domains and distinct coexisting membrane protein clusters Chem. Phys. Lipids 165 (2012) 216-224 
M. H. Chiu and E. J. Prenner* Differential scanning calorimetry: an invaluable tool for a detailed thermodynamic characterization of macromolecules and their interactions. J. Pharm. BioAllied Sciences 3 (2011) 39-59 (invited review)
S. Nathoo, J.K. Litzenberger, D. Bay, R.J. Turner, and E.J. Prenner Visualizing a multidrug resistance protein, EmrE, with major bacterial lipids using Brewster angle microscopy Chem Phys Lipids 167– 168 (2013) 33– 42 
T. Gröger, S. Nathoo, T. Ku, C. Sikora, R. J. Turner and E. J. Prenner* Real-time imaging of lipid domains and distinct coexisting membrane protein clusters Chem. Phys. Lipids 165 (2012) 216-224 
M. H. Chiu and E. J. Prenner* Differential scanning calorimetry: an invaluable tool for a detailed thermodynamic characterization of macromolecules and their interactions. J. Pharm. BioAllied Sciences 3 (2011) 39-59 (invited review) 
P. Lai, S. Nathoo, T. Ku, S. Gill, S. Azarmi, W. Roa, R. Löbenberg and E.J. Prenner. Real-time imaging of interactions between dipalmitoylphosphatidylcholine monolayers and gelatin based nanoparticles using Brewster Angle Microscopy. J Biol Nanotech 6 (2010), 1-8 
E. F. Haney, S. Nathoo, H. J. Vogel and E. J. Prenner. Induction of non-lamellar lipid phases by antimicrobial peptides: A possible link to mode of action? Chem. Phys. Lipids 163 (2010) 82–93
M. H Chiu, C.-P. L. Wan, P. M.M. Weers and E. J. Prenner. Apolipophorin III Interaction with Model Membranes Composed of Phosphatidylcholine and Sphingomyelin using Differential Scanning Calorimetry Biochim. Biophys Acta 1788 (2009) 2160–2168
M.T. Le, J. Gailer and E. J. Prenner. Hg++ and Cd++ interact differently with biomimetic erythrocyte membranes Biometals 22 (2009) 261-274
T. Ku, S. Gill, R. Löbenberg, S. Azarmi, W. Roa and E. J. Prenner. Size Dependent Interactions of Nanoparticles with Lung Surfactant Model Systems and the Significant Impact on Surface Potential. J Nanosci Nanotech 8 (2008) 2971-2978
V.V. Andrushchenko, M.H. Aarabi, L.T. Nguyen, E.J. Prenner and H.J. Vogel. Thermodynamics of the Interactions of Tryptophan-Rich Cathelicidin Antimicrobial Peptides with Model and Natural Membranes Biochim. Biophys. Acta 1778 (2008) 1004-1014
V.V. Andrushchenko, H.J. Vogel and E.J. Prenner. Interactions of Tryptophan-Rich Cathelicidin Antimicrobial Peptides with Model Membranes Studied by Differential Scanning Calorimetry. Biochim. Biophys. Acta 1768 (2007) 2447-2458
S. Gill, R. Loebenberg, T. Ku, S. Arzami, W. Roa and E. J. Prenner. Nanoparticles: Characteristics, Mechanisms of Action and Toxicity in Pulmonary Drug Delivery-A Review. J Biomed Nanotech. 2 (2007) 107-119
E.J. Prenner, G. Honsek, D. Hönig, D. Möbius and K. Lohner. Biophysical investigations and imaging of the lateral organization of sphingomyelin and phosphatidylcholine monolayers. Chem. Phys. Lipids 145 (2007) 106-118