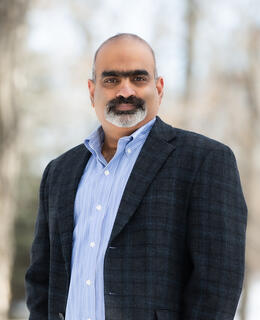 Dr. Diwakar Krishnamurthy, PhD, PEng.
Positions
Child Health & Wellness Researcher
Alberta Children's Hospital Research Institute
I'm looking for...
Learning opportunities
I am looking for graduate students interested in exploring how AR/VR/wearable technologies can be used to help neurodiverse individuals. Excellent programming skills and HCI experience will be assets.
Background
Educational Background
Bachelor of Eng Electrical Engineering, Madurai Kamaraj University, 1995
Doctor of Philosophy Electrical Engineering, Carleton University, 2004
Master of Engineering Electrical Engineering, Carleton University, 1998
Research
Areas of Research
The ETHEREAL Project - Enhancing Autistic Voices Through Extended Reality
Performance optimization of next generation multimedia systems (XR and related technologies)
Performance management of cloud, big data, and IoT systems
Software performance engineering
Participation in university strategic initiatives
Courses
| Course number | Course title | Semester |
| --- | --- | --- |
| ENSF 603 LEC 01 01 | Model & Measure Software Perf | 2022 |
| SENG 550 LAB 01 B01 | Scalable Data Analytics | 2022 |
| SENG 550 LEC 01 01 | Scalable Data Analytics | 2022 |
Projects
Next Generation Communication Technology for Nonspeaking Autistic People
Funded by SSHRC, NSERC, and Alberta Innovates. Joint work with Dr. V. K. Jaswal (University of Virginia) and Dr. Mea Wang (University of Calgary)
---
Resource Management in Beyond 5G Networks
co-PI of project funded by NSERC and Alberta Innovates. (PI - Dr. Abraham Fapojuwo)
---
Performance Management of Software Systems in the Cloud Era
PI of research program funded by NSERC.
---
Quality of Experience of Extended Reality (XR) Applications over 5G Networks
co-PI of project funded by MITACS and Telus (PI - Dr. Frank Maurer; co-PIs - Dr. Hatem Abou-Zeid; Dr. Mea Wang; Dr. Richard Zhao)
Postdocs
Dr. Lorans Alabood
Current students
PhD
Sarah Shah (co-supervisor: Dr. Yasaman Amannejad)
Niloofar Sharifi (co-supervisor: Dr. Yasaman Amannejad)
Kyle Otto Jorgensen (co-supervised, supervisor: Dr. Mea Wang)
MSc
Quinn Cooper (co-supervisor: Dr. Yasaman Amannejad
Ali Shahidi (co-supervisor: Dr. Mea Wang)
Sujesh Padhi (co-supervisor: Dr. Abraham Fapojuwo)
Travis Dow
Hadi Heidarirad (co-supervised, supervisor: Dr. Mea Wang)
Reet Ghosh (co-supervised, supervisor: Dr. Mea Wang)
Sampreet Vaidya (co-supervised, supervisor: Dr. Hatem Abou-Zeid)