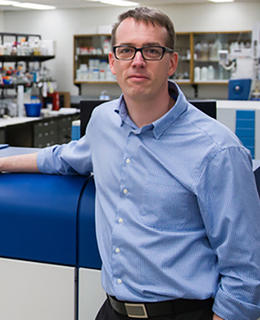 Dr. David Schriemer, MSc, PhD
Positions
Professor
Cumming School of Medicine, Department of Biochemistry and Molecular Biology
Member
Arnie Charbonneau Cancer Institute
Child Health & Wellness Researcher
Alberta Children's Hospital Research Institute, Owerko Centre
Background
Educational Background
B.S. Chemistry, University of Winnipeg, 1991
Doctor of Philosophy Chemistry, University of Alberta, 1997
M.S. Chemistry, University of Manitoba, 1993
Biography
Dr.Schriemer is an academic and entrepreneur. He graduated with degrees in organic chemistry and bioanalytical chemistry and received further training in biochemistry during postdoctoral work. He was the founder of INH Technologies Inc., a biotech startup in Calgary, and served as Research Director in MDS Proteomics Inc. before joining the Department of Biochemistry & Molecular Biology at the University of Calgary in 2001. Dr. Schriemer's laboratory maintains a basic research program in integrative structural biology of complex systems, incorporating proteomics technologies, reagent development and computational methods. His goal is to move beyond a "building block" understanding of protein structure and function, and into a world where protein function is understood at high resolution, in the context of protein complexes, networks and whole proteomes. Dr. Schriemer has been a Canada Research Chair in Chemical Biology and a Senior Scholar of the Alberta Heritage Foundation for Medical Research. He served as the director of the SAMS Centre for Proteomics until 2017 and is currently Chief Science Officer and Director of Nepetx LLC,. His latest translational project involves establishing a scientific software development company.
Research
Areas of Research
Integrative structural biology
Our laboratory maintains a fundamental research program in structural biology. We are interested in understanding how the governing principles behind molecular interactions serve to organize protein function at a scale beyond that of the individual protein. Using the tools of proteomics, structural biology and computational modeling (AI), we study structure-function relationships in large multicomponent protein systems, with a view to understanding how function can be regulated at this "mesoscale". We are actively involved in developing the mass spec technology as a key provider of modeling data and work to move structure determination closer to cellular-level activity. 
Clinical proteomics
We are developing new strategies for achieving accurate and comprehensive proteome coverage of clinically-relevant samples, in order to discover and characterize molecular markers of disease. We implement the latest methods in quantitative and discovery proteomics and develop new  concepts to improve our ability to detect markers of neurological disorders and new immunotherapy targets for cancer.
Participation in university strategic initiatives
Courses
| Course number | Course title | Semester |
| --- | --- | --- |
| MDGE 622 LEC 01 01 | Princ & Appl of Proteomics | 2020 |
| MDGE 726 LAB 01 B01 | Applied Structural Biology | 2021 |
Awards
Shultz Award for General Excellence,

Biochemistry & Molecular Biology.

2017

Peak Scholar,

University of Calgary.

2015

Associate Prof. Departmental Achievement Award,

Biochemistry & Molecular Biology.

2014

Associate Prof. Departmental Achievement Award,

Biochemistry & Molecular Biology.

2013

Cochrane Distinguished Achievement Award for Excellence in Research,

Cumming School of Medicine.

2011

Associate Prof. Departmental Achievement Award,

Biochemistry & Molecular Biology.

2011

Cochrane Distinguished Achievement Award for Excellence in Research,

Cumming School of Medicine.

2009

Associate Professor Achievement Award ,

Biochemistry & Molecular Biology.

2009

Heritage Senior Scholar Award,

Alberta Heritage Foundation for Medical Research .

2009

Canada Research Chair in Chemical Biology,

Govt. of Canada.

2009

Canada Research Chair,

Govt. of Canada.

2004

Heritage Scholar Award,

Alberta Heritage Foundation for Medical Research .

2004

Leica Rising Star Award ,

Biochemistry & Molecular Biology.

2003

Cochrane Distinguished Achievement Award for Excellence in Research,

Cumming School of Medicine.

2003