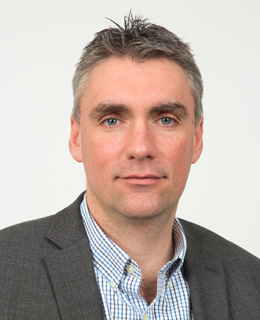 Craig Johansen
Positions
SSE Research Chair
Aerospace
Contact information
Email with open-door policy
Background
Educational Background
B.S. Mechanical Engineering, Queen's University, 2003
Master of Applied Science Aerospace Sciences, Carleton University, 2005
M.B.A. Management Accounting, Heriot-Watt University, 2006
Doctor of Philosophy Mechanical Engineering, Queen's University, 2009
Biography
Dr. Johansen completed his PhD at Queen's University in 2009 on the study of explosions and pulse detonation engine technology. He later worked at the NASA Langley Research Center on high-speed aerodynamics and propulsion using laser diagnostics. In 2011, he joined the University of Calgary to create the Aero-Core Group, which includes three laboratories on CFD, non-intrusive diagnostics and propulsion. Dr. Johansen enjoys undertaking challenging aerospace projects that inspire young engineers. He is part of the University of Calgary Aerospace Network (UCAN).
Research
Areas of Research
Fluid mechanics, thermodynamics, heat transfer, gas dynamics
Dr. Johansen's research focuses on areas that involve fluid mechanics, thermodynamics, heat transfer and gas dynamics. The work is motivated to solve problems in high-speed aerodynamics, propulsion, power generation, and explosion safety. His research lab includes several shock tubes with non-intrusive optical diagnostics and a computer cluster for computational fluid dynamics. Other research areas include intelligent and autonomous systems for aerospace, unmanned aerial vehicles (UAVs) and laser diagnostics.
Courses
| Course number | Course title | Semester |
| --- | --- | --- |
| ENME 595 LAB 02 B02 | Gas Dynamics | 2021 |
| ENME 595 LAB 03 B03 | Gas Dynamics | 2021 |
| ENME 595 LAB 04 B04 | Gas Dynamics | 2020 |
| ENME 595 LAB 01 B01 | Gas Dynamics | 2020 |
| ENME 595 LEC 01 01 | Gas Dynamics | 2020 |
| ENME 595 TUT 01 T01 | Gas Dynamics | 2020 |
| ENME 607 LEC 01 01 | Mechanics Of Compressible Flow | 2020 |
Awards
SSE Achievement Award (Research),

The University of Calgary.

2019

SSE Achievement Award (Teaching),

The University of Calgary.

2019

Killam Emerging Research Leader Award,

Killam.

2018

Nominated for APEGA Early Accomplishment Award,

APEGA.

2018

Nominated for Avenue Calgary Top 40 Under 40,

Avenue Calgary.

2018

PhD Student (Hinman) Nominated for CAGS Distinguished Dissertation Award,

Proquest CAGS.

2018

PhD Student (Hinman) Nominated for Governor General's Gold Medal Award,

Governor General of Canada.

2018

SSE Achievement Award (Research),

The University of Calgary.

2018

SSE Achievement Award (Teaching),

The University of Calgary.

2018

Great Supervisor Award,

The University of Calgary.

2017

SSE Achievement Award,

The University of Calgary.

2017

SSE Graduate Educator Award,

The University of Calgary.

2016

Outstanding Teaching Performance Award,

The University of Calgary.

2015

Killam Award in Undergraduate Mentorship (Nominated),

Killam Scholarship and Prize Programs.

2014

Alberta Science and Technology Leaders of Tomorrow (Nominated),

ASTech Foundation.

2012

NSERC Postdoctoral Fellowship,

Natural Sciences and Engineering Research Council of Canada (NSERC).

2011
In the News
I was interviewed by the Western Wheel regarding my research activities surrounding rocket testing at the University of Calgary. Newspaper. (2017)