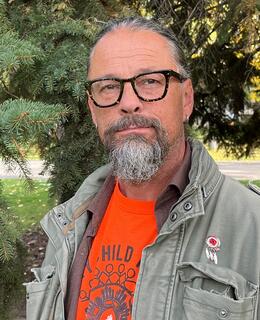 Dr. Craig Ginn, PhD
Positions
Associate Professor (Teaching)
Background
Educational Background
PhD University of Leeds, 2009
Biography
Craig is an Associate Professor (Teaching) at the University of Calgary in the Department of Classics and Religion and serves as the Director of the International Indigenous Studies Program. Craig has taught at the U of C since 2009 during which time he has taught a wide variety of courses including Jews, Christians and Muslims, Religious Perspectives of Death & the Afterlife, From Jesus to Christ, Bible as Literature, and Christianity in the Developing World. Recent courses he has developed include Religion in Popular Music and Indigenous Traditions and Worldviews. His current research interests include religion and music, the historical-comparative study of religion, and near-death experiences. He is active in interdisciplinary research also, serving as a Co-Investigator in a community-based study exploring links between health, spirituality, and wellbeing within the Métis Nation of Alberta – Region 3. Most recently, Craig has been working on multi-media projects including the Songs of Justice Project and the Animal Kinship Project.
Projects
Songs of Justice Project
The Songs of Justice Project features 10 original songs that inform historical and current relations between Canada and its Indigenous peoples. The songs represent a spectrum of expression. Some songs challenge the apologetics of colonialism, exposing discrimination and genocide. Others celebrate the perseverance and goodness of Indigenous pathways and teachings. Five songs draw attention to the historical and current significance, both spiritual and political, of Louis Riel and the Métis people. Lyric videos and research articles for educators will be developed for each song.
https://www.songsofjusticeproject.com/
Awards
Excellence in the Arts,

Metis Nation of Alberta Region 3.

2023

Teaching and Learning Grant,

Taylor Institute for Teaching and Learning.

2022

Research Fellow,

Evolve to Innovate.

2022

Patient-Oriented Research,

CIHR Indigenous Health Research (IHR).

2021

Energizing the Arts,

University of Calgary.

2021

Falling Walls Conference Nomination,

Hunter Hub, University of Calgary.

2020

SU Teaching Excellence Awards Nomination,

Students' Union Teaching Excellence Awards Committee.

2017

SU Teaching Excellence Awards Nomination,

Students' Union Teaching Excellence Awards Committee.

2016