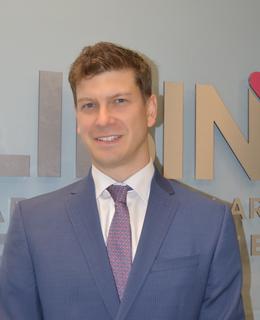 Dr. Corey Adams, MD, FRCSC
Positions
Cardiac Surgeon
Cumming School of Medicine, Department of Cardiac Sciences
Clinical Associate Professor
Cumming School of Medicine, Department of Cardiac Sciences
Member
Libin Cardiovascular Institute
Background
Educational Background
MD Memorial University of Newfoundland,
FRCSC University of Western Ontario,
Biography
Dr. Corey Adams is an adult cardiac surgeon whose practice focuses on valvular heart surgery at the Foothills Medical Centre. He is a fellow of the Royal College of Surgeons of Canada and a member of Canadian Cardiovascular Society of Cardiac Surgeons. He has special interest in minimally invasive valve surgeries, infective endocarditis, and transcatheter aortic valve implantation. Dr. Adams completed his undergraduate degree at Dalhousie University in Halifax, a master's degree at the University of Calgary, and medical doctorate at Memorial University in Newfoundland. His cardiac surgery residency training was completed in London, Ontario, Canada, with an additional year fellowship in Advanced Management in Valvular Heart Disease at Bristol Heart Institute, England. After his fellowship Dr. Adams worked as a cardiac surgeon in Bristol prior to returning to start an adult cardiac surgery practice in St. John's, Newfoundland and Labrador. Dr. Adams worked at the Health Sciences Centre as an attending surgeon developing the Transcatheter Aortic Valve Implantation program. He has also performed several humanitarian cardiac surgery missions to South America and continues to act as a mentor. He has served as a Supervisor for PhD and Master's graduate level students. Dr. Adams joined the Libin Cardiovascular Institute in April of 2020 as a Clinical Associate Professor and is a team member of the Minimally Invasive Surgery Program and the Structural Heart Program.
Research
Areas of Research
Cardiovascular Surgery, Minimally Invasive Valve Surgery, Mitral Valve Innovations and Repair, Transcatheter Aortic Valve Implantation (TAVI), Infective Endocarditis