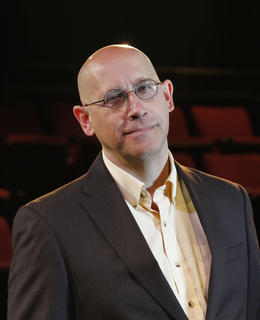 Professor Clement Martini, BFA, National Theatre School Graduate, National Screen Institute Graduate
Contact information
For media enquiries, contact
Heath McCoy
Senior Communications Specialist
403.220.5089
403.607.8461 (cell)
hjmccoy@ucalgary.ca
Best contact is through email.
Background
Educational Background
BFA University of Calgary,
Graduate Playwriting, National Theatre School,
Graduate Screenwriting/DramaLab Program, National Screen Institute,
Biography
Professor Clem Martini is an award-winning playwright, novelist, and screenwriter with over thirty plays, and thirteen books of fiction and nonfiction to his credit, including the W.O. Mitchell Award-winning Bitter Medicine: A Graphic Memoir of Mental Illness, The Unravelling, and The Comedian. His recently premiered play, Cantata (Rumours of My Crazy, Useless Life) was the 2021 winner of Theatre BC's National Playwriting Competition. He is a Fellow of the Royal Society of Canada, and teaches in the School of Creative and Performing Arts at the University of Calgary.
Research
Participation in university strategic initiatives
Courses
| Course number | Course title | Semester |
| --- | --- | --- |
| DRAM 65136 SEC 01 S01 | Directed Studies | 2021 |
| DRAM 65139 SEC 01 S01 | Directed Studies | 2021 |
| DRAM 671 SEC 01 S01 | Sel Problems Playwriting I | 2021 |
| DRAM 673 SEC 01 S01 | Sel Problems Playwriting II | 2020 |
| Drama 371 | Introduction to Playwriting | Fall 2021 |
Awards
Alberta Book Publisher's Award - Non-fiction,

Alberta Book Publishers Association.

2018

Silver Award, Alberta Journalism Association,

Alberta Journalism Association.

2018

Silver Award, National Journalism Association,

National Journalism Association.

2018

PIerre Berton Writer-In-Residence,

2014

Shortlisted for Graduate Supervision Award,

2014

Faculty Association Community Service Award 2013,

2013

Common Reading Program Selection 2012,

2012

Alberta Book Publisher's Award - Nonfiction,

2011

W.O. Mitchell Book Award,

2011

Nominated for the Ontario Library Association's Red Maple Book Award,

2005

Nomination for Canadian Library Book of the Year Award, for The Mob,

2005

Nomination for the Seminovitch Award for Playwriting,

2005

'National Playwriting Competition - Cantata (Rumours of My Crazy, Useless Life)',

Theatre BC.

2021

National Playwriting Competition,

Theatre BC.

2021

2021
Publications
The Blunt Playwright, Second Edition.

Clement M Martini. Playwrights Canada Press. 224. (2019)

The Unravelling.

Clement M Martini. Freehand Books. 240. (2017)

The Comedian.

Clement M Martini. University of Calgary Press. 367. (2018)

The Blunt Playwright, Second Edition.

Clement M Martini. Playwrights Canada Press. 168. (2019)
The Unravelling.

Clement M Martini. (2017)

Resisting erasure – the voices of patients in the history of psychiatry.

Clement M Martini. (2019)

Consulting the Ouija: Historical Fiction and the Art of Raising the Dead.

Clement M Martini. (2018)