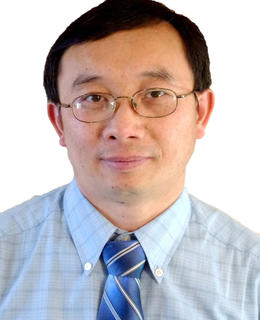 Dr. Chang-Chun Ling, PhD
Positions
Member
Arnie Charbonneau Cancer Institute
Background
Educational Background
B.S. Chemistry, University of LanZhou, 1986
Doctor of Philosophy Chemistry, University of Paris, 1991
Biography
Dr. Ling graduated with a B.Sc. degree in Chemistry from the University of Lanzhou and obtained both his DEA (Diplôme d'Etudes Approfondies, 1988) and Ph.D. from the Université de Paris Sud (1991). He then spent several years as a post-doctoral fellow with Dr. Raphael Darcy at University College Dublin, Professor Stanislas Czernecki at the Université Pierre et Marie Curie and Professor David Bundle at the University of Alberta. After spending two years as a scientist at the Alberta Research Council, he rejoined Professor Bundle's group as a Senior Research Associate (1998). In 2006, he joined the Department of Chemistry, University of Calgary as an Assistant Professor and promoted to the Associate level in 2012.
Over the years, Dr. Ling has acquired extensive research experience in several areas including nucelosides, cyclodextrins and modern carbohydrate chemistry. Currently, his research is focused on the development of carbohydrate-based vaccines and therapeutics to prevent or treat infectious disease, cancer and autoimmune conditions. He is also a principal investigator at the Alberta Glycomics Centre where he leads a centre project towards the development of therapeutics to treat multi-drug resistant gastrointestinal diseases.
Research
Areas of Research
Activities
Our research interests are in the area of bioorganic chemistry. The main objective is to develop and apply modern synthetic carbohydrate chemistry and bioorganic chemistry to the understanding of carbohydrate-protein interactions involved in tumorigenesis, cancer metastasis and infection, and to the design, synthesis and immunological evaluation of microbial and tumor-associated mammalian carbohydrate antigens. Our research adopts a multidisciplinary approach by engaging modern carbohydrate chemistry, biochemistry and immunochemistry by making use of novel knowledge acquired from biology's newest discoveries to guide the design and synthesis of inhibitor molecules capable of selectively interfering with the crucial biosynthetic pathways that cancer cells rely on to survive, spread and proliferate and to raise antibodies with high immunospecificity and immunoaffinity to prevent infectious disease.
Currently, our research is focused on the following four areas:
Rational design and synthesis of inhibitors for tumor-associated glycosyltransferases
Glycosyltransferases are the primary gene products responsible for the biosynthesis of complex carbohydrates in living cells. Many human diseases are associated with abnormal glycosyltransferase activities which can lead to the over-expression or under-expression of carbohydrate structures. Since carbohydrates are the primary mediator molecules involved in all sorts of bio-recognition events, this can directly lead to the unusual behavior and biological functions of cells. With the help of computer modeling, we are actively involved in the design, synthesis and biological assaying of inhibitors for tumor-associated glycosyltransferases.
Synthesis and immunological evaluation of neoglycoconjugates for the prevention of infectious diseases and cancer
The cell surface of many bacterial species is covered with polysaccharides. These extracellular carbohydrates can be in the form of glycolipids, glycoproteins or capsules. The capsular polysaccharides exist in both Gram-negative and Gram-negative bacteria such as Neisseria meningitidis, Haemophilus influenzae, E. coli, Streptococci pneumoniae etc. A special form of glycolipids is called lipopolysaccharides which exist only in Gram-negative bacteria. These polysaccharides are strain-specific and serve as virulence factors for the bacteria. Immune response against the cell surface polysaccharides can stimulate the hosts to produce strain-specific antibodies which can protect the hosts from future infections by the same bacterial strain. We are heavily involved in the synthesis and immunological evaluation of neoglycoconjugates related to some of the polysaccharides.
The development of clustering methodologies to synthesize conjugate vaccines with enhanced immunogenicity
The surface of an immune B-lymphocyte is coated with thousands of receptors of single specificity. The binding and uptake of antigen molecules by B-cell receptors are crucial steps in humoral and cell-mediated immune responses. Clustering antigen molecules before presenting to B cells thus has the potential of increasing immunogenicity because this improves the binding to B-cell receptors through multivalent interactions. We are involved in developing efficient clustering methodologies to prepare conjugate vaccines with improved immunogenicity.
Conformational analysis and molecular modeling of carbohydrates
The use of computer-aided conformational analysis and molecular modeling is an integrated part of our research. We rely on computers to help us to visualize and understand the molecular interactions involved in carbohydrate-protein recognitions and use the information to guide our design and synthesis of analogs with improved properties. We also carry out calculations in order to determine the conformation of carbohydrates and their analogs and correlate with crystallographic and NMR studies.
Courses
| Course number | Course title | Semester |
| --- | --- | --- |
| CHEM 357 TUT 03 T03 | IndustrialOrganicChem-Engineer | 2021 |
| CHEM 357 TUT 04 T04 | IndustrialOrganicChem-Engineer | 2020 |
| CHEM 351 LEC 03 03 | Organic Chemistry I | 2020 |
| CHEM 357 LEC 01 01 | IndustrialOrganicChem-Engineer | 2020 |
| CHEM 357 TUT 01 T01 | IndustrialOrganicChem-Engineer | 2021 |
| CHEM 357 TUT 02 T02 | IndustrialOrganicChem-Engineer | 2021 |
| CHEM 653 LEC 01 01 | Adv Organic Spectroscopy | 2020 |
Awards
Alberta/Pfizer Translational Research Fund Award,

Alberta Innovates Health Solutions / Pfizer.

2013

Promotion to Principal Investigator,

2009

Alberta Ingenuity New Faculty Award,

Alberta Innovates.

2007
Publications
RECENT ADVANCES TOWARD THE DEVELOPMENT OF INHIBITORS TO ATTENUATE TUMOR METASTASIS VIA THE INTERRUPTION OF LECTIN-LIGAND INTERACTIONS.

Chang-Chun Ling; Rachel Hevey. 125-207. (2013)