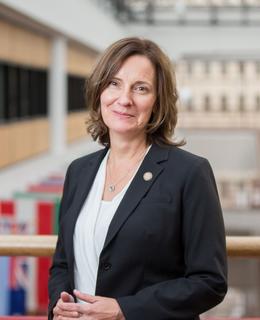 Positions
Associate Dean (Undergraduate Programs)
Haskayne School of Business
Associate Professor (Teaching)
Haskayne School of Business, Business Technology Management [BTM]
Background
Educational Background
Bachelor of Commerce , University of Alberta,
M.B.A. , University of Alberta,
Biography
Catherine Heggerud is an energetic life-long learner. She holds a Bachelor of Commerce degree (Marketing and Finance) and a Master of Business Administration (Strategic Management & Organizational Development), both from the University of Alberta. She successfully completed the Queens University Strategic Leadership Program; the Women's Leadership Foundation's Invitational Program in Transformational Leadership; and attended the University of Texas (Austin) Art and Science of Effective Negotiation. In addition, she also holds a CPHR (Chartered Professional in Human Resources) designation.

Catherine joined the University of Calgary in 2013, initially as Manager of Talent Development in Human Resources, and then in the central IT group as Director, Planning & Stakeholder Engagement, and finally as Director, Customer Engagement and Experience. Before her employment with the University, Catherine had a distinguished career in IT and senior management roles with TELUS, Enmax, Alberta Central, and her own consulting practice. She has a deep understanding of the role business technology plays in the workplace, and a very comprehensive appreciation of the role education plays in developing business technology systems.

As a professional, Catherine has consistently demonstrated that she is an outstanding relationship builder and facilitator across the banking, telecommunications, energy and volunteer sectors. She is an inclusive leader who has repeatedly led teams to successful development and execution of shared visions and plans, consistently scoring in the top quartile of employee engagement results.
Deeply involved in her community, Catherine feels very strongly about sharing her talents in the interests of helping create a better world. Catherine is passionate about ensuring students are able to embrace new leadership models for sustainable change while unleashing the power of the digital economy.
Awards
Work-integrated Learning Teaching Award,

University of Calgary.

2021