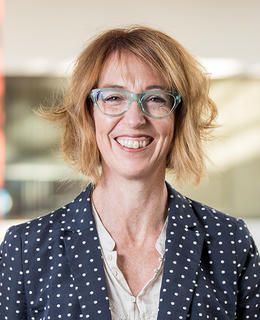 Positions
Associate Professor (Teaching)
Faculty of Kinesiology
Leadership Fellowship, 2020-2023
Haskayne School of Business, Canadian Centre for Advanced Leadership in Business [CCAL]
Teaching Scholar, 2020-2023
University of Calgary
Invited Member
Teaching Academy/Taylor Institute of Teaching & Learning
Contact information
For media enquiries, contact
Leanne Yohemas - Director, Communications and Marketing, Faculty of Kinesiology.
Background
Educational Background
PhD Kinesiology Sport and Exercise Psychology - Leadership, University of Calgary,
MSc Kinesiology Teaching Games for Understanding and Positive Pedagogy, University of Calgary,
BA with distinction Communication and Culture, University of Calgary,
Biography
Dr. Din has been an Associate Professor (Teaching) in the Faculty of Kinesiology since 2018. As a former Olympian and Silver Medalist at the 1996 Olympics, Dr. Din has extensive personal experience regarding coaching and leadership behaviours in high-performance sport. She simultaneously coached in her home sport while completing her master's degree in kinesiology, with a specialization in Teaching Games for Understanding and Positive Pedagogy. In 2013, Dr. Din completed her PhD in Kinesiology, specializing in Sport and Exercise Psychology – Leadership.
In her classrooms, Dr. Din prides herself on cultivating a safe community for her students. Her teaching philosophy is rooted in sociality, belonging, agency, and curiosity. Her every interaction with students is embedded with enthusiasm, care, and respect. Her commitment to teaching has been consistently acknowledged and praised by both students and the university itself; Dr. Din has received multiple Student's Union Teaching Excellence Awards, the University of Calgary's Teaching Scholars Program Grant, and the McCaig-Killam Teaching Award.
In 2019-2020, Dr. Din co-led an award-winning Curriculum Review and pushed for improved diversity and quality of teaching and learning in the Faculty of Kinesiology. She now co-chairs the Kinesiology Teaching and Learning Committee with Dr. William Bridel.
From 2021-2023, Dr. Din was a Leadership Fellow at the Haskayne School of Business in the Canadian Centre for Advanced Leadership (CCAL). She helped develop the upper-year courses for the University of Calgary Leadership Studies Embedded Certificate program and made original contributions to teaching, research, and programming led by CCAL. She also developed and launched the program content for the BMO Mentorship Program and has taught Master of Management capstone course titled: Translating Passion to Purposeful Business and Life.
As a Teaching Scholar and in partnership with Dr. Martin MacInnis, Dr. Din has co-lead an educational leadership project focused on enriching laboratory learning in Exercise Physiology in the Faculty of Kinesiology. This reform work has positively influenced student experience and learning in both undergraduate and graduate labs.
Research
Areas of Research
Leadership and Learning
Dr. Din focuses on teaching and contributing to research in the fields of:
(1) The Scholarship of Teaching and Learning (SoTL) in Kinesiology
(2) leadership learning and best practice in sport and physical activity contexts; and
(3) the influence of instructor behaviours on participants' physical literacy.
Participation in university strategic initiatives
Courses
| Course number | Course title | Semester |
| --- | --- | --- |
| KNES 311 | Leadership Foundations | |
| KNES 411 | Advanced Leadership Practice | |
| KNES 331 | Foundations of Coaching | |
| KNES 431 | The Art of Coaching | |
| LEAD 401 | Foundations in Ethical Leadership | |
| LEAD 501 | Leadership Studies Capstone | |
| KNES 201 | Activity: Essence and Experience | |
Awards
McCaig-Killam Teaching Award,

University of Calgary.

2022

Teaching Scholars Program Grant, 2019-2022,

University of Calgary.

Teaching Excellence Award Hall of Fame Inductee,

University of Calgary Students' Union .

2021

Teaching Award, Curriculum Development (Co-lead),

University of Calgary.

2021

Teaching Excellence Award Honourable Mention,

University of Calgary Students' Union.

2020

Teaching Award,

University of Calgary.

2019

Teaching Excellence Award,

University of Calgary Students' Union .

2019

Teaching Excellence Award Honourable Mention,

University of Calgary Students' Union .

2017

Teaching Excellence Award,

University of Calgary Students' Union .

2016

Teaching Excellence Award,

University of Calgary Students' Union .

2015
Publications
Promoting wellness, having fun, and creating community: A dance instructor's pedagogical practices and perspectives on the influence of community dance classes for older adults.

Paglione, V., Magrath, J., McDonough,M. H., C. Din, & Kenny, S. J.. Research in Dance Education. (2023)

Creating a teaching community with graduate teaching assistants: a scholarly personal narrative.

Camarao, J., & Din, C. International Journal for the Scholarship of Teaching and Learning. Article 3. (2022)

Teaching opportunities for mentees—not just another line on a resume. Commentaries on Viewpoint: Musings on mentoring: teach your "children" well.

Camarao, J., & Din, C. Journal of Applied Physiology. (2022)

Leadership, SoTL, and mentorship in a teaching scholars community of practice..

Din, C., Alharbi H., MacInnis M., Mardjetko, A., Archer-Kuhn, B., Jamniczky, H., & Jacobsen, M.. Papers on Postsecondary Learning and Teaching. 93-99. (2022)

Instructor strategies to support older adults' physical literacy in community dance classes.

Magrath, J., Din, C. Paglione, V., Kenny, S., & McDonough, M.. Research in Dance Education. (2022)

Social support among older adults in group physical activity programs..

Zimmer, C., McDonough, M.H., Hewson, J., Toohey, A., Din, C., Crocker, P.R.E., & Bennett, E.V. Journal of Applied Sport Psychology. (2022)

Experiences with social participation in group physical activity programs for older adults..

Zimmer, C., McDonough, M. H., Hewson, J., Toohey, A., Din, C., Crocker, P. R. E., & Bennett, E. V.. Journal of Sport & Exercise Psychology. (2021)

Increasing gender equity in sport organizations: assessing the impacts of a social learning initiative..

Kraft, E., Culver, D. M., Din, C., & Cayer, I.. Sport in Society. 1-15. (2021)

Navigating the labyrinth of leadership in sport: A community of practice of femininity..

Kraft, E., Culver, D. M., Din, C., & Cayer, I.. Advancing Women in Leadership Journal. 13-22. (2021)

Exploring Leadership Learning in an Undergraduate Kinesiology Course.

Laidlaw, L., & Din, C.. The Canadian Journal for Scholarship of Teaching and Learning. (2020)

Exploring a women-only training program for coach developers..

Kraft, E., Culver, D., & Din, C.. Women in Sport and Physical Activity Journal. 1-7. (2021)

The Alberta Women in Sport Leadership Project: A social learning intervention for gender equity and leadership development..

Culver, D. M., Kraft, E., Din, C., & Cayer, I.. Women in Sport and Physical Activity Journal. 110-117. (2019)

Olympic medal-winning leadership,.

Din, C., Paskevich, D., Gabriele, T., Werthner, P.. International Journal of Sport Science & Coaching. 589-604. (2015)

An integrated research model of podium performance sport.

Din, C. & Paskevich, D.. International Journal of Sport Science & Coaching. (2013)

Student agency in an undergraduate leadership course. Incorporating Universal Design for Learning (UDL) in Disciplinary Contexts in Higher Education..

Din, C. Taylor Institute for Teaching and Learning. (2021)

Transformational change: Creating a new culture of sport coaching.

Demers, G., Din, C. & Werthner, P.. Norman, L. (Ed). Improving gender equity in sport coaching.. (2021)