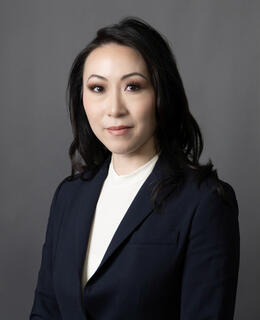 Dr. Candice Poon, MD, PhD, FRCSC
Positions
Full Member
Hotchkiss Brain Institute, Brain and Mental Health Research Clinics Initiative
Member
Arnie Charbonneau Cancer Institute
Affiliations
Assistant Professor
Cumming School of Medicine, Department of Clinical Neurosciences | Neurosurgery
Assistant Professor
Cumming School of Medicine, Department of Oncology
Surgeon
Alberta Health Services
Background
Educational Background
Doctor of Medicine Neuro-Oncology, University of Alberta,
Biography
Dr. Candice Poon is an Assistant Professor at the University of Calgary and a Neurosurgeon with Alberta Health Services at Foothills Medical Centre. She obtained a BSc Honors Neuroscience degree from the University of Alberta where she subsequently earned her MD. Following this, she pursued a Neurosurgical Residency at the University of Calgary where she also completed an enfolded PhD in Neuro-Oncology and -Immunology under the supervision of Dr. Wee Yong. Dr. Poon was then selected for a research and neurosurgical-oncology clinical fellowship at The University of Texas MD Anderson Cancer Center. During this time, she studied the glioma perivascular niche under the supervision of Dr. Padmanee Sharma and Dr. Frederick Lang. Dr. Poon has now returned to the University of Calgary with appointments in both the Departments of Clinical Neurosciences and Oncology.
Dr. Poon was awarded the prestigious Society for Neuro-Oncology (SNO) Adult Basic Research Abstract Award, the Canadian Neurosurgical Society K. G. McKenzie Memorial Prize for Basic Research Award, a Dean's Silver Medal in Science, and numerous other awards and research/academic scholarships. Dr. Poon's research interests lie in the areas of neuro-immunology, bioinformatics, and the biology of the perivascular niche with a focus on how stromal cells interact with immune cells to affect neurosurgical conditions such as brain tumors and cerebrospinal fluid disorders.
Dr. Poon is a dedicated mother, enjoys swimming and running with her family, spending quality time with friends, and architecture/interior design.
Research
Areas of Research
Area of Focus
Perivascular stromal cells modulate immune cell trafficking in glioma
Summary of Research
It is crucial to understand the tumor microenvironment in order to develop effective anticancer treatments. The tumor microenvironment consists of cancer cells, immune cells, and stroma. In solid tumors outside of the central nervous system (CNS), cancer-associated fibroblasts (CAFs) comprise a large component of the stroma. CAFs have diverse tumor-promoting properties including contributing to treatment resistance, immunosuppression, and poorer patient prognosis. However, CAFs have only recently been discovered at the single-cell level in glioma. Our work has shown that many CAFs localize to the glioma perivascular space and play a central role in microvascular proliferation, a disease- and prognosis-defining histopathology in glioma. Based on this work, we believe the perivascular space is an important anatomical location because it serves as a busy interface between central and peripheral body systems. Not only is it a point of entry and exit for immune cells, but also of CAFs and other stromal cells originating outside of the CNS. Additionally, it is a location where cerebrospinal fluid (CSF) mixes with interstitial fluid that bathes the brain parenchyma, where important nutrients and metabolites are exchanged. However, the perivascular space is understudied. Thus, our laboratory is focused on studying the perivascular space using high dimensional techniques by characterizing the interactions between immune cells, CAFs, and other stromal cells in the context of a perivascular microenvironment bathed in CSF. Understanding the CNS perivascular microenvironment could not only lead to discoveries beyond the pathophysiology of microvascular proliferation, but elucidation of mechanisms that could help improve immune cell trafficking, immune surveillance, and the efficacy of currently available and novel anticancer therapies.
Participation in university strategic initiatives