Dr. Brittany Harker Martin, PhD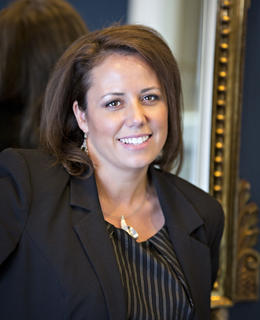 Associate Professor
Arts Education & Leadership
Associate Member
Hotchkiss Brain Institute
Associate Member
Hotchkiss Brain Institute, Mathison Centre for Mental Health Research and Education
---
Background
Credentials
Certificate - Fundamentals of Neuroscience -1, HARVARDx University, 2021
Educational Background
PhD Strategy and Global Management, beta gamma sigma, University of Calgary, 2012
BEd Arts Education, with distinction, University of Regina, 1997
Biography
I am an Arts Education Specialist with a PhD in Business (AACSB). My work is situated at the intersection of Arts, Leadership, and Learning and I tend to gravitate towards inter-and-transdisciplinary projects working to solve complex, societal challenges. My strengths are in generating new conceptual frameworks for understanding phenomena, and testing them through psychometrics and neuroscientific methods (fNIRS, EEG). To date this includes designing models for increasing engagement through Socially Empowered Learning, fostering innovative teaching through Artistic Intelligence (AQ), and promoting mental health in schools through Brain Smoothies (art-based exercises that provide a mental break, foster focus, and energize the mind). In a distinctive twist, I also employ A/R/Tographic and Art-Based Research methods in my undergraduate courses and enjoy this philosophical flip into phenomenological ways of knowing.
My doctoral studies focused on the remote workplace through a behavioural strategic/economic lens. I served for several years as Director of the Werklund Youth Leadership Centre, and have lead high-profile collaborations that include: the Harvard Leadership Institute, Stanford's Gardner Centre for Youth, the Rozsa Foundation, Royal Conservatory of Music, and Alberta Health Services.
Currently, I am focused on research studying the relationship between art, brain, and cognition and am an Associate Member of the Hotchkiss Brain Institute, and the Mathison Centre for Mental Health Research and Education. I have a passion for Teaching and Learning, with extensive experience teaching in class and on-line, and am regularly invited to lead speak with large, international audiences around the world.
Research
Areas of Research
Interests:
Art, Brain and Cognition
Mental Health Capacity in Schools
Socially Empowered Learning
Arts Integration
Arts Education Specializations (Art, Dance, Drama, Music)
School Culture & Collaboration
Participation in university strategic initiatives
Awards
Werklund School of Education Teaching Award Nominee,

2017

Outstanding Paper 2013, Emerald Publishing,

2013

Beta Gamma Sigma Honours Society Inductee,

2012

Science Breakthrough of the Year Award Finalist - Art & Mental Health,

Falling Walls International Science Platform.

2020
Publications
Art-Making Promotes Mental Health: A Solution for Schools That Time Forgot..

Martin, B.H. & Colp, S.M.. Canadian Journal of Education. Forthcoming 2022. (2021)

Effects of Teacher Mindset on Developing Growth Mindset in Girls and Boys.

Mesler, R., Martin, B.H., and Corbin, C. . Journal of Applied Developmental Psychology. 76, 101299. (2021)

Arts integration in Northland, New Zealand: A case of socially empowered learning.

Buck, R., Snook, B., & Martin, B.H.. Journal of Artistic and Creative Education. (2020)

Techno-Bio-Poetica: Reweaving the Posted Poetics of Academic Travel.

Martin, B.H. & Sinner, A. . Vitae Scholastica: The Journal of Educational Biography. (2020)

The Artistry of Innovation: Increasing Artistic Quotient for Innovative Efficacy.

Martin, B.H.. Canadian Journal of Education. 42(2), 576-604. . (2019)

Mixed-Methods Triage: Coalescing Holistic Perspectives for a More Diverse and Inclusive Academy.

Martin, B.H.. The Electronic Journal of Business Research Methods. 16(2), pp. 80-85.. (2018)

Creating the Dance and Dancing Creatively: Exploring the Liminal Space of Choreography for Emergence.

Martin, B.H., Snook, B., & Buck, R.. Journal of the Canadian Association for Curriculum Studies. 16(1), 162-174. (2018)

Social Empowerment: The Evolution of a Model and Scale Design that Measures Arts Integration, Social Enterprise, and other Socially Empowered Learning.

Martin, B.H.. International Journal of Arts Education. 13 (1), 1-17. (2018)

Socially Empowered Learning in the Classroom: Effects of Arts Integration and Social Enterprise in Schools.

Martin, B.H. & Calvert, A.C.. Journal of Teaching and Learning. 11(2), 27-42.. (2018)

Unsticking the Status Quo: Strategic Framing Effects on Managerial Mindset, Cognitive Bias, and Systematic Resistance to Change.

Martin, B.H.. Management Research Review. 40(3), 122-141. . (2017)

Teaching the Arts as a Second Language: A School-wide Policy Approach to Arts Integration.

Martin, B.H.. Arts Education Policy Review. 118(2), 116-122. (2017)

Is Telework Effective for Organizations? Meta-Analysis of the Perceptions on Telework and Organizational Outcomes.

Martin, B.H. & MacDonnell, R. . Management Research Review. Vol 25(7), pp. 602-616. (2012)
Promoting Arts Co-Curricular Enhancement (ACE): How Cross-Faculty Collaboration Transforms the Undergraduate Experience.

Dawn Johnston; Brittany Harker Martin; Michael Holden. Arts in Society - Common Ground. (2019)

The Artistry of Innovation: Increasing Teacher's Innovative Capacity and Innovative Efficacy.

Brittany Harker Martin. Canadian Society for Studies in Education. (2019)

Brain Smoothies in Schools: Building Mental Health Capacity Through a Daily Dose of Art.

Brittany Harker Martin. American Educational Research Association. (2019)

The Power to Engage: Effects of Co-Curricular Service-Learning in Teacher Education.

Brittany Harker Martin. European Conference on Educational Research. (2019)

The Choreography of Learning and Artistry of Instructional Design When Teaching through Dance.

Brittany Harker Martin. Arts in Society - Common Ground. (2018)

Research That Makes a Difference: Engaging the Community through the Newcomer Research Network.

Brittany Harker Martin. (2018)

Dismantling the Expert: Challenges and Tensions in Facilitating/Directing Performative Research Ensembles.

Brittany Harker Martin. American Educational Research Association. (2018)

Socially Empowered Learning Research Around the World: State of the Knowledge and Lessons from the Field.

Brittany Harker Martin. World Educational Research Association. (2018)

Developing Engaged Thinkers, Ethical Citizens and Entrepreneurial Spirit: Applying the Socially Empowered Learning Framework in Community.

Brittany Harker Martin; Greg Burbidge; Emiko Muraki. Arts in Society - Common Ground. (2018)

Enabling Artistic Teachers: Effects of Professional Learning for Artistry of Instructional Design.

Brittany Harker Martin. European Conference on Educational Research. (2018)

Developing the Artistry of Instructional Design: Capacity Building to Increase Artistic Teacher Efficacy.

Brittany Harker Martin. European Conference on Educational Research. (2017)

Non-traditional Professor's Playbook: How To Successfully Follow a Non-traditional Track OR Work With Professors That Do.

Ashley Lesko; Brittany Harker Martin. Organizational Behavior Teaching Conference. (2017)

Experiences of Dance Integration: An International, Duo-Ethnographic Jam.

Brittany Harker Martin; Barbara Snook. World Dance Alliance. (2017)

Healing Through The Arts: Arts-based Practices for Healing and Empowerment in Post-Trauma Contexts.

Brittany Harker Martin; Rita Egizzi. World Alliance for Arts Education. (2017)