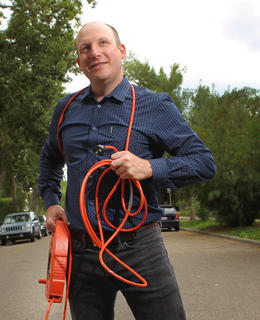 Positions
Assistant Professor
The School of Public Policy
I'm looking for...
Research partners
I'm always looking for research partners interested in better understanding the potential of flexible demand to manage modern electricity systems.
Background
Educational Background
PhD Economics, University of Calgary, 2018
MPhil Economics, Cambridge University, 2003
BSc Honours Environmental Sciences, Queen's University, 2000
Biography
Blake Shaffer is an assistant professor in the Department of Economics and School of Public Policy at the University of Calgary. His work focusses on electricity markets, climate policy and energy transitions. He uses empirical methods to evaluate policy effectiveness and better understand consumer and firm behaviour.
Prior to returning to academia, Shaffer had a 15 year career in energy trading, specializing in electricity, natural gas and emissions markets. He holds a PhD in economics from the University of Calgary, Master of Philosophy in economics from the University of Cambridge and a bachelor's degree in environmental sciences from Queen's University. He has recently held visiting scholar and Fulbright postdoctoral scholar positions at the Toulouse School of Economics and Stanford University.
His recent research has been published in Nature, American Economic Journal: Economic Policy, Canadian Journal of Economics, Energy Economics, and the Energy Journal. His popular writing has appeared in the Globe and Mail, Maclean's, Postmedia, CBC, and other media outlets. Shaffer has also served as policy advisor for the governments of Alberta, British Columbia and Canada on energy and environmental policy matters.
Research
Areas of Research
Electricity Markets, Climate Policy, Energy Transitions
Participation in university strategic initiatives
Courses
| Course number | Course title | Semester |
| --- | --- | --- |
| ECON 329 LEC 01 01 | Electricity Markets | 2020 |
| PPOL 61126 LEC 01 01 | Independent Study | 2020 |
| ECON 429 | Advanced Electricity Markets | Winter 2022 |