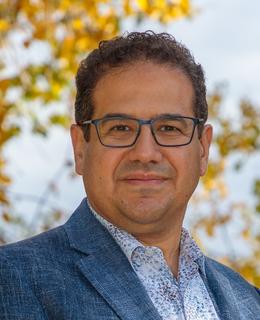 Dr. Ayman Abou Mehrem, MD, MSc (Health Informatics)
Positions
Clinical Associate Professor
Cumming School of Medicine, Department of Pediatrics
Clinical Knowledge Lead - Neonatology
Clinical Knowledge and Content Management (CKCM), Alberta Health Services
Child Health & Wellness Researcher
Alberta Children's Hospital Research Institute
I'm looking for...
Research partners
Looking for summer student to work on neonatal research and quality improvement projects.
Background
Biography
Dr. Ayman Abou Mehrem is a neonatologist and Clinical Associate Professor of Pediatrics at University of Calgary. Dr. Abou Mehrem completed medical school and pediatric residency training at Damascus University (Syria), neonatology fellowship training at the University of Manitoba (Canada), and Master of Science in Health Informatics at the University of Victoria (Canada).
Dr. Abou Mehrem is the Co-Chair of Calgary Neonatal Quality Improvement Committee, and Calgary Respiratory Health Group. He is the Provincial Clinical Knowledge Lead for NICU with Alberta Health Services Clinical Knowledge and Content Management (CKCM). He is a Master Facilitator for Evidence-Based Practice for Improving Quality (EPIQ) Workshop. He leads the point of care lung ultrasound training of the Sonographic Clinical Assessment of the Newborn (SCAN) Program.
Research
Areas of Research
Quality Improvement (QI) and Health Services Research
Dr. Abou Mehrem holds CIHR funding to study the impact of collaborative QI strategies on the outcomes of moderate and late preterm infants in Alberta; the ABC-QI Trial (ClinicalTrials.gov Identifier: NCT05231200)
Dr. Abou Mehrem is the site investigator for the Canadian Neonatal Network and the Canadian Preterm Birth Network at Foothills Medical centre and he is the site primary investigators for various related prospective studies. 
Telemedicine
Dr. Abou Mehrem lead the implementation of Southern Alberta Virtual NICU Program to support management of sick newborn infants in the regional and rural centres prior to transport to Calgary. In addition, Dr. Abou Mehrem received the 2019 Department of Pediatric Innovation Award to develop and evaluate virtual subspecialty consultations between various subspecialties at Alberta Children's Hospital and the NICUs at other hospitals in the city of Calgary. 
Neonatal Respiratory Medicine
Dr. Abou Mehrem is the site investigator for the National Emergency Airway Registry for Neonates (NEAR4NEOS) at Foothills Medical Centre and co-investigator in various related research projects. 
Participation in university strategic initiatives
Projects
The ABC-QI Trial
Alberta (AB) Collaborative Quality Improvement Strategies to Improve Outcomes of Preterm Infants 32 – 36 Weeks' Gestation: A Stepped-Wedge Cluster Randomized Trial
This trial involves 12 NICUs in Alberta and aims to implement a respiratory care bundle and nutrition and feeding care bundle for moderate and late preterm infants using EPIQ methodology. 
ABC-QI Trial (ClinicalTrials.gov Identifier: NCT05231200)