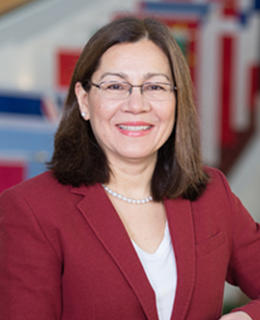 Senior Instructor
Strategy and Global Management
---
Background
Educational Background
B.A. Economics, St. Xavier's College, 1985
B.A. Economics, George Washington University, 1986
Doctor of Philosophy Strategic Management , University of Maryland, 2001
Master of City Planning Urban Studies, Massachusetts Inst of Tech, 1989
Biography
Dr. Ayesha Malhotra is a Senior Instructor in the Strategy & Organizations area of the Haskayne School of Business. Prior to joining Haskayne in 2005, Ayesha taught at Rutgers Business School (Newark & New Brunswick) in New Jersey and Saint Louis University's John Cook School of Business. 


Ayesha obtained a PhD in Strategic Management from the University of Maryland's Smith School of Business, a master's degree in City Planning from the Massachusetts Institute of Technology, and undergraduate degrees in economics from the George Washington University and St. Xavier's College, University of Mumbai.
Ayesha's research focuses on corporate and international strategy. She has investigated the product diversification and acquisition strategies of firms in converging industries such as U.S. commercial and investment banking. She also researches managerial behaviour, coordination, and control in multinational corporations and diversification strategy in emerging economies such as India. Ayesha's work has been published in the Strategic Management Journal, Journal of Business Ethics, Multinational Business Review, and the Best Papers Proceedings of the Academy of Management.
Prior to her career in academia, Ayesha worked as a manager for technology projects, mortgage finance, and retail banking operations for Citibank in India. She also consulted with Data Resources (DRI)-McGraw Hill in Washington, DC and interned with the Bombay Metropolitan Region Development Authority in Mumbai, India.
Courses
| Course number | Course title | Semester |
| --- | --- | --- |
| MGST 615 LEC 01 01 | Strategic Business Analysis | 2021 |
| SGMA 371 LEC 02 02 | International Business | 2020 |
| SGMA 371 LEC 01 01 | International Business | 2021 |
| SGMA 371 LEC 01 01 | International Business | 2021 |
| SGMA 577 LEC 01 01 | International Strat Management | 2021 |
| SGMA 601 LEC 01 01 | Strategic Management I | 2021 |
Awards
Students Union Teaching Excellence Award ,

University of Calgary.

2021

Dean's Award for Community Engagement,

Haskayne School of Business .

2021
Publications
An assessment of Cap Gemini's cross-border merger with Ernst & Young Consulting.

Malhotra, A. & A. Pierroutsakos. Multinational Business Review. Vol. 13, No. 2 (Summer). (2005)

An investigation of firms' strategic responses to industry convergence.

Malhotra, A. & A.K. Gupta. Academy of Management Best Papers Proceedings 2001, 61st Annual Meeting. (2001)

Feedback seeking behavior within multinational corporations.

Gupta, A.K., Govindarajan, V., & Malhotra, A.. Strategic Management Journal. Vol. 20, No. 3 (March). (1999)

Feedback-seeking behavior of subsidiary presidents in multinational corporations..

Gupta, A.K., Govindarajan, V., & Malhotra, A.. Academy of Management Best Papers Proceedings 1996, 56th Annual Meeting. (1996)