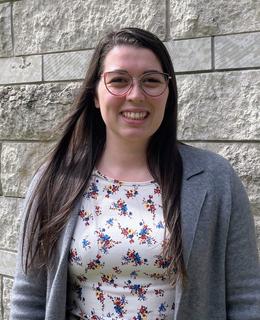 Media contacts
Contact by email at audreyann.deneault@ucalgary.ca
Available for interviews in English and French.
---
Background
Educational Background
PhD Experimental Psychology, University of Ottawa, 2021
BSc Honours Psychology, University of Ottawa, 2015
Biography
Dr. Audrey-Ann Deneault is a postdoctoral fellow at the University of Calgary's Determinants of Child Development Lab, working under the supervision of Dr. Sheri Madigan. She completed her Ph.D. in Experimental Psychology at the University of Ottawa. Her research examines how parent-child relationships and parent-child attachment foster positive socio-emotional and cognitive development in children. She is particularly interested in father-child relationships and the influence of different family systems (e.g., coparenting relationship, sibling relationships) on child development. Her research is funded by a Social Sciences and Humanities Research Council of Canada (SSHRC) Postdoctoral Fellowship and a supplement from the Fonds de Recherche du Québec - Société et culture Postdoctoral Fellowship Supplement.
Awards
Postdoctoral Fellowship,

Social Sciences and Humanities Research Council of Canada.

2021

Postdoctoral Fellowship Supplement,

Fonds de recherche du Québec - Société et Culture.

2021