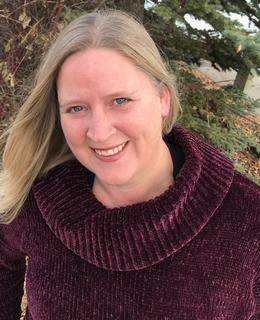 Director, Field Experience, Community Based (Out of Area)
Werklund School of Education, Undergraduate Programs in Education
Instructor
Werklund School of Education, Undergraduate Programs in Education
---
Background
Educational Background
Ed.D. Education, University of Calgary, 2018
M.Ed. Educational Studies, University of Alberta, 2013
Biography
Before taking on her current role of Director, Field Experience (Community-Based Pathway), at the Werklund School of Education, Dr. Astrid Kendrick was a K-12 classroom teacher for nineteen years specializing in Physical Education and English/Language Arts. Astrid's current research focus is on compassion fatigue, burnout, and emotional labour in Alberta educational workers and improving online learning through integrating podcasts. She is a member of the advisory circle for the Alberta Teachers Association Women in Leadership committee and is the co-chair of the Health Promoting Schools Collaborative for the southern Alberta region.
Research
Areas of Research
Educational worker wellbeing at work, Teacher Education
Courses
| Course number | Course title | Semester |
| --- | --- | --- |
| EDUC 101 SEC 01 S01 | English Academic Success | 2020 |
| EDUC 207 SEC 01 S01 | How Children Learn to Read | 2020 |
| EDUC 209 SEC 01 S01 | Supporting Children's Reading | 2020 |
Projects
Compassion Fatigue, Burnout and Emotional Labour in Educational Workers
Two-year, funded research study into the scope and lived experience of Alberta's educational workers with compassion fatigue and burnout in partnership with the Alberta Teachers Association and ASEBP. Developed the HEARTcare Educators (www.heartcareeducators.ca) website.
---
Podcasting for Online Education
Two-year, Scholarship of Teaching and Learning research study into incorporating podcasting into online learning for students in rural, remote, and Indigenous settings. Podcast series can be found on voicEd Radio Canada at https://voiced.ca/project/ed-students-in-conversation/. 
Awards
Online Teaching Excellence,

Werklund School of Education.

2020

Emerging Scholar Award, The Learner Annual Conference,

Common Ground.

2020

Peter Lougheed Scholarship,

University of Alberta.

1995