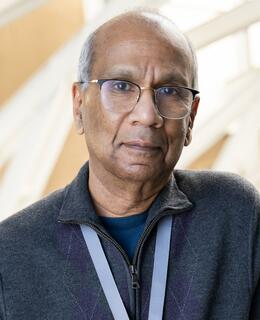 Dr. Aru Narendran, MD, PhD
Positions
Professor
Cumming School of Medicine, Department of Pediatrics
Professor
Cumming School of Medicine, Department of Oncology
Child Health & Wellness Researcher
Alberta Children's Hospital Research Institute
Member
Arnie Charbonneau Cancer Institute
Background
Educational Background
B.S. Biochemistry, East London Polytechnic, 1980
Doctor of Medicine Medicine, McMaster University, 1995
Doctor of Philosophy Immunology, Arizona State University, 1988
M.S. Immunology, University of Bath, 1982
Biography
Dr. Narendran has undergraduate and graduate degrees in Biochemistry and Immunology respectively, PhD in Neuroimmunology and a postdoctoral fellowship training in cancer biology from the Ontario Cancer Institute (OCI). His medical training were from McMaster University (MD), Tufts University, Massachusetts (Pediatrics Residency) and the Hospital for Sick Children, Toronto (Pediatric Hematology and Oncology fellowship). He is the recipient of a number of awards including the Odile Schweisguth International Prize for pediatric oncology research and the young investigator award from the Children's oncology group (COG). Dr. Narendran is currently a professor of oncology and pediatrics. His current responsibilities also include directing a laboratory for preclinical and drug discovery studies and phase I clinical trials for children with currently incurable malignancies, training students and postdoctoral fellows in pediatric cancer research and teaching graduate level courses in cancer biology, novel cancer therapeutics and ethics in reserch. Dr. Narendran sits on the Research and Ethics Board (REB) for the Calgary Health Region.
Research
Areas of Research
Area of Focus
New therapies for refractory pediatric cancers
Activities
Dr. Narendran's laboratory focuses on the development of a "trial-in-a-cell" approach for future personalized cancer treatment in children. They have expertise in establishing molecularly relevant cell lines and tumor xenografts to screen libraries of novel therapeutics and biological agents for relapsed pediatric cancers. They are also establishing collaborations to derive genomic, epigenomic and transcriptomic data to find driver mutations and decisive genetic alterations in individual tumor specimens so druggable targets can be identified and matched to most applicable therapeutic agents for precision medicine in pediatric oncology.
Career Opportunity currently available in Dr. Narendran's lab:
Laboratory Research Opportunity in Immunology and Pediatric Cancer.
Project Aim: Currently, every year more than 400 Canadian children die because their cancer did not respond to current treatments. Our laboratory is investigating novel therapeutic approaches to cure these children, including antitumor vaccines. 
We are looking for a graduate student (MSc. or PhD) or a postdoctoral fellow to join our group. We are part of Cumming School of Medicine, Charbonneau Cancer Institute, University of Calgary and Alberta Children's Hospital.
Position available immediately.
Qualifications: Interest and expertise in immunology including animal models would be as an asset. 
Please forward your inquiries to:
Michael O'Connell, E-mail: mwoconne@ucalgary.ca or call Dr. Aru Narendran (403) 210 6418
Participation in university strategic initiatives
Courses
| Course number | Course title | Semester |
| --- | --- | --- |
| MDGE 630 LEC 01 01 | Anti-Cancer Ther & Clin Trials | 2020 |
| MDSC 50763 LAB 01 B01 | Spec Prob in Medical Science | 2020 |
| MDSC 50763 LEC 01 01 | Spec Prob in Medical Science | 2021 |
Awards
Chair,

2018

award,

2015

Appointment,

2014

award,

2014

commendation,

2011

Citation,

2008

1. Young Investigator Award in Pediatric Oncology,

2005

Young Investigator Award in Pediatric Oncology,

2005

1. Young Investigator Award in Pediatric Oncology,

2004

2. Special Achievement Awards - Health & Wellness, University of Calgary,

2004

award,

2004

award,

2003

Odile Schweisguth International Prize in Pediatric Oncology,

2003

Research Establishment Award,

2003

award,

2002

Master class in Pediatric Oncology,

Amsterdam School of Pediatric Oncology.

2002

award,

2001

studentship,

2001

Distinction,

2000

award,

1998

award,

1996

Distinction,

1994

Farquharson Scholarship,

1994

Ivan H. Smith Memorial Award (Pediatric Oncology).,

1994

Distinction,

1986

Research Scholar Award,

1986

Sigma Xi Science and Research Honor Society,

1986

Zebulon Pearce Memorial Award,

1986