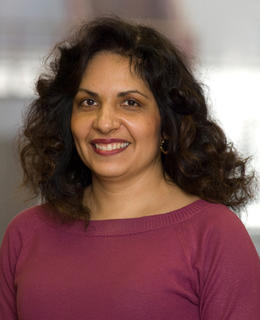 Anita Lakra
Positions
Assistant Professor (Teaching)
Haskayne School of Business, Accounting [ACCT]
Contact information
For media enquiries, contact
Lauren Steeves
Senior Marketing and Communications Strategist
Phone: C (306) 717-32533
Email: lauren.steeves@ucalgary.ca
Background
Biography
Anita is an instructor in the accounting area. She received her B.Comm with distinction from the University of Calgary and, subsequently became a chartered accountant working for KPMG.
Anita teaches a combination of both financial and managerial accounting courses in the undergraduate program.
Anita's work has been published in Canadian Accounting Perspectives. She is currently developing a managerial accounting case.
Anita is a member of the Institute of Chartered Accountants of Alberta. In her spare time, she enjoys traveling and participating in a variety of sports.
Courses
| Course number | Course title | Semester |
| --- | --- | --- |
| ACCT 323 LEC 02 02 | Introductory Managerial Acct | 2020 |
| ACCT 323 LEC 04 04 | Introductory Managerial Acct | 2020 |
| ACCT 323 LEC 01 01 | Introductory Managerial Acct | 2021 |
| ACCT 323 LEC 01 01 | Introductory Managerial Acct | 2021 |
| ACCT 323 LEC 02 02 | Introductory Managerial Acct | 2020 |
| ACCT 323 LEC 03 03 | Introductory Managerial Acct | 2021 |
| ACCT 323 LEC 03 03 | Introductory Managerial Acct | 2021 |
| ACCT 323 LEC 04 04 | Introductory Managerial Acct | 2020 |
Publications
Coverage of Criticism of Activity-Based Accounting in Canadian Textbooks.

A Lakra with Philip Beaulieu. Canadian Accounting Perspectives Journal, Volume 4, Number 1. (2005)