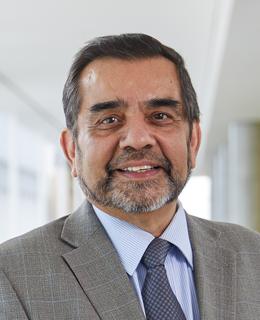 Dr. Anil K. Mehrotra, PhD, PEng, FCIC, FIIChE, FEIC, FEC, FGC(H)
Contact information
Please contact me by email.
Background
Educational Background
Bachelor of Engineering (Honours), BE(H), Chemical Engineering, Birla Institute of Technology and Science (BITS), Pilani, Rajasthan (India), 1972
Master of Engineering, MEng, Environmental Engineering, Asian Institute of Technology (AIT), Bangkok (Thailand), 1975
Doctor of Philosophy, PhD, Chemical Engineering, University of Calgary, 1980
Biography
Dr. Anil Mehrotra obtained a BE (Hons) in chemical engineering from the Birla Institute of Technology & Science in India, an MEng in environmental engineering from the Asian Institute of Technology in Thailand, and a PhD in chemical engineering from the University of Calgary.
Dr. Mehrotra is a former (and the founding) director of the Centre for Environmental Engineering Research and Education (CEERE) and a former director of the Interdisciplinary Sustainable Energy Development (SEDV) program. He has held several leadership positions, including interim dean of the Schulich School of Engineering. He has received numerous teaching and service awards for excellence in engineering education. He is a fellow of the Chemical Institute of Canada (CIC), the Engineering Institute of Canada (EIC), the Indian Institute of Chemical Engineers (IIChE), Engineers Canada, and Geoscientists Canada. Recently, he completed serving as Treasurer of the Canadian Society for Chemical Engineering (CSChE) for 4.5 years, from 2018 to 2023.
He is affiliated to:
Centre for Environmental Engineering Research & Education (CEERE), former Director
Interdisciplinary Sustainable Energy Development (SEDV) Master's Degree Program, former Director
He has provided consulting services to many oil and gas companies in Canada, the US, and internationally.
Research
Areas of Research
Chemical engineering; Energy and environmental engineering
Dr. Mehrotra's research is focused on understanding and modelling the various properties and behaviour exhibited by heavy crude oils. His research develops models for improving the transport of crude oil and remediation of contaminated soils.
Current areas of research 
Thermodynamic and transport properties of crude oil and bitumen
Kinetics and mechanism of solid deposition and fouling
Fouling of tubes in OTSGs used for steam generation

Treatment of OTSG and evaporator blowdown wastes
His research has published over 180 refereed journal publications.
Participation in university strategic initiatives
Awards
Fellowship (FEIC),

Engineering Institute of Canada.

2023

The Jules Stachiewicz Medal,

Canadian Society for Chemical Engineering (CSChE).

2022

Fellowship (FIIChE),

Indian Institute of Chemical Engineers.

2022

Research Achievement Award,

Schulich School of Engineering, University of Calgary.

2017

Outstanding Teaching Performance,

Schulich School of Engineering, University of Calgary.

2015

Professor of the Year Award (Chemical & Petroleum Engineering),

Engineering Students' Society, University of Calgary.

2015

Outstanding Teaching Performance,

Schulich School of Engineering, University of Calgary.

2014

Teaching Excellence Award,

Schulich School of Engineering, University of Calgary.

2013

Outstanding Teacher Award,

Schulich School of Engineering, University of Calgary.

2013

Outstanding Teaching Performance,

Schulich School of Engineering, University of Calgary.

2013

Teaching Excellence Award,

University of Calgary Students' Union, University of Calgary.

2013

Excellence in Teaching Award (Third & Fourth Year Students),

Engineering Students' Society, University of Calgary.

2012

Mentoring Excellence Award,

Schulich School of Engineering, University of Calgary.

2012

Fellowship of Engineers Canada (FEC),

Association of Professional Engineers & Geoscientists of Alberta (APEGA) and Engineers Canada (EC).

2009

The Environment and Sustainability Award (Co-Recipient with Dr. P. Hettiaratchi),

Association of Professional Engineers & Geoscientists of Alberta (APEGA).

2009

Excellence in Teaching Award (Third & Fourth Year Students),

Engineering Students' Society, University of Calgary.

2007

Excellence in Professional/Occupation Field Award,

India-Canada Association of Calgary (INCA).

2007

Champion of the Schulich School of Engineering Award,

Schulich School of Engineering, University of Calgary.

2006

Excellence in Teaching Award (Third & Fourth Year Students),

Engineering Students' Society, University of Calgary.

2006

The L.C. Charlesworth Professional Service Award,

Association of Professional Engineers & Geoscientists of Alberta (APEGA) .

2006

Twenty-Five Years Service Award,

University of Calgary.

2006

Environmental Achievement Award - The Calgary Awards 2005 (accepted on behalf of the Centre for Environmental Engineering Research & Education, CEERE, Schulich School of Engineering),

The City of Calgary.

2005

Voluntary Service Award,

Association of Professional Engineers & Geoscientists of Alberta (APEGA).

2003

Service Excellence Award,

Faculty of Engineering, University of Calgary.

2002

Excellence in Education Award,

Association of Professional Engineers & Geoscientists of Alberta (APEGA).

2000

Fellowship (FCIC),

Chemical Institute of Canada (CIC).

2000

Superior Teacher Award,

Engineering Students' Society, University of Calgary.

1998

Teaching Excellence Award (Chemical & Petroleum Engineering),

Faculty of Engineering, University of Calgary.

1997

Teaching Excellence Award,

University of Calgary Students' Union.

1988

The Izaak Walton Killam Memorial Doctoral Scholarship,

Faculty of Graduate Studies, University of Calgary .

1979

The Izaak Walton Killam Memorial Doctoral Scholarship,

Faculty of Graduate Studies, University of Calgary .

1978

The Izaak Walton Killam Memorial Doctoral Scholarship,

Faculty of Graduate Studies, University of Calgary .

1977

Graduate Scholarship of the Government of the Netherlands,

Asian Institute of Technology (A.I.T.), Bangkok, Thailand.

1974

Gold Medal (Top Chemical Engineering Student),

B.I.T.S., Pilani, Rajasthan, India.

1972
Publications
Preface to the special issue section: 74th Indian Chemical Engineering Congress (CHEMCON-2021).

A.K. Mehrotra, A.K. Dalai, S.R. Upreti, S. Basu, C. Eswariah, R.K. Dwari. Canadian Journal of Chemical Engineering. in press. (2023)

An optimization study for preventing silica gelation and improving filtration effectiveness during pH reduction of high concentration silica solutions.

S. Rao, S. Murugan, G. Achari, B. Perdicakis, A.K. Mehrotra. Canadian Journal of Chemical Engineering. in press. (2023)

India-Canada joint symposium at CHEMCON-2022 in Kanpur, India (December 27-30, 2022).

A.K. Mehrotra, A.K. Dalai. CIC News. (2023)

A review of the contributions of P. Raj Bishnoi to chemical engineering.

A.K. Mehrotra, P. Englezos. Canadian Journal of Chemical Engineering. 101(2), 565-582. (2023)

Preface to the special issue section honouring Professor P. Raj Bishnoi.

P. Englezos, A.K. Mehrotra. Canadian Journal of Chemical Engineering. 101(2), 562-564. (2023)

A perspective on The Canadian Journal of Chemical Engineering commemorating its 100th volume: 1929-2021.

A.K. Mehrotra, J.B.P. Soares, K. Nandakumar, P.J. Carreau, N. Epstein, G.S. Patience. Canadian Journal of Chemical Engineering. 100(9), 1983-2010. (2022)

Predictions for wax deposition in a pipeline carrying paraffinic or 'waxy' crude oil from the heat-transfer approach.

A.K. Mehrotra, S. Haj-Shafiei, S. Ehsani. Journal of Pipeline Science & Engineering. 1(4), 428-435. (2021)

Preface: Special issue to honour Prof. Leo A. Behie.

A.K. Mehrotra, K. Karan, M.S. Kallos, A. Sen. Canadian Journal of Chemical Engineering. 99(11), 2359-2361. (2021)

Research contributions of Leo A. Behie to chemical and biomedical engineering.

A.K. Mehrotra, K. Karan, M.S. Kallos, A. Sen, S. Ehsani, B. Abraham, E.L. Roberts. Canadian Journal of Chemical Engineering. 99(11), 2362-2381. (2021)

Experimental determination of gas diffusivity in liquids -- A review.

S. Upreti, A.K. Mehrotra. Canadian Journal of Chemical Engineering. 99(6), 1239-1267. (2021)

A heat-transfer model for tube fouling in the radiant section of once-through steam generators.

S.D. Herman, A.K. Mehrotra. Canadian Journal of Chemical Engineering. 99(3), 789-802. (2021)

A review of heat-transfer mechanism for solid deposition from 'waxy' or paraffinic mixtures.

A.K. Mehrotra, S. Ehsani, S. Haj-Shafiei, A.S. Kasumu. Canadian Journal of Chemical Engineering. 98(12), 2463-2488. (2020)

Investigating the gelling behaviour of 'waxy' paraffinic mixtures during flow shutdown.

S. Ehsani, A.K. Mehrotra. Canadian Journal of Chemical Engineering. 98(12), 2618-2631. (2020)

Effects of shear rate and time on deposit composition in the cold flow regime under laminar flow conditions.

S. Ehsani, A.K. Mehrotra. Fuel. 259(Jan), 116238. (2020)