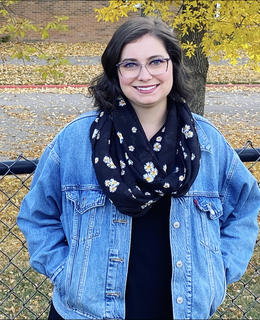 Positions
Graduate Assistant Teaching
Student Assistant
Libraries and Cultural Resources, Taylor Family Digital Library
Background
Educational Background
M.A. English, University of Calgary , 2021
B. Ed. Secondary English Language Arts, University of Calgary , 2019
B.A. Honours English and Creative Writing, University of Calgary , 2017
Biography
Amy LeBlanc is a PhD student at the University of Calgary and Managing Editor at Canthius. Amy's debut poetry collection, I know something you don't know, was published with Gordon Hill Press in March 2020 and was long listed for the 2021 ReLit Award and selected as a finalist for the Stephan G. Stephansson Award for Poetry. Her novella, Unlocking, was published by the University of Calgary Press in June 2021. Amy has two books forthcoming: a short story collection entitled Homebodies (Great Plains Publications, spring 2023) and her second poetry collection I used to live here (Gordon Hill Press, 2025). Her fiction and poetry have appeared or are forthcoming in Room, Arc, Funicular, Canadian Literature, CV2, PRISM International, and the Literary Review of Canada among others. Amy's latest poetry chapbook "Undead Juliet at the Museum" was published with ZED Press in August 2021. Amy is a recipient of the 2020 Lieutenant Governor of Alberta Emerging Artist Award and was a finalist for an Alberta Magazine Publishers Showcase Award for poetry in 2021. She is a recipient of a SSHRC CGS-D award and is a 2022 Killam Laureate— https://www.ucalgary.ca/news/killam-award-winner-identifies-connections-between-haunted-house-and-sick-body
Some recent and forthcoming publications include:
- "(Me=Aquarius=very unpredictable) Ghostliness and Temporality in Tamaki & Tamaki's Skim," in Gnosis.
- "(De)composing Gothicism: Disturbing the (eco-)Gothic in Shirley Jackson's We Have Always Lived in the Castle," co-authored with Leah Van Dyk, forthcoming in Studies in American Fiction.
- "The Uncanny and Doubling Horror of Childhood: Abject Disruptions in Stranger Things," forthcoming in Black Witches & Queer Ghosts: Disrupting Norms in Supernatural Teen Serials (Lexington Books, 2023).
- "Think about what you don't get to see": Reading Ghosts and Unnatural Narration in Leanne Shapton's Guestbook" forthcoming in The Journal of Narrative Theory (56.1), 2026
- "Someone is Dead," (short story), forthcoming in ReVisions: Speculating in Literature and Film in Canada.
- "Murine" (poem), forthcoming in The Fiddlehead
- "Fulmination," (poem), forthcoming in Canadian Literature: A Quarterly of Criticism and Review.
Courses
| Course number | Course title | Semester |
| --- | --- | --- |
| ENGL 265 S02 | Introductory Creative Writing | Winter 2023 |
Awards
Izaak Walton Killam Memorial Scholarship,

Killam Trusts.

2022

CGS-D Award ,

SSHRC.

2021

Lieutenant Governor of Alberta Emerging Artist Award,

Lieutenant Governor of Alberta .

2020

Eyes High Doctoral Recruitment Award ,

Faculty of Graduate Studies .

2021

Kathleen and Russell Lane Canadian Writing Scholarship,

2020

CGS-M Joseph Bombardier Scholarship,

SSHRC.

2020

Master's Research Scholarship,

Faculty of Graduate Studies .

2020