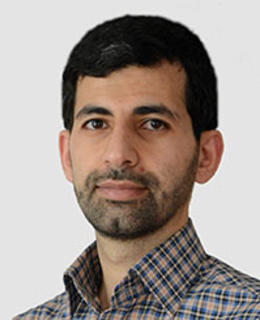 Amir Sanati Nezhad
Positions
Full Member
Hotchkiss Brain Institute
Background
Educational Background
B.S. Mechanical Engineering, Isfahan University Technology, 2006
Doctor of Philosophy Mechanical Engineering, Concordia University, 2013
M.S. Mechanical Engineering, Amir Kabir UniversityTech, 2009
Biography
Dr. Amir Sanati-Nezhad is an Associate Professor of the Department of Biomedical Engineering and the Department of Mechanical and Manufacturing Engineering with a joint affiliation with the Center of BioEngineering for Research and Education (CBRE), at the Schulich School of Engineering, University of Calgary. He is also the Principal Investigator of BioMEMS and Bioinspired Microfluidic Laboratory. Amir completed his Postdoctoral trainings at the Harvard and McGill Universities (2013-2015), and accomplished his PhD program at the Concordia University (2010-2013). His research program has the focus on bioinspired microfluidics, tissue engineering and biosensors. Dr. Sanati-Nezhad has published over 250 peer-reviewed journal articles, book chapters, and conference papers. He has also presented several invited talks in national and international conferences. Dr. Sanati has received numerous prestigious awards and recognitions during his research career, including: "CMC Microsystem's Douglas R. Colton Medal for Research Excellence" and "Governor's General Gold Medal of Canada", and "Canada Research Chair".
Research
Areas of Research
Biosensing
Biomedical device
Tumor environment modeling
Activities
Dr. Sanati-Nezhad primary research interest involves BioMEMS, Microfluidics, Tissue Engineering, Micro and Nano Technology, and Lab-on-Chip. His research group has the research focus on developing integrated, bioinspired microdevices using microfluidics and tissue engineering approaches for disease modeling, biological systems modeling, and drug discovery. Another research interest of his group is to develop point-of-care devices and biosensors for rapid detection and management of cancer, brain injury and blood stream infection. In particular, he is developing in vitro, biomimetic models of tumor microenvironments for evaluating the efficacy of cancer therapeutics. He is also developing highly sensitive and selective biosensors for the detection of cancer biomarkers (proteins and exosomes).   
Participation in university strategic initiatives
Courses
| Course number | Course title | Semester |
| --- | --- | --- |
| BMEN 500 LAB 01 B01 | Biomed Engg Research Thesis | 2021 |
| BMEN 500 LAB 01 B01 | Biomed Engg Research Thesis | 2020 |
| BMEN 500 LEC 01 01 | Biomed Engg Research Thesis | 2021 |
| BMEN 500 LEC 01 01 | Biomed Engg Research Thesis | 2021 |
| BMEN 501 LAB 01 B01 | Biomedical Engineering Project | 2021 |
| BMEN 501 LAB 01 B01 | Biomedical Engineering Project | 2020 |
| BMEN 501 LEC 01 01 | Biomedical Engineering Project | 2021 |
| BMEN 501 LEC 01 01 | Biomedical Engineering Project | 2020 |
| ENMF 529 LAB 01 B01 | Intro Microelectromech Sys | 2020 |
| ENMF 529 LAB 02 B02 | Intro Microelectromech Sys | 2020 |
| ENMF 529 LEC 01 01 | Intro Microelectromech Sys | 2020 |
| ENMF 61901 LEC 01 01 | Spec Problems Manufact Engg | 2021 |
Awards
Canada Research Chair,

NSERC.

Schulich School of Engineering's Excellent Research Award,

University of Calgary.

Excellence Teaching Performance,

2015

General's Governor Gold Medal,

2013

Postdoctoral Fellowship MHRC,

2013
Publications
Flexible electronic devices for biomedical applications.

Mahdi Nikkhad; Mohsen Akbari; Pouya Mostafalu; Amir Sanati Nezhad. 341-366. (2017)

Droplet-based microfluidic platforms: an overview with focus on applications in biofuels.

Davood Khojasteh; Amir Sanati Nezhad; Mohammad Manshadi; Ahmad Abdelrehim; Reza Kalami. Elsevier. 09-Jan. (2019)

Microreactors and their applications in bioenergy production.

Reza Kamali; Mahdi Gholami; Amir Sanati Nezhad. Elsevier. 10-Jan. (2019)

On-chip chromatography with nanomaterials.

Farideh Haghighi; Zahra Talebpour; Amir Sanati Nezhad. Elsevier. 343-358. (2018)