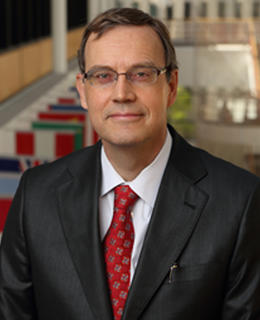 Alain Verbeke
Positions
Professor
Haskayne School of Business, Strategy and Global Management [SGMA]
Area Chair
Haskayne School of Business, Strategy and Global Management [SGMA]
McCaig Chair in Management
Haskayne School of Business
Background
Educational Background
Bach of Appl Econ Economics, University of Antwerp, 1980
Doctor of Philosophy Economics, University of Antwerp, 1986
Master of Applied Economics Economics, University of Antwerp, 1982
M.B.A. Economics, University of Antwerp, 1985
Biography
Dr. Alain Verbeke holds the McCaig Research Chair in Management and is a Professor of International Business Strategy at the Haskayne School of Business, University of Calgary. He has been the Research Director of the Strategy and Organization Area, as well as the Area Chair of the Strategy and Global Management Area, at the Haskayne School of Business. In 2014, Dr. Verbeke was elected as the Inaugural Alan M. Rugman Memorial Fellow at the Henley Business School, University of Reading (UK). He is the Editor-in-Chief of the Journal of International Business Studies (re-appointed for a second term 2020-2022)
Earlier in his career, Dr. Verbeke served as the Director of the MBA programme, Solvay Business School, University of Brussels (VUB). He has been a Visiting Professor at Dalhousie UniveJrsity, the University of Toronto and the Université Catholique de Louvain, as well as an Associate Fellow of Templeton College, University of Oxford (now Green Templeton College). He has also been an Academic Associate of the Centre for International Business and Management, Judge Business School (University of Cambridge) and was associated with the Skolkovo Institute for Emerging Market Studies (SIEMS), as an affiliated researcher. From 2016 to 2018, he was a Non-Resident Fellow with the Center for Emerging Market Studies, China Europe International Business School (CEIBS), Shanghai, China. He presently serves as Non-Resident Senior Research Fellow at the College of Business (Nanyang Business School), Singapore. He is an elected Fellow of the Academy of International Business, and has served as Secretary and Treasurer of the Fellows. He is also a Fellow of the European International Business Academy (EIBA).
Dr. Verbeke has been a member of the European Science and Technology Assembly (ESTA), the highest advisory body to the European Commission on the future of European scientific and innovation policy and has served on the board of directors of various educational and scientific research institutions. He is a leading thinker on the strategic management of multinational enterprises.
His academic research agenda consists of revisiting, rethinking and augmenting the core paradigms in international business and strategy, especially internalization theory, which is focused on the governance of new resource combinations in multinational enterprises. He has particular expertise in the management of headquarters - subsidiary relationships and broader governance challenges of internationally operating firms.
Dr. Verbeke has authored or edited several international business books and numerous refereed publications, including many articles in leading scholarly journals such as the Journal of International Business Studies, the Strategic Management Journal and the Journal of Management Studies.
Research
Areas of Research
Research Interests
Decision Making
Digital Economy
Energy
Entrepreneurship
Ethical Leadership
Supply Chain Management
Sustainability
Courses
| Course number | Course title | Semester |
| --- | --- | --- |
| SGMA 707 LEC 01 01 | Adv Strategic Management Tools | 2021 |
| MGST 79760 LEC 01 01 | Directed Doctoral Study Mgmt | 2020 |
Awards
Great Supervisor Award,

Faculty of Graduate Studies.

2018

Senior Editor Management and Organization Review,

2013

Affiliated Researcher, Skolkovo Institute for Emerging Market Studies (SIEMS),

2009

Academic Associate CIBMA Judge Business School, University of Cambridge,

2008

Area Editor, Journal of International Business Studies,

2007

Fellow of the Academy of International Business,

2007

Visiting Chair at Rotterdam School of Management (Erasmus University Rotterdam),

2007
Publications
Introduction: Co-orchestrating Sustainable Port Ecosystems.

Alain CM Verbeke; Elvira Haezendoncck. Palgrave Macmillan/Springer Nature. 08-Jan. (2019)

The Impact of Collaboration on Green Competitive Advantage in Europe's Largest Petrochemical Cluster.

Tim Jans; Elvira Haezendonck; Alain CM Verbeke; Elvira Haezendonck; Alain CM Verbeke. , Palgrave Macmillan/Springer Nature . 139-178. (2019)

Introduction: International Business in the Information and Digital Age – An Overview of Themes and Challenges.

Alain CM Verbeke; Rob van Tulder; Lucia Piscitello. Emerald Publishing Limited. 13-Jan. (2019)

The Persistent Relevance of Transborder (Focal) Regions: The Case of the European Blue Banana.

Elvira Haezendonck; Alain Verbeke; Alain CM Verbeke; Paul Brugman. Palgrave Macmillan/Springer Nature. 35-71. (2019)

Contemporary International Business in the Asia-Pacific Region.

Deborah Delaney; Swati Nagar; Robin E. Roberts; Peter Enderwick; Alain CM Verbeke. Cambridge University Press. (2019)

3. Sustainable Port Clusters and Economic Development: Building Competitiveness through Clustering of Spatially Dispersed Supply Chains.

Alain CM Verbeke; Elvira Haezendonck. Palgrave Macmillan/Springer Nature . (2018)

International Business in the Information and Digital Age (Volume 13),.

Rob van Tulder; Alain CM Verbeke; Lucia Piscitello. Emerald Publishing Limited. (2018)