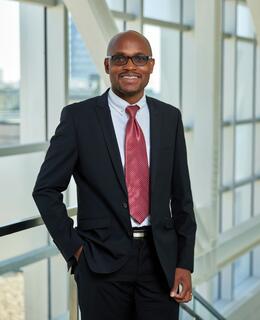 Dr. Aggrey Mwesigye, Ph.D., PEng.
I'm looking for...
Funding
Research partners
Background
Credentials
P.Eng, APEGA, 2021
Educational Background
PhD Mechanical Engineering, University of Pretoria, 2015
MSc Mechanical Engineering (Sustainable Energy), Royal Institute of Technology, 2009
BSc Mechanical Engineering, Makerere University, 2005
Biography
Dr. Aggrey Mwesigye is an Assistant Professor in the Department of Mechanical Engineering at the University of Calgary since June 2021. Prior to that, he was an Assistant Professor at the University of Minnesota Duluth from January 2020 – May 2021, a postdoctoral research fellow in sustainable energy systems at Ryerson University from January 2018 to December 2019, and a Senior Lecturer at the University of the Witwatersrand from December 2015 – December 2017. Dr. Mwesigye received his BSc Mechanical Engineering (summa cum laude) from Makerere University, an MSc in Mechanical Engineering from the Royal Institute of Technology, and a Ph.D. in Mechanical Engineering from the University of Pretoria. He has broad research interests in the modeling, design, and optimization of sustainable thermal energy systems. Current research focuses on concentrating solar thermal systems, alternative heating and cooling systems, heat transfer enhancement, thermodynamic optimization, and thermal energy storage.
Research
Areas of Research
Design and Optimization of Sustainable Thermal Energy Systems
Research activities include
Thermal energy storage systems
Trigeneration and polygeneration systems
Building integrated renewable energy systems
4E analysis of alternative energy systems
Concentrating solar thermal systems
Geothermal energy
Thermal Energy Storage
Research activities include
Design and optimization of thermal energy storage systems for concentrating solar thermal systems
Phase change material for space heating applications
Packed bed thermal energy storage systems
Energy storage for residential space heating 
Pumped/compressed thermal energy storage
Alternative Space Heating and Cooling Systems
Research activities include
Thermodynamic analysis and optimization of ejector refrigeration
Ground source heat pump systems
Solar thermal heating and cooling
Direct expansion heat pump systems
Solar Thermal Energy Systems
Research activities include
Concentrating solar thermal systems
Solar thermal systems for space heating and cooling
Solar thermal cracking of natural gas
Solar process heat
Participation in university strategic initiatives
Courses
| Course number | Course title | Semester |
| --- | --- | --- |
| ENME 341 | Fluid Mechanics | Winter 2022, Winter 2023 |
| ENME485 | Mechanical Engineering Thermodynamics | Fall 2022 |
Awards
2018 Highly Cited Review Paper in Applied Energy,

Applied Energy, Elsevier.

2020

Best Paper Award, 5th International Conference on Applied Energy (ICAE2013),

Applied Energy, Elsevier.

2013

Institutional Researcher in Training of the Year,

Senate Committee for Research, and Innovation, Tshwane University of Technology.

2016